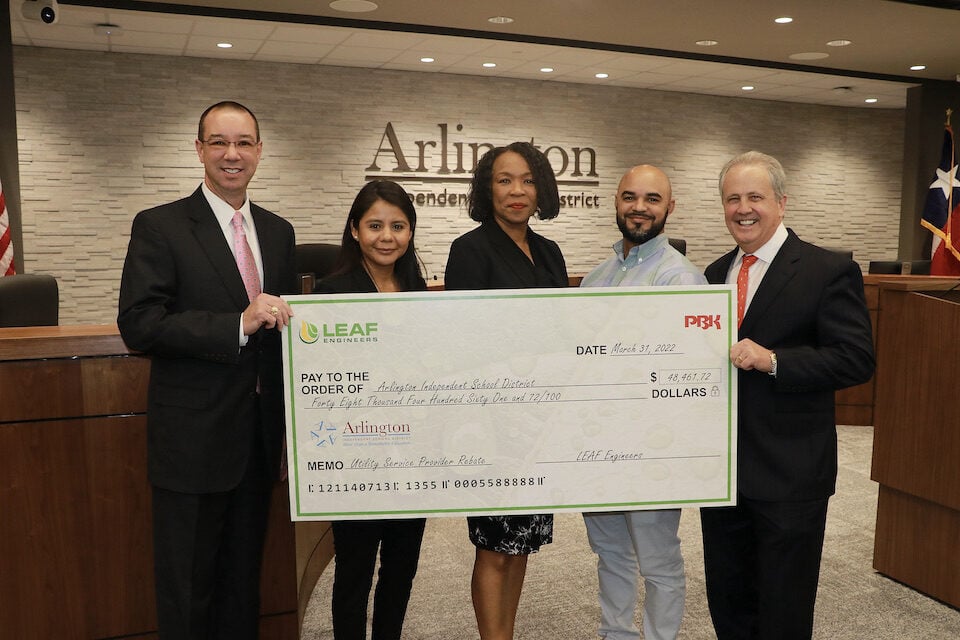 Leaf Engineers presented Arlington ISD a check this week for $48,461.72, a rebate from Oncor Electric for installing energy-efficient lighting and HVAC equipment in the district's newly renovated Administration Building.
This rebate is the first one earned through the 2019 Bond project. Fortunately, these incentive checks are nothing new for the district. This was the 21st Oncor check since May of 2017 for a total of more than $429,000.
The rebates stem from "Oncor incentives to install better, higher-efficient equipment than standard equipment," said Danny Helm, Arlington ISD's energy manager.
Arlington ISD has done that by installing high-efficiency lighting and HVAC in new construction – like McNutt Elementary and the Center for Visual and Performing Arts – and through renovations at older campuses that swapped out old equipment for new, efficient lighting and HVAC.
"Lighting is our biggest impact – going from older lighting to new lighting," Helm said.
The 2014 Bond funded these renovations at more than 40 campuses, and the 2019 Bond is continuing the effort.
ENERGY MANAGEMENT
It's an effort that is making a huge impact. Arlington ISD's energy management program has reduced the amount of electricity the district uses per square foot by more than 40% since 2011. The district has added 1.5 million square feet since 2010. This has reduced the total amount of electricity used by 28%. That equates to $20 million in cost avoidance. In addition, the district has earned the ENERGY STAR certification for 60 district buildings.
"We save energy by managing it better," Helm said.
That management includes constant monitoring, districtwide energy audits and an energy committee with a representative from each district building. It also involves competitions among buildings to reduce energy, monthly energy report cards, and other energy-saving activities and campaigns.
Check out the Arlington ISD's Utility Dashboard to see the district's utility use, see how each campus compares to others, find your school and get tips for how to be green.
LONG-TERM SAVINGS
While the $429,000 in Oncor rebates is a nice perk, the savings generated by the high-efficiency equipment now and into the future are even better.
"Those efficiencies will continue to save the district money," Helm said. "The actual savings will continue for many years."
Wimbish World Language Academy is a great example. The school, built-in 1964, got all new lighting through the 2014 Bond. Wimbish also received new single-zone HVAC roof-top units to replace its old chilled water system. The renovations were completed in September 2017 and immediately reduced consumption. Comparing data from the last six months of 2016 with the last six months of 2018. Consumption shrunk more than 39%, a decrease that has continued.
Now, with the 2019 Bond, the district's energy-saving efforts will continue at more schools. Planned renovations at many campuses include new exterior LED lighting, better insulation, dual-pane windows, and, most importantly, major mechanical replacements and improvements. That includes more new, high-efficiency HVAC roof-top units and chillers, along with direct digital controls that give the district much greater control over each campus' mechanical systems.
Oncor will need to be ready to cut more rebate checks.