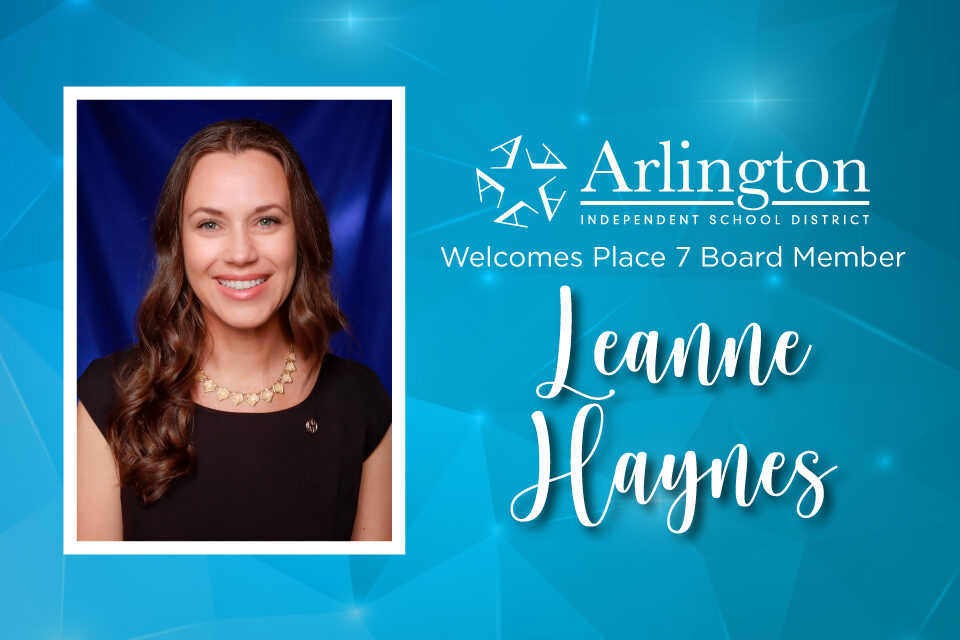 Haynes is a long-time district volunteer
Last week the two newest members of the Arlington ISD Board of Trustees were sworn in, and we wanted to give you a chance to get to know them a little bit.
Leanne Haynes is the district's new Place 7 representative. Haynes does everything in her role at the Junior League of Arlington.
What are your ties to the Arlington ISD?
I have two children, Savannah, who is a sophomore at Martin, and Ryder, a sixth grader at Wood. I've been in Arlington for 17 years. I've been a parent, volunteer and involved in PTA. My husband Eric is an Arlington ISD product – Corey, Boles, Martin.
Why did you want to be a school board member?
Mostly my children. I've served in the district for over a decade through PTA, so I've come up through the ranks. I've served at five different campuses in various levels, campuses I don't even have children just to volunteer and serve. I've served on various district committees and realized that all of this was building me up for something more. It piqued my interest to step up and serve in a bigger capacity.
What are you looking forward to most?
Just learning more about behind the scenes. All the committees I've been on have shown me the innerworkings on how the budget is formed and how the policy is made. Through campaigning, I got to talk to so many teachers and get their insight, and to be able to tie that together and see it from behind the scenes is going to be cool. I also get to be on the stage when my daughter graduates.
There were so many people running against you, and there's so much work involved. Are you ready for that?
I think it comes with leadership. As a leader you have some people that support you and some people aren't going to agree with you. That's OK. They may agree with you next time. It's a lot of work. I know that. I did my research. I'm looking forward to it.
Was it fun campaigning?
Yes. It was a lot of work, but it was fun work. I enjoyed it.
What do you love about the Arlington ISD?
All the opportunities it provides. I know all the programming, but specifically my kids and their friends and all the Girl Scouts in the district, they all do different things. They are all excelling. They all love it. They all have their niche. I think our district provides something for every student. I love that.