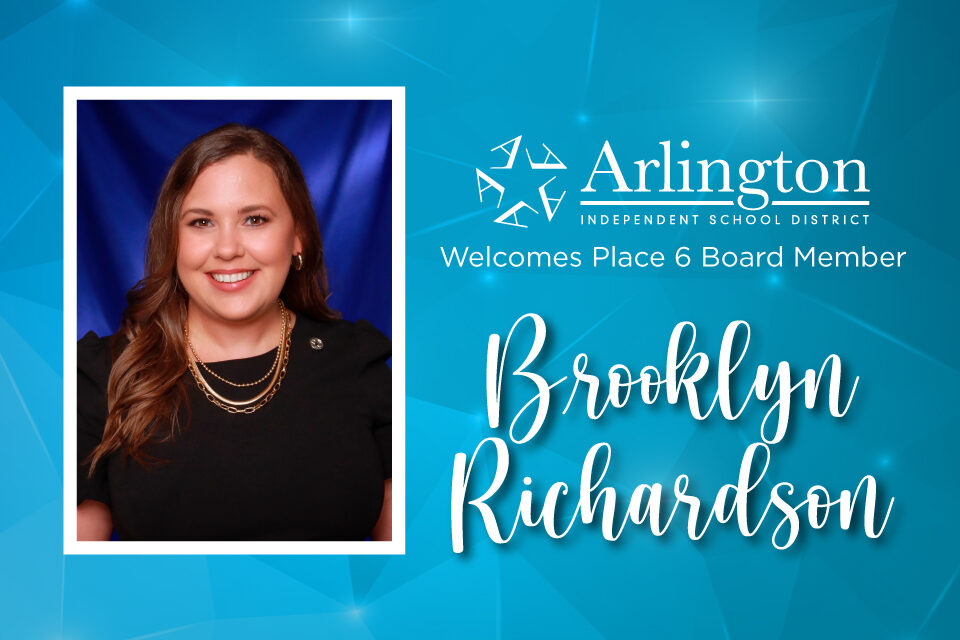 Richardson is a long-time PTA member
Last week, the two newest members of the Arlington ISD Board of Trustees were sworn in, and we wanted to give you a chance to get to know them a little bit.
First up is Brooklyn Richardson, who is the Place 6 representative. Richardson is the director of youth and children at Westminster Presbyterian Church in Arlington.
What are your ties to the Arlington ISD? 
I have been a volunteer here for the last 12 years, and I have spent time with schools from the east side of town to the west side of town. I was the PTA president at Corey Academy for six months before I had to step down to run for school board. I have served on the board there for seven years and on the Council of PTAs board. I am currently on staff at a local church as director of youth and children's ministries. I volunteer with the non-profit New Day that helps meet the needs of students who are food insufficient over the weekend. 
Are you an Arlington ISD product? 
No, I'm not. I call Abilene, Texas, home because that is where my parents still are. I have two kids – Reid (third grade) at Corey Academy and Nolie at Gunn in sixth grade. We are grateful that Arlington ISD offered us as parents programs of choice. We are thrilled with the dual language component and the progress they have made. 
Why did you want to be on the school board? 
After serving in different small capacities across the district, I was ready to take that knowledge and vision and use it at a larger level to help our students, teachers and parents. I believe in our community and district and want to serve our stakeholders.
​ Are you nervous at all? 
In our family we use the term "scxited." It means to be scared and excited at the same time, which is okay! I am definitely "scxited." I am excited about what we have to look forward to as a district and that outweighs the nerves. 
Why now? 
I have wanted to run for some time but always thought it would be down the road when my kids were older. I came to realize God had opened a door and the time was now. If I postponed running with my own personal excuses it wasn't a help to our district or even my own kids. I want them to know we can do hard things but also that when God speaks… you better listen! 
What are you most excited about? 
There is no one thing that I am most excited about. I am looking forward to visiting campuses that I have not had a chance to be on before now. I am thrilled to be invited to district performances and take in the immense talent. I look forward to meeting parents who have ideas and actionable visions to help our district. Also, having teachers want to share their wins but also their needs in their daily lives is important to me. 
Is it easier to come in with a new superintendent? 
Not a chance. Not having Dr. C as superintendent is a professional loss because I was looking forward to working with him. Selfishly, I am sad as a parent to lose him. Because we have a strong strategic plan in place I am confident that we will do well as our new hire comes on. They will have big shoes to fill but a strong team to support them on this new role.