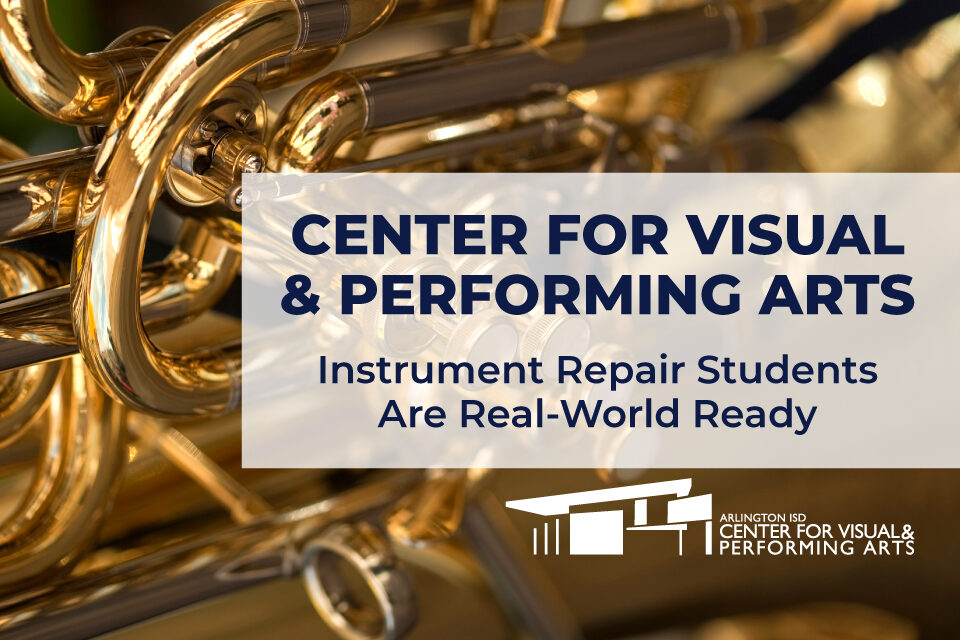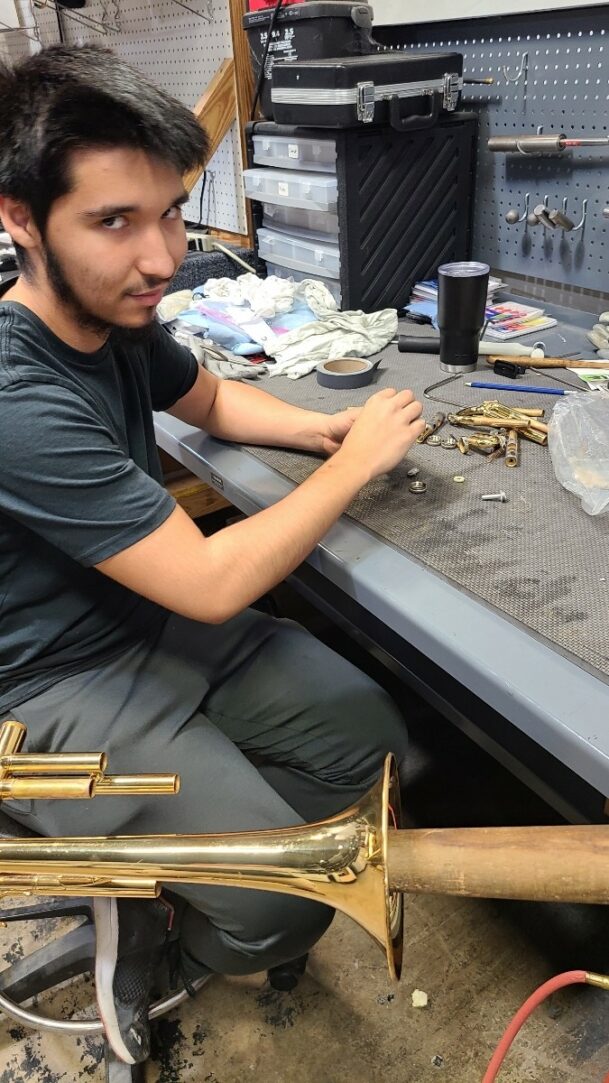 Do you know how to repair a tuba or a trumpet? Well, students from the Dr. Marcelo Cavazos Center for Visual and Performing Arts (CVPA) do. In fact, they are getting paid for it.
Three former Arlington ISD students are the latest success stories to come out the music instrument repair program as they spending their summers working, earning money by putting the skills they learned to use.
The musical instrument repair course at the CVPA allows students to focus on repairing and restoring woodwind and brass instruments. They learn the unique properties of wind instruments as well as common repair techniques, including dent removal, re-padding, cleaning and polishing.
Joesph Strohl, the instructor for the course at the CVPA, knows all too well the intricacies repairing an instrument takes. In fact, every semester he allows the students to repair instruments in class just so he can re destroy them for students in the following semester.
Selected graduates receive the opportunity to gain experience in the field while also earning a steady paycheck.
"It feels great to see their progression throughout the course," said Strohl. "Witnessing their retention of the curriculum and how they utilize each skill and apply them in a real-world setting is incredibly inspirational to watch."
Who should take the course?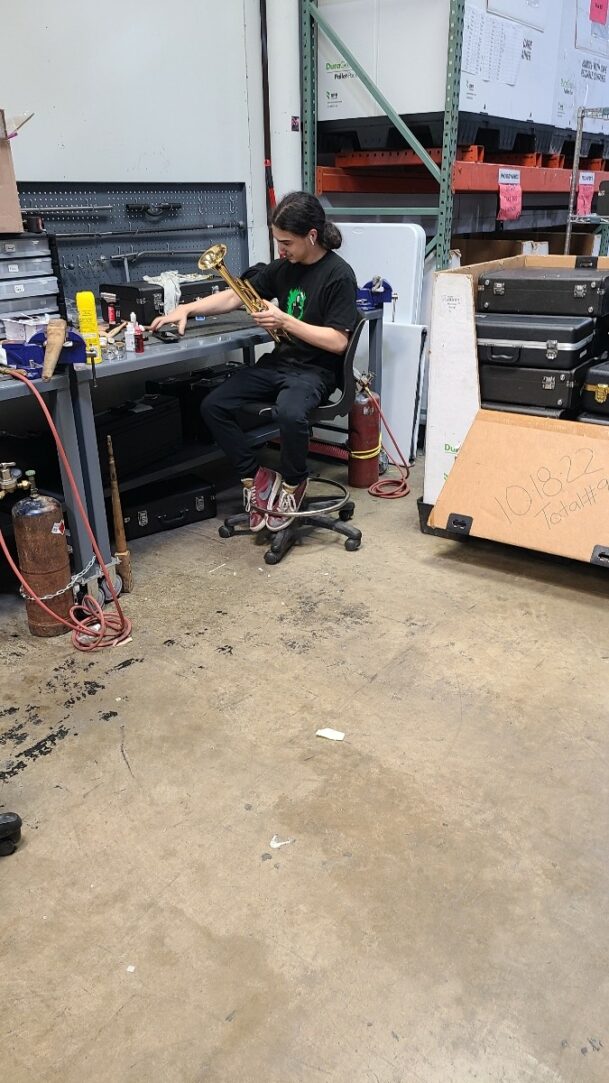 Juniors and seniors who are currently in band or plan to pursue a career in music should consider enrolling into this program because knowing the basics of diagnosing and even repairing your instrument not only saves you time but money.
Issac Pena, a recent graduate from Martin, can vouch for the program as he was the first student to start the program as a junior and earn a cord of recognition to wear for his 2023 graduation.
"If you are into working on stuff, especially instruments this is the program for you," said Pena, who is one of three former students spending their summer working at Music and Arts. "Working and learning inside of this program has been extremely beneficial and has taught me a lot about repairing my tuba."
What are the benefits? Can I use this in college?
Students who begin taking the musical instrument repair course in their junior year can have two full years of instruction.
In year one, students learn dent removal, re-padding, soldering, cleaning and polishing. In year two, students will be equipped to enter the work force with the skills they have acquired.
Martin graduate Ryan Guerra took advantage of the program in his senior year and is now looking forward to attending Texas A&M-Commerce this fall to study music education and piano pedagogy.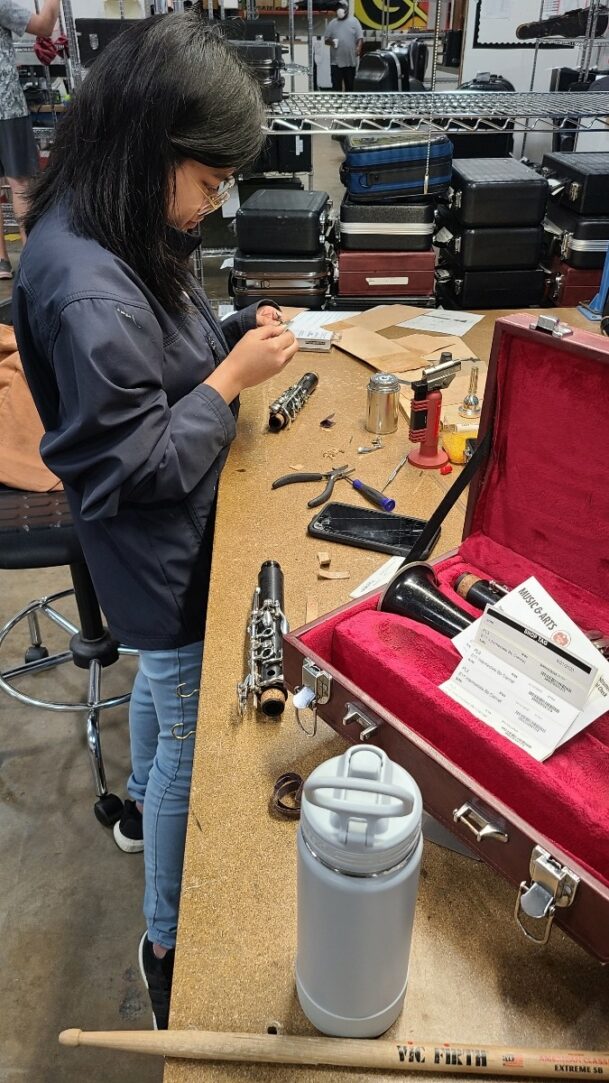 "This class is extremely important to take advantage of, especially for musicians," said Guerra. "Knowing the problem and being able to diagnose and possibly fix your instrument at no cost is invaluable."
How do I make money?
Trang Nguyen began the program during her senior year and is utilizing the skill set she learned in class to work with her peers Pena and Guerra. Nguyen plans to attend college in the future but for now, she is enjoying learning more about the mechanics of repair. Her advice to students who are debating on joining the program is to do your research and ask a friend.
"I don't plan to go to college yet, but working in this field is exciting," said Nguyen. "If you know nothing about instruments, it's okay. I would advise looking up an overview on different instruments or if you have friends who play, chat with them about their instruments. If you're a tactile learner, it's easy to learn in this program and it opens up opportunities to work and make money."
Where do I sign up?
Students interested in the Musical Instrument Repair course at the CVPA can reach out to Strohl at jstrohl@aisd.net and also learn more about the program at on the CVPA's website https://www.aisd.net/center-for-visual-and-performing-arts/.