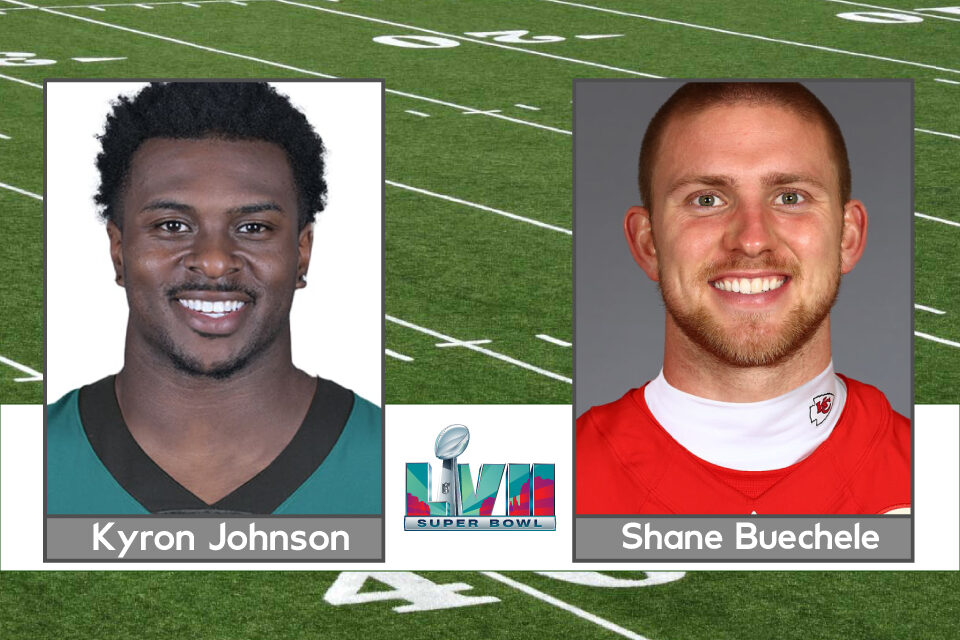 Former teammates now on opposing Super Bowl teams
Lamar High School will be the home of a Super Bowl champ for the second-straight year. Only this year, it's guaranteed.
Last year, former Lamar student Bobby Brown collected a Super Bowl ring as a member of the Los Angeles Rams.
This year, Lamar is covered on both sidelines as the Vikings boast players on the rosters of both the Philadelphia Eagles and Kansas City Chiefs. If that wasn't cool enough, both Philadelphia Eagles linebacker Kyron Johnson and Kansas City Chiefs quarterback Shane Buechele were teammates at Lamar.
"It's in the water, I guess," said Lamar head coach Billy Skinner, who was an assistant coach when both Johnson and Buechele played at Lamar. "It's neat, and it's great for everyone. Our junior high students know they'll play at a place with a rich tradition, not just high school-wise because of [Hall of Fame coach] Eddy Peach, but because of what's next. Our high school guys know what this area produces, and they can see what could be out there for them."
Johnson is a rookie linebacker drafted in the sixth round after playing collegiately at Kansas. He's played in 16 games for the Eagles, recording five tackles.
"Kyron was the life of the locker room," Skinner said. "He was always so jovial. He'd sing. You couldn't help but love that kid and the energy he brought to the locker room. I think it was his sophomore year he started to grow into his body. You could see it coming together that this kid had an opportunity to be really special. His ability started to catch up to his natural talent."
Buechele, the son of former Texas Rangers third baseman Steve Buechele, played at both Texas and SMU before signing with the Chiefs as a free agent last year. He's spent the last two seasons as one of the backups for MVP frontrunner Patrick Mahomes.
"The biggest thing is he was the first kid I ever met and coached that I thought, 'I want my daughter to marry a dude like this,'" Skinner said. "He's just a fantastic kid. He was one of the best football players in the state, but you can tell a lot about a person by how they treat someone. It didn't matter if you were the lunch lady or the head football coach; he treated everyone great. I can't say enough nice things about him."
While Johnson has played in 16 games this season, Buechele has yet to get on the field. He goes through every practice but has been inactive for games as the No. 3 quarterback. Steve Buechele said he's not sure if the family will go to the game for two reasons – Shane's roster status and daughter Amber Buechele is getting married the next week.
"We're so proud of him and happy for him," said Steve Buechele, who had five children graduate from Lamar. "For being in your second year in the NFL and to be able to experience a Super Bowl is unreal."
While the Buechele family will obviously be rooting for the Chiefs, they won't be alone. Even though Skinner is proud of Johnson, he can't make himself root for the Eagles.
"I'm a Cowboys fan," he said. "If my mom were playing for the Eagles, I wouldn't root for her."