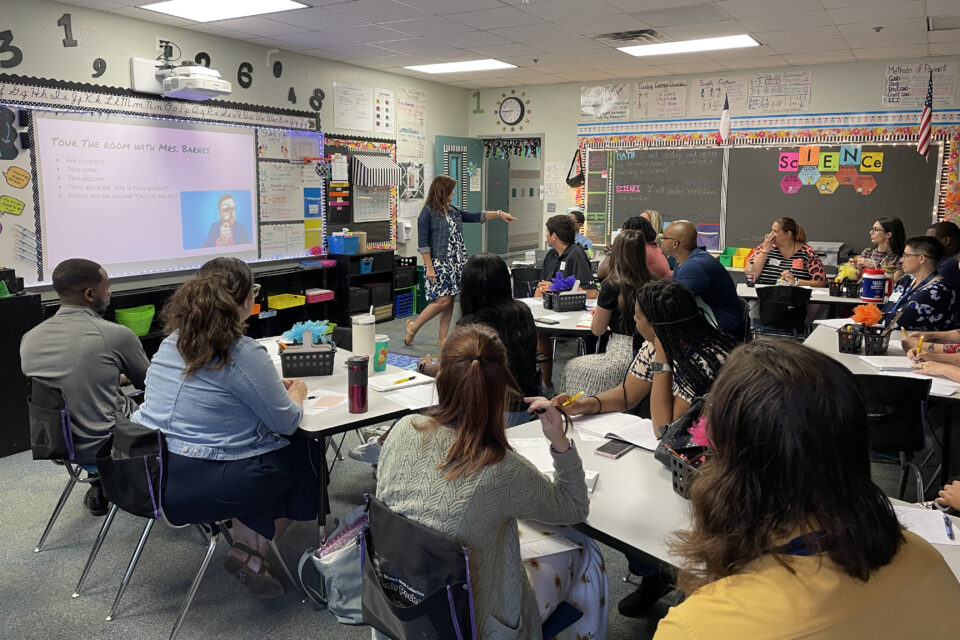 35+ teachers model their classrooms
Arlington ISD's hallways were turned into runways for current and new teachers at this year's New Teacher Week. 
New Teacher Week is a special time dedicated to the specific needs of new teachers to prepare them for a successful start to their first year of teaching.  
For the first time, model teachers were selected to lead hands-on, in-classroom experiences as a part of New Teacher Week.  
More than 35 Arlington ISD teachers modeled their classrooms for incoming teachers to help them have a great start in their new profession.  
Model teachers may not walk in fashion shows, but they sure do set the perfect example. From practicing lunch line-up to classroom hand signals, this was a fantastic way for first-year teachers to learn and apply how experienced teachers successfully manage and instruct their students.  
Around 190 new teachers participated in training, orientations and community-building across the district this week.  
Ashworth Elementary fifth-grade teacher Pamela Barnes had a full class of newbies learning from her Tuesday morning. 
"We wanted to focus on the first day and first-week routines," said Barnes. "It is important for them to build routines because once you are in the classroom, you must have a system in place."  
One of the primary goals of New Teacher Week is to ensure a balance of operational, relational and instructional support. The exercises help teachers feel confident when stepping onto their campus with knowledge and skills to employ immediately as they begin to collaborate with campus colleagues and engage with students and families.  
"To be able to see a model teacher is different than hearing about it in school," said incoming Little Elementary teacher Ashley Turner. "It is interesting to see different teacher perspectives. I have accumulated things I want to add to my classroom and things I want to do differently."  
The outpouring of support from the district's model teachers has helped make an easy transition for its growing community. 
Arlington ISD is excited to welcome incoming teachers and ready to take on the 2023-24 school year!