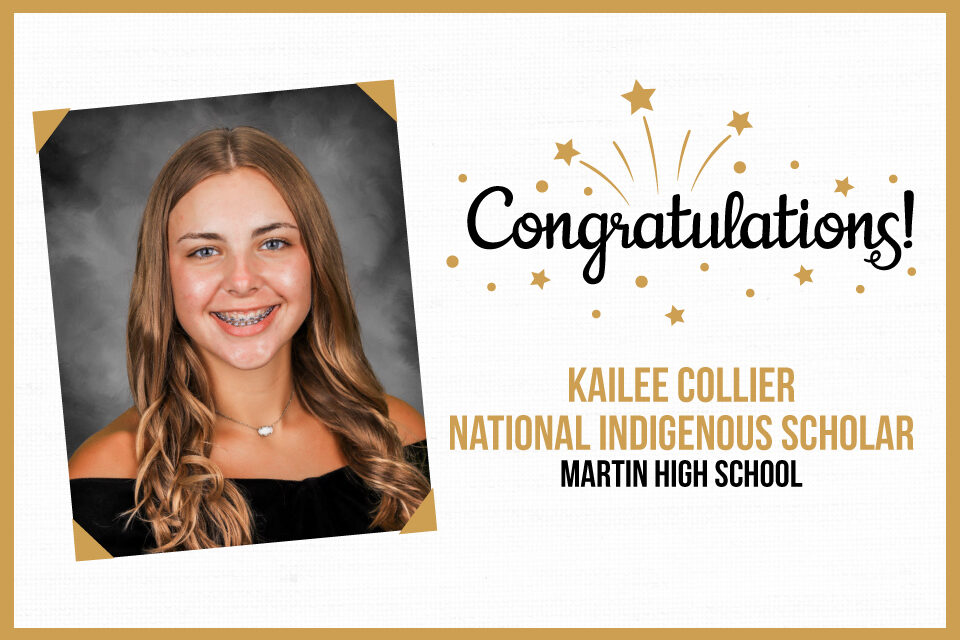 Kailee Collier
Arlington is known for being a melting pot of ethnicities. Naturally, Arlington ISD is a direct reflection of the many cultures that the city brings together. One student is determined to carry the Native American culture with her everywhere she goes, and she's certainly making waves while doing it. Meet Kailee Collier, a Cherokee Indian from southern Oklahoma. 
The Martin High School senior is the only indigenous student in the district to receive national recognition for excellence in academic achievement this year from the College Board. She scored 1350 out of 1600 on the SAT landing her the prestigious honor.
Collier and her mother's side of the family are a part of nearly 400,000 Cherokee citizens. Across the world, the Cherokee Nation is the largest tribe in the United States.
"My ancestors got to Oklahoma on the Trail of Tears, so I'm proud to come from such a strong line of people," said Collier. "Knowing what they went through to get here drives me to take advantage of every opportunity I'm given.
"I can't let roadblocks stop me. It's always been in me to make a better life for myself since my parents were denied certain opportunities. I can grow and be successful because of the sacrifices my parents had to make."
Origins
Collier hails from Talihina, Oklahoma but grew up in Arlington after her parents moved to find better job opportunities. She attended Dunn, Ditto and Corey elementary schools and Boles Junior High throughout her time in Arlington ISD.
Although Collier was in Texas, she felt right at home when her grandmother would send handmade accessories. Her grandmother would send earrings, purses, keychains and dreamcatchers from Oklahoma. She even recalls attending Cherokee and Choctaw annual craft fairs with her family in Oklahoma. During the fairs, she would learn more about her heritage and family history.
Those lessons of keeping family first, working hard, and remaining loyal to family and morals have stayed with her, and she continues to express the importance of Native American culture to everyone she meets.
"Any chance I get to say that I'm Native American, I take that opportunity making sure my friends and anyone I meet know about where I come from," said Collier. "My culture has sparked so many conversations, and it usually leads to the other person wanting to figure out their ancestry. That's the most rewarding part."
Family is most important to Collier. Her goal is to continue to make them proud of the way she carries Native American culture.
Hard work pays off
When she's not with her family, she has plenty of activities to keep her busy. Collier is a member of Key Club, National Honor Society, AVID, HOSA (Health Occupations Students of America) and a host of other academic- and service-based organizations. Her team took first place at the HOSA medical innovation competition two years in a row after creating a muscle stimulator last year and an antibiotic pump, like an insulin pump, designed to routinely deliver antibiotics to patients. Ringing in 100 hours of community service in just three years, volunteering is second nature to Collier. And to top things off, she has been named one of the six Richard Greene Scholars in Arlington ISD.
Spare time sounds like it could be a foreign concept to Collier. However, when she does have it, she enjoys painting, hunting, fishing, hiking and being a local lifeguard and swim instructor.
Collier plans to keep her culture alive as she heads to UTA to study nursing. She has already been accepted into the honors and freshman nursing scholars programs. After graduating from college, she plans to become a labor and delivery nurse.
"Even if you don't understand a particular culture, you can still have respect and appreciate a person that comes from a different background than you," said Collier. "Our cultures are what make us unique, and we have to keep them alive through people like us so they aren't forgotten in the future."
The future is certainly bright for Kailee.