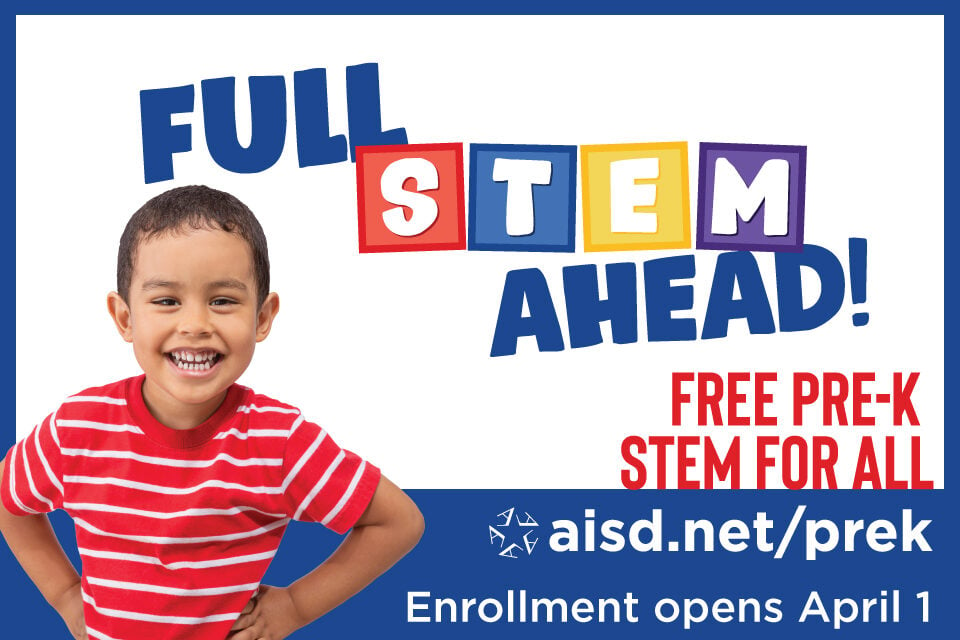 All Aboard! Pre-K registration is now open online at aisd.net/prek.
But if you would rather register in person or need access to technology, come to Pre-K Registration Roundup on Tuesday, April 5, from 5-7 p.m. at any of our elementary schools except Corey and Jones academies. (See a list of pre-K campuses.)
Parents can come and go and register their children for either pre-K 3 or pre-K 4. School staff will be on hand to answer any questions you have and help with the registration process.
Pre-K Registration Roundup is a big deal at many of the schools. At Ashworth Elementary, for example, it's going to be a lot of fun.
"While families complete the in-person registration process, the future pre-K Mustangs will go to the classroom with the teachers and do some fun activities," said Ashworth Principal Stacey Maddoux. "Every student who comes to pre-K Registration Roundup will receive a gift to take home and use all summer to be even more prepared for school. We cannot wait to meet our youngest learners and get them started!"  
Full STEM Ahead!
Arlington ISD is offering FREE pre-K for 4-year-olds next year. That means it's free for all 4-year-olds. Every child is welcome at no cost to the parents.
Plus, Arlington ISD is taking its pre-K curriculum to a whole new level with STEM (science, technology, engineering and math). STEM in pre-K is all about hands-on discovery. It's messy fun that brings learning to life. It's about exploring and trying new things. It sparks questions and curiosity and gives kids the chance to pursue that curiosity and find answers to their questions.
Pre-K is critically important. It gets children ready to learn, teaches important social and emotional skills, and fosters the development of verbal skills and self-control. Students who go to pre-K get a jump start on reading and are usually ahead of their peers who wait until kindergarten to start school. That's why Arlington ISD's pre-K programs have been carefully and lovingly designed to help every child thrive – to launch them on a lifelong journey of learning – and all in a super fun, loving, nurturing and safe environment.
Learn more about all of Arlington ISD's pre-K programs at aisd.net/prek and watch the video below about a day in the life of a pre-K student. And if you're ready to enroll, just click here or head to pre-K Registration Roundup on April 5.