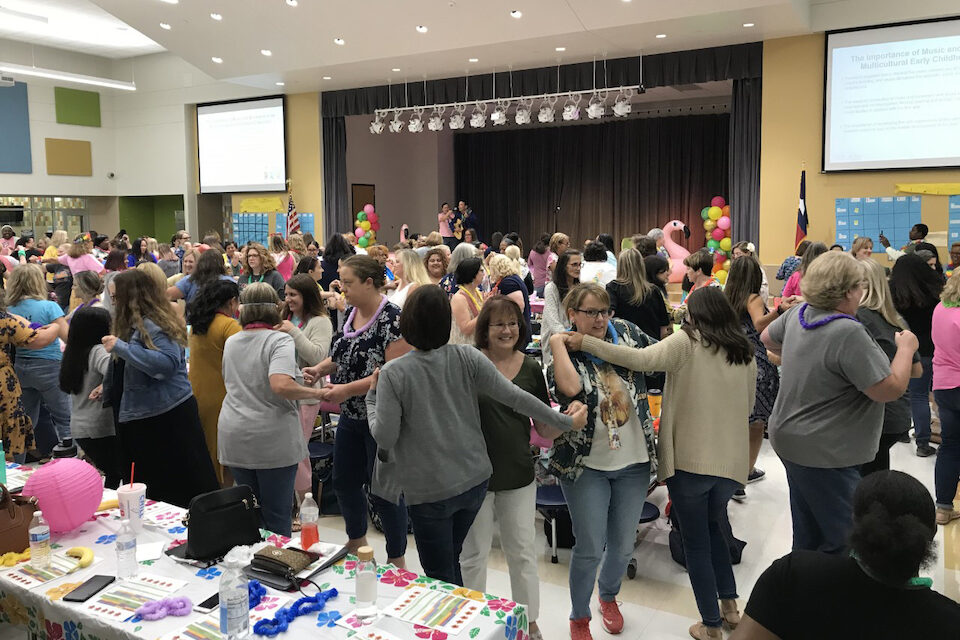 It's always fun with pre-K
If it's pre-K, it's fun. Even if it's an all-day pre-K teacher training conference.
"Buenos dias, aloha, good morning!" shouted Dr. Gilberto D. Soto, the keynote speaker, to the cafeteria full of Arlington ISD pre-K teachers.
Yes, aloha.
The McNutt Elementary School cafeteria had been transformed into a Hawaiian luau. Teachers sported leis and some even wore Hawaiian shirts.
The island theme was inspired by the Disney film Moana.
"Like Moana, we're going to do something that was never done before," said Dr. Jackeline Orsini, Arlington ISD director of early childhood learning, as she shared several lessons from the movie that apply to pre-K teachers. Lessons like: Follow your heart and be brave; be patient – with others and ourselves; and remember who you are and your purpose.
The doctors are in
The morning started with lots of Ph.D.s, but it was still fun. First, it was Dr. Orsini and Dr. Hildelisa Diaz, Arlington ISD early childhood coordinator, welcoming the teachers.
Then Superintendent Dr. Marcelo Cavazos not only welcomed the teachers to the new year, but he also praised and thanked them for their passion and hard work.
"You make the difference," Cavazos said. "You're a blessing. And because of the love you have for our students, they're blessed."
And then it got even more fun when the distinguished keynote, Dr. Soto, took the mic.
Soto is a professor of music education/guitar at Texas A&M International University where he teaches early childhood, elementary and secondary bilingual music education courses. He's an expert on music and movement in the classroom.
He told the teachers they don't have to be incredible singers or dancers to lead music and movement activities with their students.
"I am here to remind you what kind of connection you can have," Soto said. "If you move for them (your students), if you sing for them, you're their hero."
Soto soon had his guitar out and all the teachers clapping, stomping their feet, spinning around and singing, as he shared the power of music and movement in the pre-K classroom.
The dancing couldn't last all day though, and things did get a little more serious later with breakout sessions on a host of essential topics like math, literacy, social and emotional learning and more.
But it was still fun the whole day. That's just the pre-K way.
"We ended up the event with little gifts for all of the teachers and even with a special dance by the EC team and Arlington ISD students," Orsini said. "The teachers were smiling all day … and left the school full of energy and ready for a new school year."
Register today
The fun gets real next week when pre-K starts on Monday! Learn more about all of our programs for 3- and 4-year-olds and start the registration process online here.
If you're still trying to decide if you want to send your little one to pre-K – because let's face it, it's a big decision and they're still so little – you should know that Arlington ISD's pre-K program is the best in class. From our certified teachers to our fun, play-based curriculum, everything about the Arlington ISD's pre-K is purposefully designed to set your child up on a lifelong path of learning and success. Plus, it's now free for all 4-year-olds! Learn more at aisd.net/prek and feel free to contact the pre-K team at (682) 867-9418 or prekquestions@aisd.net with any of your questions.