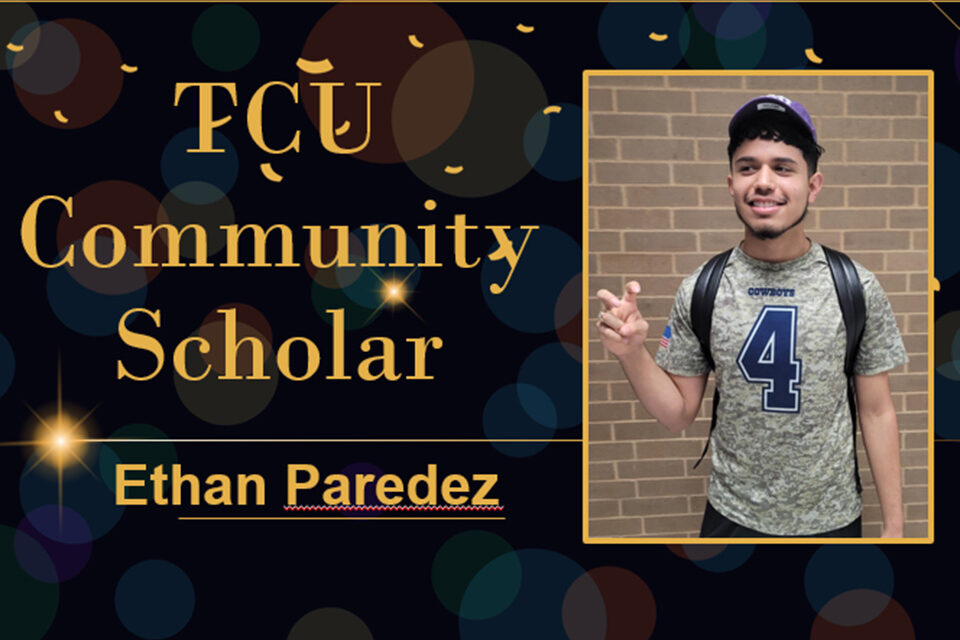 Sam Houston does it again!
The hope of attending Texas Christina University had come and gone for Sam Houston senior Ethan Paredez after finding out he didn't receive the Community Scholars award like seven of his classmates.
But what started out as a normal day for him a week later turned out to be life-changing when he received a call from TCU with an offer for a full academic scholarship.
"TCU called me a few times, but I hadn't answered because it was an unknown number," Paredez said. "Then, they followed up by email to let me know there had been a change to my portal. When the number called again, they told me about the full ride, and I was speechless."
Thank goodness Paredez answered the phone because he is now the eighth student at Sam Houston High School to receive the TCU Community Scholars award this year.
Unlike Paredez, most of the Community Scholars were notified in early April. The group of seven award recipients at Sam Houston had a small celebration with peers and staff who helped them throughout the application process. Paredez was happy for his peers, but feelings of disappointment started to set in.
Thank you, TCU
"Since freshman year, I had been hearing about the scholarship, so I always knew I wanted to apply," said Paredez. "When I found out I didn't get the scholarship with the rest of my classmates, I was disappointed initially. I just told myself to keep moving on and focus on picking a school that fits my needs."
"It was shocking when I get the call from them offering me the scholarship. I really hadn't thought about it anymore after finding out I didn't get it originally."
What initially seemed like a loss for Paredez ended up being a huge win. Another student in the Dallas-Fort Worth area was offered the award but declined it. Paredez was next in line to receive the $260,000 scholarship.
When he thought TCU was out of the question, he narrowed down his options to the University of Michigan, University of Texas and University of Texas at Arlington.
The senior is glad to be attending TCU! It's close to home and he can help with his family while receiving a great education.
"It's crazy to think I'm about to head to college in the fall and start a brand-new chapter in my life," said Paredez. "Freshman and sophomore years I was pretty quiet but then I started to blossom and became more social when I was an upperclassman. I'm glad I got involved at Sam, and now I'm just trying to soak up these last moments with my friends before graduation."
Never give up
National Honor Society, AVID, Key Club and a host of other organizations have been keeping him busy the past couple of years. Now he's wrapping up his schoolwork and counting down the days to graduation.
The scholar intends to major in global economics or business administration and get involved in multicultural and math organizations. He looks forward to forming relationships with his cohort. He also wants to learn tips to succeed academically and socially from previous Community Scholars.
"Knowing that my education can get me access to more opportunities is what motivates me to go hard. I'm so grateful to be able to go to school for free," he said.  "I'll never forget this moment."