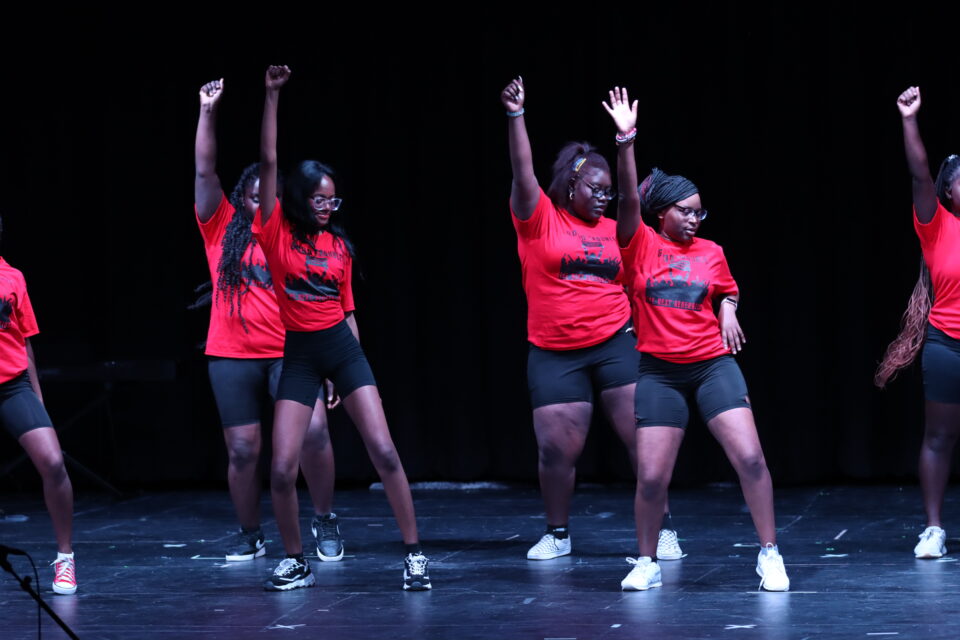 The place was rocking on Friday evening. The crowd could hardly contain their excitement as dancers lit up the stage and music blared across the auditorium. With the lights dimmed, many attendees even took out and swayed their cell phones while bopping to the music.
No, Beyonce hadn't yet made her stop to the area on her 2023 world tour.
But Ray Charles, Stevie Wonder, Little Richard and Aretha Franklin were all at Sam Houston High School – at least in spirit – when members of the Sam Houston Community Jazz Ensemble Show Band played a medley of Black music appreciation, including songs from those musical legends.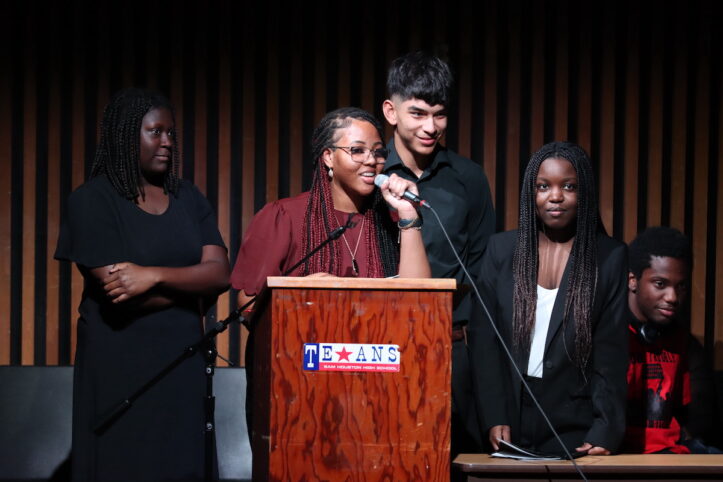 Their standout performance was among many from Sam Houston's Black History Month Program. The annual event titled "Good Trouble – Next Generation" once again honored the late civil rights activist John Lewis and encouraged youth to get involved in things that will cause positive change in the world.     
Committee chairperson and longtime Sam Houston history teacher Graylon Roberson crafted the event around Lewis' life. The son of sharecroppers who grew up in rural Alabama, Lewis spent a lot of time on the front lines to combat Jim Crow laws, particularly as one of nearly 600 people who tried to march across the Edmund Pettus Bridge in Selma, Ala. It was there that the protestors were met with tear gas and rubber tubing wrapped in barbed wire. A trooper cracked Lewis' skull with a billy club, nearly killing him.   
Since 1976, Black History Month has celebrated the legacy of African Americans who have shaped U.S. history. Each year, Sam Houston hosts its program as a community-wide celebration, pulling in students from all walks of life. The event attracts performances from across different genres, grade levels and curriculum.  
"Black History is American History, and we need to honor it," said Roberson, who grew up in a family that took Black History Month very seriously.
In 2011, he was fortunate enough to meet Lewis when he took his history students to Washington, D.C. Lewis had invited Roberson's group into his congressional office and showed them photos of many of the things he had been involved in over his career of activism and politics. Before dying at age 80 in 2020, Lewis was the last surviving speaker from Dr. King's March on Washington.
Keeping history alive
The Sam Houston Black History Program is designed to educate and bridge the gap between the past with what is going on currently. It uplifts attendees, Roberson said, largely because it is presented "in a light where you digest a little bit easier. Mixing a little bit of fun with the heavy."
During his early childhood years through high school, Roberson participated in Black History Month programs and developed a deep appreciation for it. He hopes to instill the same reverence and excitement in his students. In fact, his committee begins planning each year's show almost immediately after the previous year's event, he said.
On Friday evening, there was a wide variety of entertainment – a perfect balance between seriousness and fun. Throughout the event, a video showed a handful of Sam Houston students candidly giving their take on what Lewis' catchphrase, "good trouble," means.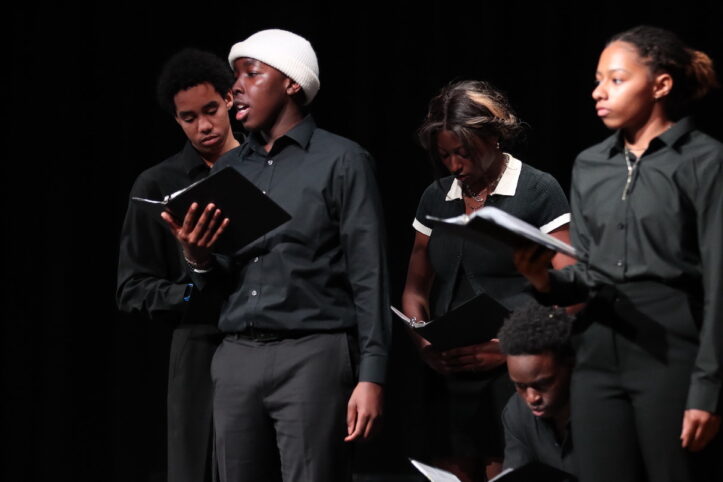 Students who comprise the African Sensations performed both a set of modern and traditional African dances. The Movers Unlimited Dance Company from Tarrant County College kicked things into an even higher gear with its hip hop dance routine. Members of Alpha Phi Alpha from Texas Christian University excited the crowd with their spirited fraternity-style stepping.
Sam Houston student Madysin Bussey, 17, hyped the audience with her original rap about "Phenomenal Women" from history including first black millionaire hair product pioneer Madam CJ Walker, track star Florence Griffith-Joyner and actress Halle Berry. The Sam Houston Community Gospel Choir also performed traditional gospel and Black spirituals.
Another highlight – one with a very serious tone – was the spoken word and monologue "What to the Slave is the Fourth of July" by Frederick Douglass and "A Raisin in the Sun" by Lorraine Hansberry. This was a collaboration between Sam Houston and Martin students.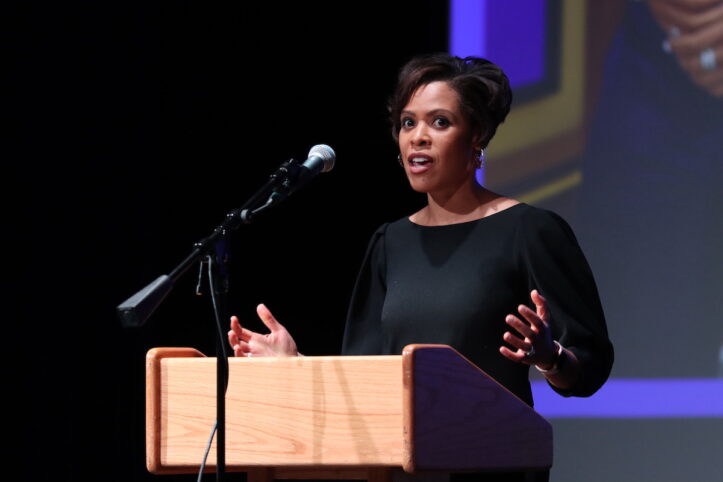 This year's keynote speaker, NBC DFW anchor Laura Harris – an Emmy Award and Associated Press award-winning journalist – also provided a powerful message about persistence. She told her audience: "We find who we are in times of adversity. We find who we can be when times get tough.
"I have found that I have done my best work when I am working the hardest, when things are not going my way," Harris said, referencing when she had to cover the Tokyo Olympics during the height of the coronavirus pandemic in the summer of 2021.  
A night to remember
Arlington ISD board member Sarah McMurrough was grateful to have a front-row seat to the action. She was joined by Superintendent Dr. Marcelo Cavazos and board members Kecia Mays, Melody Fowler, Justin Chapa and David Wilbanks.
"We loved every minute of it!" McMurrough said.
Mays added, "(The performances) were thought-provoking, they were factual, they were moving. You can tell that the kids, sincerely and passionately, were excited about what they shared this evening."
Principal Juan Villarreal also thoroughly enjoyed the show, calling its title, "amazing." He believes that both his students and teachers should embrace the motto: "Good trouble."
"When we see something or hear something and it's unfair and an injustice to our students, if we don't say something, we are a part of the problem," Villarreal said.
Villarreal feels that Black history should be celebrated all year long.
"We have to continue to embrace these events because together, we can become better," Villarreal said. "To hear our students' voices today and to see their performances and the passion that they have for equality – for everyone to live in unity – it just got to me really. It gave me a lot of hope. There's hope with our younger kids to be that change that we need for tomorrow. To me, that's powerful."