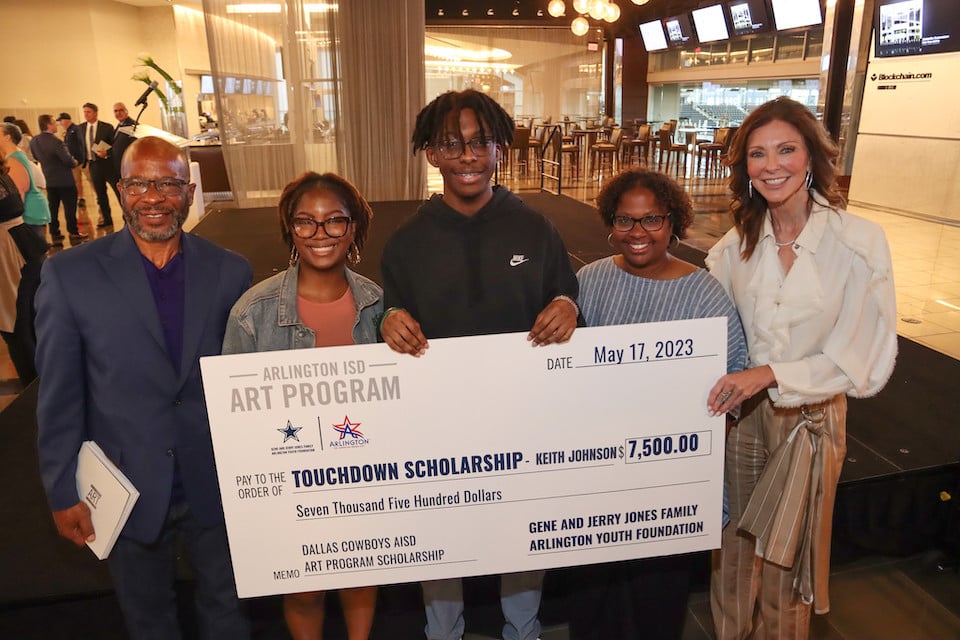 Program inspires young artists
Keith and Kimberly Johnson could hardly contain themselves last week while at AT&T Stadium. They lifted their hands. They leapt. They hugged one another.
"Hallelujah! Thank you, Jesus!" the couple shouted over and over.
With it being the NFL offseason, Dallas Cowboys quarterback Dak Prescott was not in the building throwing touchdowns.
However, everyone in the room could understand the Johnsons' excitement. The Gene and Jerry Jones Family Arlington Youth Foundation had just awarded their son, Keith (better known as "KJ"), with the top art scholarship, a $7,500 honor.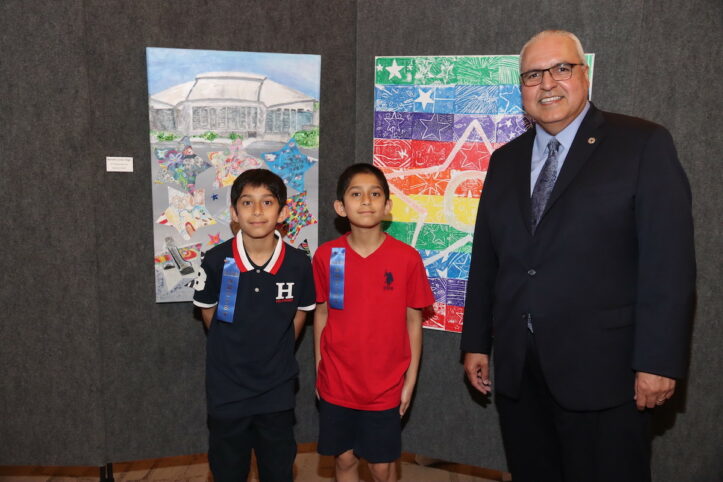 It was the first time that the organization gave college scholarships to Art IV students (high school seniors) at its annual reception, which honors student achievements within the Arlington ISD Fifth and Eighth Grade Art Program. In 2015, Gene Jones started the program to instill an appreciation for art at the elementary and junior high level.
Yet, Linh Nguyen, the district's assistant director of fine arts – visual arts, said the vision of the program was "always to include the seniors." So, this year, "The Cowboys made the decision to provide scholarships to reinforce and encourage the senior students to pursue an education in art or their career of choice," Nguyen said.
Many Art IV students have had a love affair with drawing and painting since kindergarten. A senior at Martin High School, KJ came to the district in fifth grade shortly after his family relocated from California. He didn't truly discover his artistic gifts until he started high school. That's when a teacher noticed that he would master art assignments regardless of the difficulty level.
With each passing year, KJ's love for art grew as he would win contests. During last week's exhibit, the 18-year-old believed he had a good chance to win a scholarship. He had taken time with family members to select his best work to send to the scholarship committee. KJ's impressive artwork included digital designs, a colorful stitched head design, figures wearing hip-hop clothing, portraits and more.
"Just submit what you feel in your heart to submit. And just enjoy the process," Kimberly said she told her son.
Just before his name was called, KJ said, "My heart kept beating."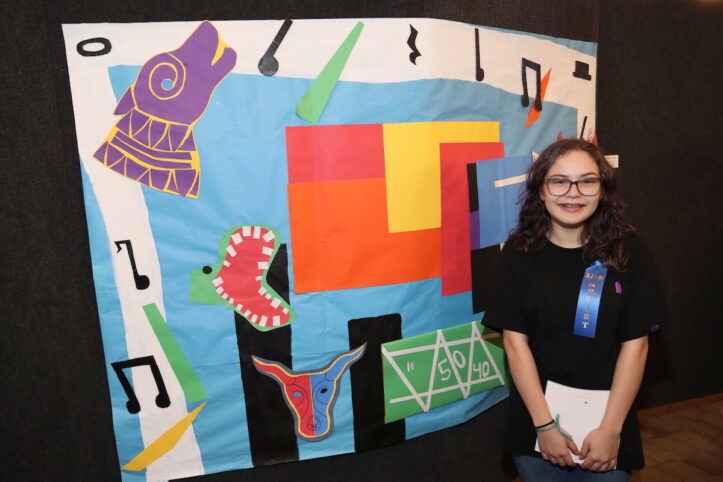 A night to remember
But KJ wasn't the only senior honored at last week's reception. Bowie High School senior Stephanie Martinez received a $5,000 scholarship for her art achievements as well. Ward Daniel and Aleena Hermes – seniors at Seguin and Martin High Schools respectively ­– tied for third, each receiving $2,000 scholarships.
Just prior to their recognition, countless students – along with their parents and art teachers – were treated to a grand affair inside the stadium's Ryan Club. While dining on an array of finger foods, they marveled at the dozens of paintings, sculptures and other unique projects that glowed with lights. Some were 2D or 3D and were made of everything from clay to papier mache. Many of them were Cowboys-themed.
Throughout the school year, more than 5,000 fifth- and eighth-grade students received a guided tour of the vast Cowboys art collection (close to 100 artworks from more than 60 artists) at the stadium. The purpose for their field trips: to jump-start inspiration to create their own artworks to be eventually displayed on that night.
Having art on display at AT&T Stadium was a big deal for the students, especially Peach Elementary fifth grader Londyn McGrew, who like others, proudly wore blue ribbons that read, "Artist." McGrew and her art teacher Sara Thompson explained to attendees how their artwork was designed with acrylic paint with the Cowboys star as the centerpiece.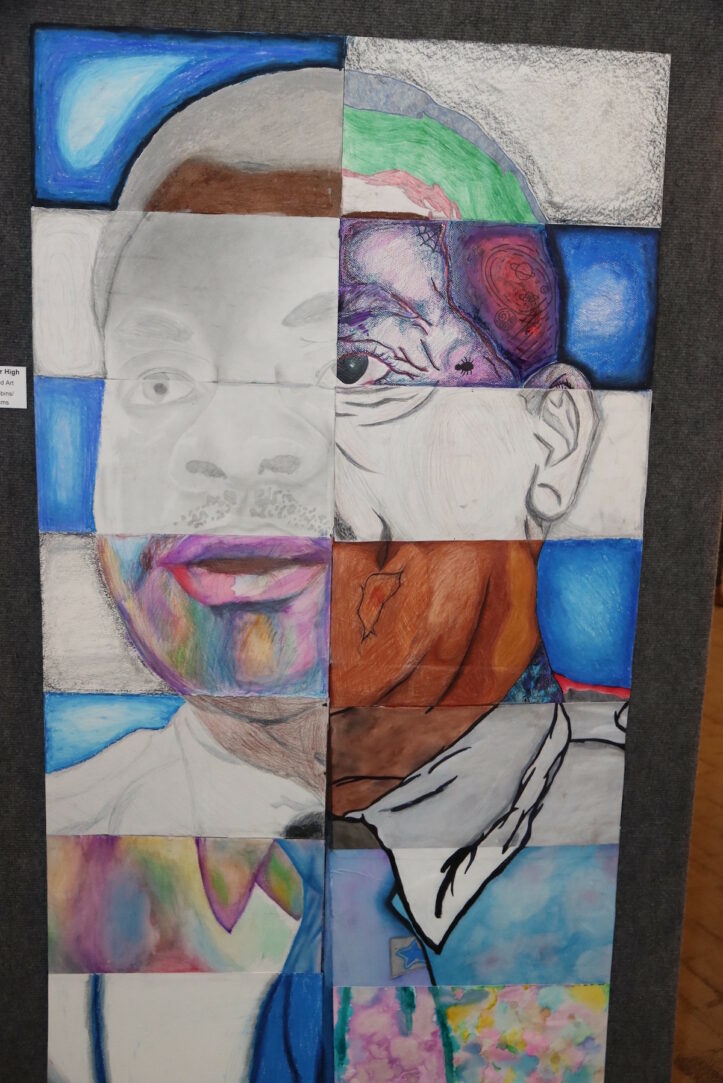 Surrounding the star were wood pieces bearing various images that McGrew and her classmates remembered seeing while on their field trip months ago. These included a student's rendition of Ricci Albenda's 2009 rainbow-colored "Interior Landscape, Full Spectrum." Thompson's students consistently worked on the project over several weeks, she said.
The young artists at Foster Elementary took things in a different direction. Their painting drew a lot of attention with its vibrant illustration of a closed-eyed girl with a background with rainbows and positive words like "pretty," "sweet," and "caring" surrounding her.
Phil Whitfield – a former Cowboys security guard turned art ambassador who leads the student tours – was astonished by a large, colorful recreated portrait that was on display.
 "I was quite touched," he said, admiring how the art piece even included minute details of the Cowboys tie that he always wears. 
Built to last
Nguyen said the exhibit and reception is "an incredible experience" that helps students recognize their amazing talents. It also "enables them to see art as something they can do beyond the classroom, connecting them to real-world experiences that enhance their lives beyond measure."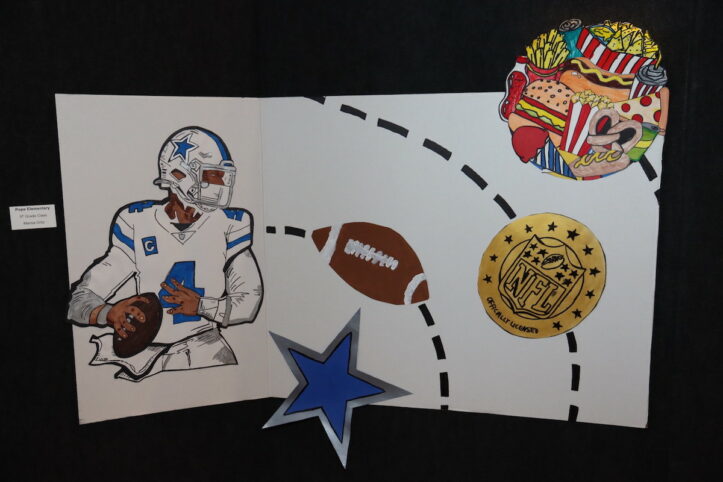 The art program itself was the brainchild of Gene Jones, whose daughter – Charlotte Jones, Dallas Cowboys executive vice president and chief brand officer – served as the facilitator of. During the ceremony, Jones praised Arlington ISD superintendent Dr. Marcelo Cavazos for the district's strong, continuous partnership with the Cowboys.
"Thank you for your dedication," Jones said, while sending heartfelt wishes regarding Cavazos' upcoming retirement. The two embraced after Cavazos expressed his longtime belief that the art program was designed for the long haul. He said the students' work at the widely attended, spirited reception was the proof.
Arlington ISD Center for Visual and Performing Arts teacher John Bruno was glad to be there to witness his student, KJ, receive his scholarship. "I think it's absolutely wonderful," Bruno said. "It really made my heart smile when they called his name … when I heard his family screaming for him."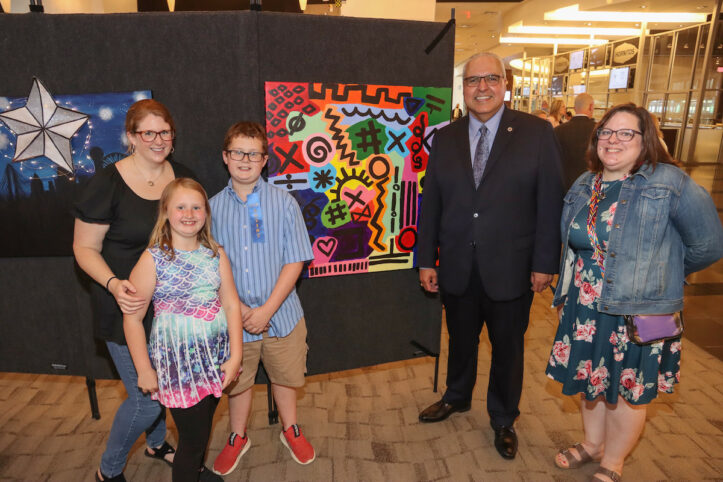 While Bruno said there are a lot of Art IV students who are just as talented, he described KJ as an "up-and-coming, bright mind" with an intense work ethic. "He's self-motivated and curious. And I think that is what it takes," Bruno said.
In addition to drawing, KJ has also worked with teams on sculpting projects – one of which was on display at the exhibit and manned by KJ and Bruno. The teen plans to enroll at the University of North Texas and study fashion design. He hopes to design his own clothing line in the future. His mom, Kimberly, said, "I am happy to see him flourishing and growing and figuring out what he wants to do."     
After all, the Johnsons said money hasn't come easy for their family. Kimberly works as an Arlington ISD security guard at Workman Junior High School. His dad Keith, who sells real estate title insurance, said the scholarship is crucial because the couple is currently helping pay for their daughter Kennedy's education at Babson College in Massachusetts.
Reflecting on KJ's scholarship announcement, Bruno said, "I think it was the perfect choice … A combination of his talent, his desire and a need for the scholarship. It was really perfect."