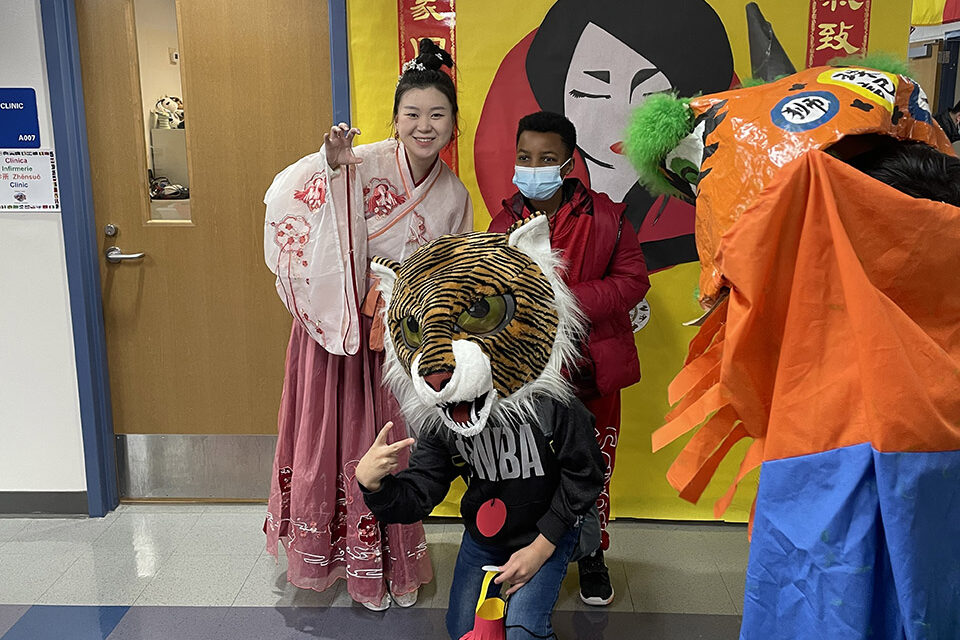 Lunar New Year
Students at Wimbish World Language Academy kicked off the week with an unforgettable celebration to bring in the Chinese New Year. The school was decorated from top to bottom with traditional Chinese décor throughout the hallways and classrooms to commemorate the special occasion.
Chinese New Year, also known as the Lunar New Year, is a festival that celebrates the beginning of a new year on the traditional lunisolar and solar Chinese calendar. The holiday officially begins on Feb. 1 and ends on Feb. 11.
This year marks the Year of the Tiger for the Chinese culture, representing bravery, courage and strength. More than 1.5 billion people celebrate Lunar New Year with colorful traditions and activities to welcome the new year while wishing luck and prosperity.
Yona Zhang
"Chinese New Year is the most important holiday in China and many other Asian countries like Vietnam, South Korea, Singapore, Malaysia, Thailand, Japan, Philippines and Indonesia," said Yona Zhang, Chinese teacher at Wimbish. "We couldn't miss the opportunity to celebrate while learning about Asian culture. Celebrating with fun traditions, activities and food keeps students engaged and helps them take ownership of daily learning. As the Chinese saying goes, 'interest is the best teacher.'"
Kids were met with fortune cookies, candy and paper medallions as they walked into school to start the celebration. Colorful paper dragons hung from the ceiling as they were woven between red and yellow lanterns and other creative decorations. The school was flooded with red accents and tiger stripes as Zhang's Chinese class students paraded down the hallway.
Zhang's class started learning about the Chinese New Year culture upon returning to school after winter break. Some teachings included learning the native lion and dragon dances with authentic material and music. Students created the dragon and two lions from scratch using paper boxes, cardstock and other materials in their classroom.
In the hallway near Zhang's classroom, several pictures of tigers had been colored and cut out by students for display with "Happy New Year" in Chinese. Members of the Chinese Club at the University of Texas at Arlington were also present to celebrate the New Year with the kids.
Chinese New Year is only one of several holidays the school recognizes throughout the year. Wimbish takes pride in preparing global leaders at a young age. Engaging lessons allow students to be immersed in various cultures from the convenience of the classroom. For more information on Chinese New Year, click here and learn ways you and your family can celebrate the colorful holiday.