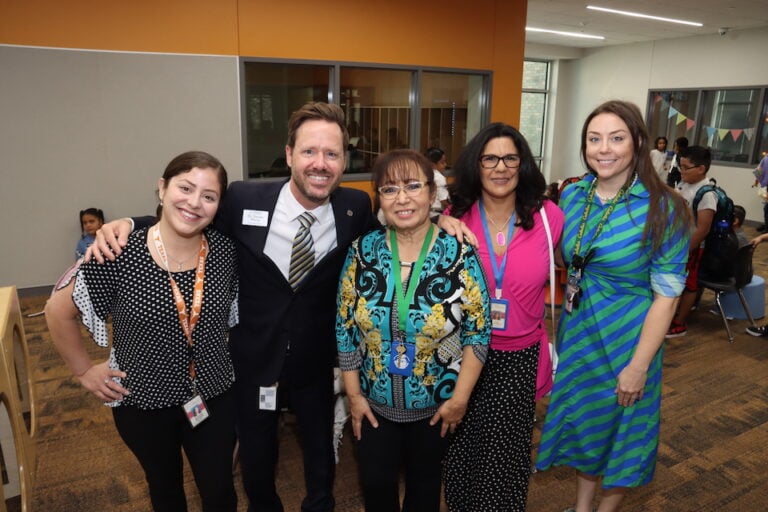 First day full of excitement
Dr. Steven Wurtz made the most of his first day as the Arlington ISD interim superintendent.
By the time the school day ended, Wurtz had driven nearly 40 miles, walked almost four miles on campuses, climbed nine flights of stairs, taken 7,700 steps and visited 29 classrooms.
Busy? Yes. Worth it? Definitely.
"My two favorite times of the school year are the first day of school and graduation," said Wurtz. "There were so many smiling faces from staff and students. Everyone was excited about the day and the opportunities this district provides. It was a great start to the school year."
Wurtz started his day at the new Berry Elementary where he greeted students as the doors opened for the first time. Then it was off to the second new school at Thornton Elementary.
There Wurtz got a surprise as he saw a familiar face at Thornton. Kindergarten teacher Silvia Campos remembered Wurtz from when he was a teacher. That's because Wurtz taught her son, who is now 31 years old.
At Sam Houston and Seguin high schools, Wurtz got to visit with the freshmen P-TECH students at each school. Both Sam Houston and Seguin are offering the Pathways in Technology programs for the first time. Students at Sam Houston are studying logistics and mechatronics while those at Seguin are focusing on engineering and computer-aided drafting and design.
By the time the approximately 90 students in each program graduate from high school in 2027, they'll have their high school diploma, associate degree and the opportunity for workforce certifications.
At Boles Junior High, Wurtz visited with Mario and Luigi. Well, maybe it wasn't really Mario and Luigi, but science teachers Lori Green and Diane Gunnip welcomed him into the world of Mario as they started the school year with a classroom transformation and were dressed for the parts.
Wurtz showed off his dance moves at Corey Academy of Fine Arts and Dual Language. He participated with dance students as they created a brief routine as part of an icebreaker as they introduced themselves. He also got to hear examples of healthy snacks in another class. Carrots? Yes. Boogers? Yuck!
Wurtz crossed the three-mile mark walking at his last stop at Shackelford Junior High. He spoke with theater students and then put scissors on his head – not literally – but in another icebreaker students were using to get to know each other in an AVID class. Students had to guess what the card was they had on their head. Once Wurtz narrowed it down to a sharp item, he guessed it was scissors.