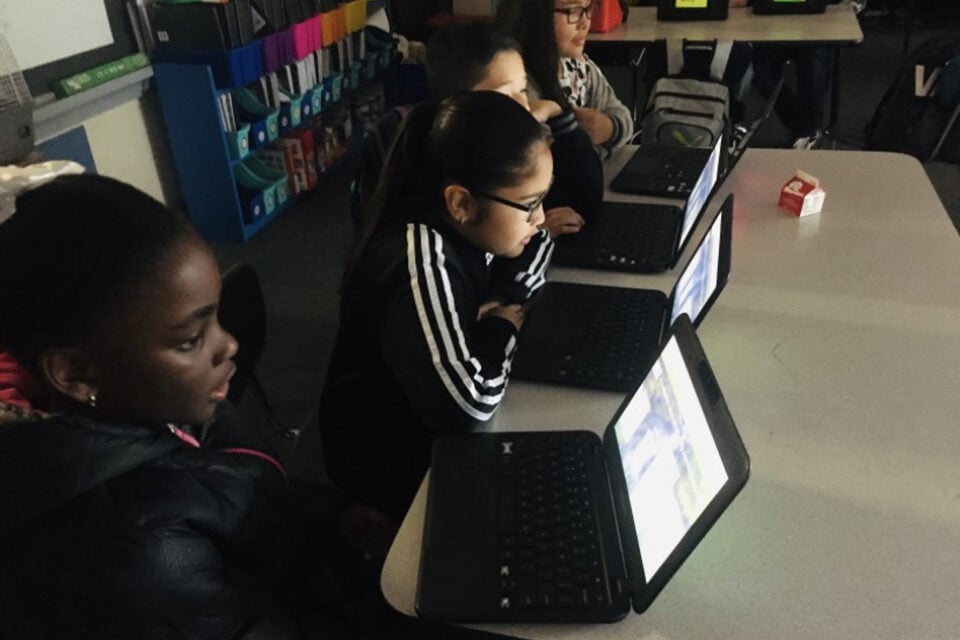 Technology Enrichment inspires learning
"Fun" may not have been what students expected when they came to summer school (aka summer learning) this year. But that's exactly what third through eighth graders at 11 elementary schools and four junior high schools got thanks to Arlington ISD's innovative Technology Enrichment program. And they learned some important skills, too.
The Technology Enrichment program was created and launched by the Arlington ISD's technology integration and innovation department in 2016 as a way to give summer learning students a brain break and some fun. It taps into the interest and curiosity students already have for technology and offers fun challenges that often have students asking for more.
"It's highly engaging and exciting," said Levianne Mirabelli, the Arlington ISD technology integration specialist who leads the program and helped first develop it back in 2016. "Students look forward to coming every day. When they see the technology teacher, they're so excited: 'I can't wait to come to your class today. What are we doing today?'"
Arlington ISD teachers volunteer for the program, receive training before summer school starts and then roll it out most days for the students. They use web-based platforms like Learning.com and Minecraft Education Edition to give their students fun lessons and challenges that teach a wide variety of skills like computer skills, computational thinking, coding, virtual robotics, typing and more.
"It's giving us a chance to empower these students to gain those future-ready skills," Mirabelli said.
Bedrooms and parks
This summer, the primary Technology Enrichment assignment for third- through sixth-grade students was to design their dream bedroom using Learning.com. They had to create a budget for the project and use spreadsheets to track expenses, design the room on blueprint paper and then do it digitally, develop a presentation in Canva or Adobe Express showing their bedroom plans, and finally build the bedroom in Minecraft.
Seventh and eighth graders' assignment was similar, only they had to design a park. They had to take city requirements into account as they created their design. Then they used Canva to create an advertisement for their new park, and finally, they built it in Minecraft.
"We learned about coding and programming," said second-year Technology Enrichment teacher Jena Shankle. "They were able to use it in one of their favorite programs and see how what they learn in class – like area and perimeter – can be used in Minecraft."
The students enjoyed it so much, they would ask for more. Once they finished their other assignments, they could engage in a variety of enrichment activities through fun apps like Chrome Music Lab and National Geographic Kids. From art and music to science and coding, students could choose all kinds of fun learning activities.
"To an outsider, my lab may have sounded loud and chaotic at times, but the dialogue I heard during these challenges is music to my teacher's ear," said Technology Enrichment teacher Chasity Johnson. "They were formulating questions to seek the right kind of help from each other." 
In Shankle's class, some of the students mainly wanted to improve their typing so they could be like their teacher: able to type while not looking at the computer or talk and type at the same time.
Whatever they chose, it made summer learning extra fun.