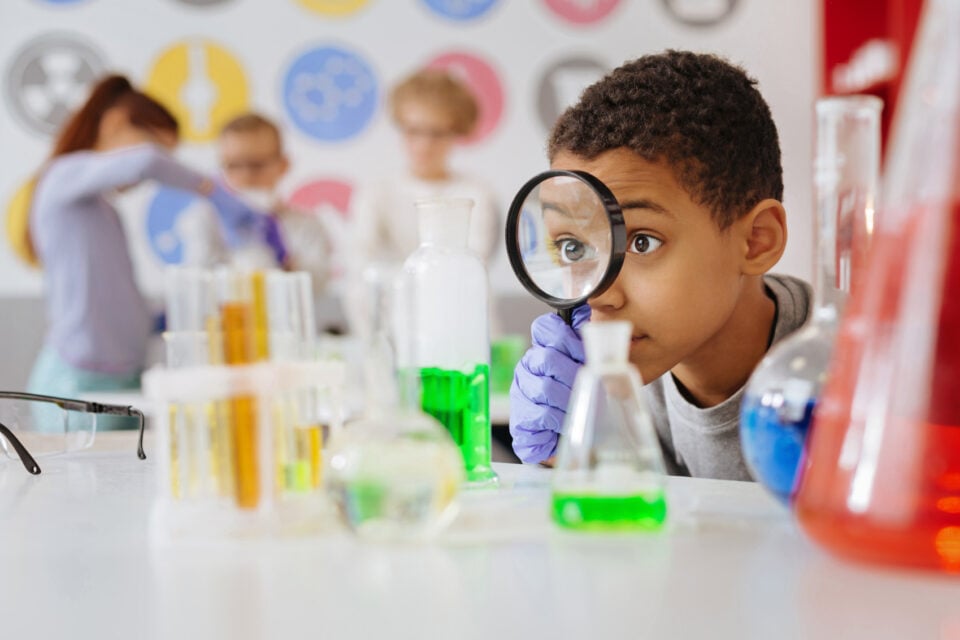 Arlington ISD is taking its pre-K 4 curriculum to a whole new level in 2022-2023. It's Full STEM Ahead! with science, technology, engineering and math!
FUN WITH STEM
The innovative new STEM curriculum is all about hands-on discovery. STEM fits right into the play-based curriculum the district already has.
Play is how young children learn. They are innately curious, and they feed and foster that curiosity through play.
"Our pre-K curriculum allows preschool children many types of play throughout the day," early childhood director Dr. Jackeline Orsini said. "Our daily lesson plans allow children to participate in physical, cognitive, language and social play through structured and non-structured activities."
Now that list of fun, playful learning activities will include STEM.
STEM involves touching things, experimenting and seeing how stuff works. It's purposefully designed to sparks questions and curiosity and give kids the chance to pursue that curiosity and find answers to their own questions.
And it's fun! It's messy fun that brings learning to life. It's about exploring and trying new things. And fun is key in getting kids excited to learn.
"Whenever they first start school, we want kids to love it," said Pearcy STEM Academy Principal Codi Van Duzee. "We want them to enjoy learning."
STEM LABS
Every Arlington ISD elementary school is already equipped with two STEM labs, thanks to Arlington taxpayers supporting the 2014 Bond. With STEM already part of the curriculum in elementary schools, adding it to the expanded pre-K offerings is the next step.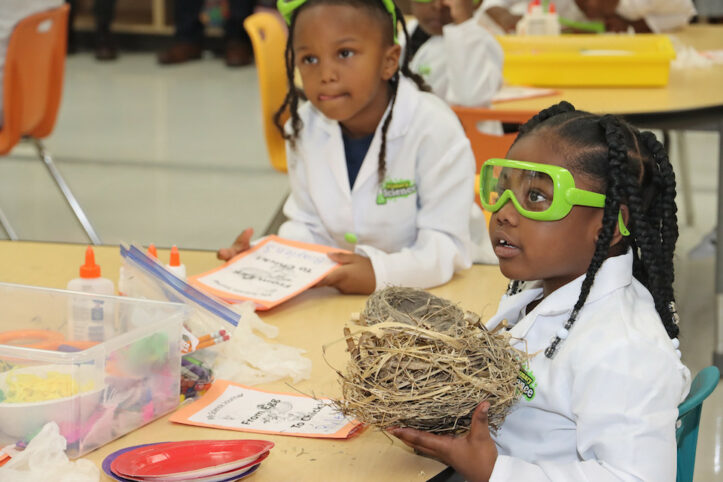 "The Arlington ISD provides our 21st-century learners exceptional educational opportunities throughout their experience in our schools. This journey for our youngest learners begins with pre-K," Arlington ISD Superintendent Dr. Marcelo Cavazos said. "We know that by starting STEM early through fun and interactive experimentation, our pre-K students will be inspired to learn and discover through their lifetime."
The labs were built to enhance a method of teaching that is inquiry-based and hands-on and to provide a space that facilitates the four Cs: communication, collaboration, critical thinking and creativity.
A PHILOSOPHY
STEM isn't just a list of activities done in a lab with safety glasses.
"It's really a philosophy piece that is most important," explained Van Duzee. "It is the mindset of teachers in how they plan lessons for kids."
That philosophy is about making the lessons relevant to the real-world. It's about providing hands-on activities that let kids get in there and really participate in their own learning. And it's about integration. In other words, you don't teach each concept in isolation. You combine them in activities that allow students to make real-world connections.
FAILURE IS WELCOME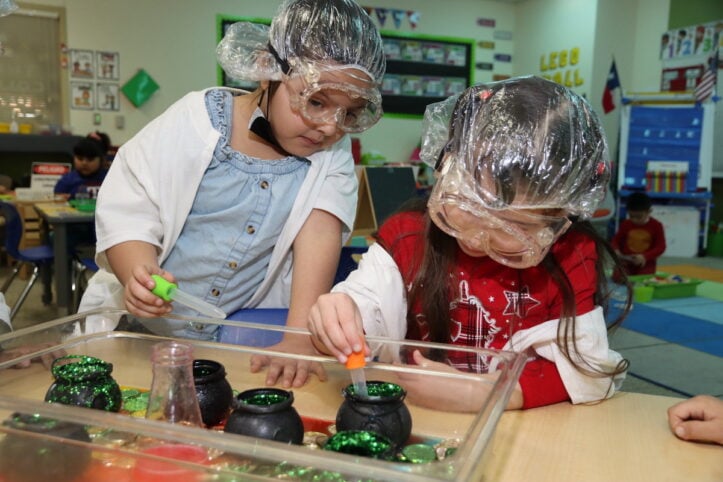 "We actually celebrate failure," Van Duzee said. "You don't learn by getting everything right all the time. It's when something doesn't work that you ask questions."
STEM builds on young students' innate inquisitiveness to make them even more inquisitive. When an experiment doesn't work like expected, ask why, and then figure out a way to make it work. Instead of just telling kids what they need to know, with STEM, students are equipped to explore and find many of the answers themselves.
Failure is welcome because failure isn't really failure. It's a step – a building block – to knowledge and success.
STEM IS THE FUTURE
STEM – even as early as pre-K – lays the foundation for a successful educational journey. But it does more than that. It sets students up for the future – even as far down the road as their graduation and career.
That's because STEM is the future when it comes to the job market. STEM careers currently make up 20% of all U.S. jobs and often pay higher than those in other areas. That number is continually rising. Just imagine what that's going to be like in 2036 when these little learners graduate.
STEM IS NOW
If STEM in pre-K sounds a little daunting for your future student, don't worry. If they love to play with LEGOs, Play-Doh, build things (or take things apart), and have a natural curiosity about everything, they will love STEM.
Plus, it's free! For the first time next school year, Arlington ISD's pre-K for 4-year-olds is open to everyone at no cost. Registration is open online now. Visit aisd.net/prek to learn more and register.