Dr. Jackeline Orsini is the Director of the Department of Early Childhood Learning and a proponent of high-quality customer service, data-driven strategic plans, school-community involvement and the principle that all students should have equal opportunities to achieve excellence. Dr. Orsini earned her doctorate in education with an emphasis in educational leadership from Dallas Baptist University. She previously served as the first principal of Arlington ISD's McNutt Elementary. As the director of early childhood learning, she has implemented the district's first full-day pre-K program for four-year-olds, adopted a new pre-K curriculum, implemented new TEA Pre-K High-Quality Standards, built new early-childhood community partnership models, and led planning for districtwide pre-K renovations as part of the 2019 Bond. She is passionate about education and committed to ensuring students have fun while learning, creating and exploring. 
Department Contact: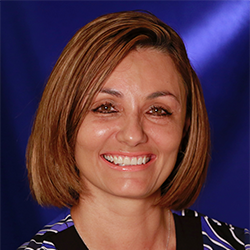 Dr. Hildelisa Diaz
Early Childhood Coordinator
Curriculum | Instruction | Professional Learning
hdiaz@aisd.net
Dr. Hildelisa Diaz is honored to serve as the Coordinator of the Department of Early Childhood Learning. Having earned her doctorate at Texas Wesleyan University and a master's in Curriculum and Instruction from the University of Texas at Arlington, Dr. Diaz has devoted more than 22 years to working in Arlington ISD education with young children and their families. She has taught several elementary grade levels and has served as lead teacher, instructional coach and curriculum and instruction specialist. She is committed to creating a strong, educational early childhood program where our students, families and teachers excel.
Lilly Hamner is ecstatic to join the Department of Early Childhood Learning as the coordinator of operations after serving as the assistant principal at Pope Elementary for six years. She began her career in education as a kindergarten teacher assistant in Lilburn, Georgia and made her move to Texas where she served as a bilingual teacher, dyslexia interventionist, and ELL specialist in Irving ISD. Lilly earned her B.A. in music from Agnes Scott College and M.Ed. in administration from Lamar University. She looks forward to supporting Arlington ISD campuses, Head Start, and community based centers in ensuring that every child has the opportunity to engage and benefit from an exceptional early childhood program.
Nadia Azari joined the Department of Early Childhood Learning as an instructional specialist in the summer of 2020 after teaching bilingual pre-K at Morton Elementary for 17 years. She grew up in Arlington and attended Starrett Elementary, Hutcheson Junior High and Bowie High School. Nadia holds both a bachelor's degree in Kinesiology and a master's degree of Education in Curriculum and Instruction from the University of Texas at Arlington. She enjoys spending time with her family, cooking new recipes, playing board games, watching action-packed movies and traveling.
Ken Foster began his career with Arlington ISD in 2010 serving in an immersive internship as an ECA (Early Childhood Assistant) at West Elementary. In 2011, after completing his bachelor's of Interdisciplinary Studies in Education at UT Arlington, he answered the call to serve as a pre-K 4 teacher at Kooken Education Center. Following his passion for learning, he completed his master's in education in Mind, Brain and Education in 2015. When not song-writing on his guitar, exercising and riding his mountain bike, he enjoys playing Uno and Scrabble with his wife and two sons.
Kathy Sowell is an instructional specialist supporting early childhood special education teachers. She began her career in Arlington ISD as a speech pathologist at Atherton Elementary. Following her passion for working with our youngest students, Kathy moved to Kooken Education Center to teach preschool students with disabilities. After 14 years, she moved into the instructional specialist role with the special education department. Kathy received her B.A. in Education with emphasis in speech, language and hearing therapy from the University of Louisiana-Monroe. She has a M.S. degree in Communication Disorders from the University of Texas-Dallas. Kathy is a big sports fan and loves, mysteries, cooking and listening to music.
Department Contact:
Vacant
Early Childhood Specialist
Dulce Carrillo is the secretary of the Department of Early Childhood Learning. Carrillo joined the department of Early Childhood Learning in its early stages and began her collaboration with Dr. Orsini in June of 2019. Carrillo has a passion for service and has served our community at different levels during her time with the district. Carrillo started her career with Arlington ISD as the clerk for Crow Elementary for two years and then became the family liaison for McNutt Elementary working with parents. In this role she was able to help parents by providing classes on topics that would help parents help their children succeed in school. Carrillo's current job is to work directly with the director of the program, Dr. Jackeline Orsini, and her team.
Ms. Melindaaprell Johnson Joined the Early Childhood Department in 2021. She is originally from Washington DC and proud Mom to three children. She has an extensive customer service background in both the hospitality and retail industry for a combined 18 years of service. Melindaaprell is going into her 6th year with AISD. She was a classroom assistant in a community-based center. She also served as Community Base Clerk for two years, before transitioning to the role of a campus clerk for Kooken Educational Center. Ms. Johnson brings strong customer service skills to support families across the district and in the community.
Yenia Ponce joined the Department of Early Childhood as an Early Childhood Clerk. She has a degree in Attorney & Law from the Universidad Autonoma de Chihuahua in Mexico. I am so pleased to become a Clerk at the Early Childhood Learning Department. She has been part of Arlington Independent School District for more than 10 years. She was a Family Liaison at Hutcheson Junior High for 4 years, where she have the opportunity to create a successful bridge between the school, community, and parents through events and programs. She also served as a Guidance Technician at Pope Elementary for 8 years. In this role, she has the honor to assist our counselor and work with kids from kinder-sixth grade on testing times. In addition, she supported families through the registration process. She has always felt passionate to support young kids and their families. She likes to spend time with her husband and two kids, playing board games, watching movies, and visiting the family.