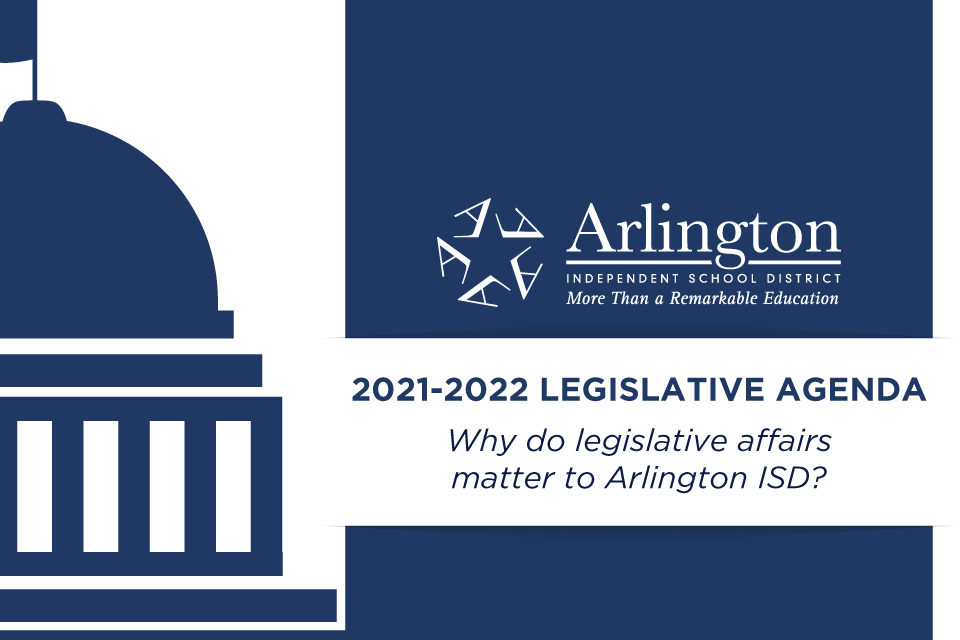 The 87th Texas Legislature convened on Jan. 12, 2021, and will adjourn May 31, 2021. The legislature meets every two years to set the state's budget and consider and implement new legislation. For each legislative session, the Arlington ISD issues a legislative agenda with a series of priorities that are important to the district and public education in Texas. The district shares the agenda and priorities with our elected officials and seeks their support.
The article below is the first in a series designed to share and explain the district's legislative priorities with our stakeholders. This story explains the district's interest and involvement in legislative affairs. For more information on all of the Arlington ISD's legislative priorities and to read the entire legislative agenda, please visit aisd.net/legislative-affairs.
Arlington ISD takes a proactive approach toward legislative affairs. Led by the Board of Trustees, the district not only pays attention to the legislation and policies coming out of Austin related to education, it also shares its opinion and perspective on many of them with local and state legislators.
Why is Arlington ISD involved in legislative affairs?
Legislative affairs are extremely relevant for school districts as the legislature's actions have a direct impact on our students, teachers and staff.
"What happens in Austin affects us in so many different ways," said Justin Chapa, Arlington ISD trustee and the chair of the board's governance committee.
The Texas legislature establishes rules and policies that impact nearly every aspect of a school district, from school finance and district accountability ratings to student assessments like STAAR testing and even curriculum offerings. It decides when school districts can hold elections and what the language on a ballot must be. It even controls health insurance and retirement programs for school district employees, and on and on.
"We are advocates for our students and employees," said Arlington ISD Board of Trustees president Kecia Mays. "We want the best educational experience and opportunities for each of our students. To do that, we need Austin to establish policies and provide resources that are in the best interests of students and teachers. So, it makes sense for us to talk with our legislators about the important issues facing our district and let them know how they can help support us."
What does Arlington ISD do about legislative affairs?
It all starts with the Board of Trustees governance committee and senior administrators keeping track of legislative affairs and governmental issues. They do this with assistance from a legislative consultant based in Austin.
Trustees and senior administrators also make a point of meeting with our local legislative delegation. At least once a year, all the legislators who represent the Arlington ISD area are invited for a discussion and update on the district. This past year the meeting was held via Zoom, but the previous year it was at the Arlington ISD Dan Dipert Career and Technical Center. Trustees and senior administrators also meet with individual legislators from time to time to discuss our interests and priorities.
When it comes time for a legislative session in Austin, which happens every two years, Arlington ISD develops and shares a legislative agenda and priorities for the session. This document is essentially a list of the topics important to Arlington ISD and our position on them. The agenda is shared with our local legislative delegation and made available to everyone on the district website.
As the legislative session progresses, the district tracks proposed bills related to education. On bills of particular importance, the district will share our support or opposition to the bill through a card or letter delivered to our local legislative delegation.
At times, senior administrators will even travel to Austin to testify on a certain bill or topic. This session, for example, Dr. Kevin Barlow, Arlington ISD's assistant superintendent of research and accountability, gave testimony before the Senate Committee on Education. He spoke in support of Senate Bill 194 about including career and technical education in school accountability.
"Testifying in person in Austin gives us a great opportunity to reach legislators from across the state and make them aware of important issues facing public education," Barlow said. "Most legislators are not educators, so they need to hear from district personnel to understand how policies and legislation impact districts and students."
In the 2019 legislative session, Arlington ISD went a step further. The district crafted a bill, with support from our legislative consultant in Austin, regarding health insurance for school district employees. Texas school districts enrolled in the Teachers Retirement System (TRS) Active Care health insurance program are restricted from offering alternative health care plans. The TRS Active Care plan premiums had become much too expensive for districts and their employees. The bill would have allowed Arlington ISD to leave TRS Active Care and start a pilot program to obtain more affordable health insurance options for our employees. Texas State Representative Matt Krause, one of our local legislators, sponsored the bill in the Texas House of Representatives.
Does it make an impact?
The district's legislative efforts do make an impact.
Educating our local legislators about issues facing the district is a big piece of that. Arlington ISD is able to explain to legislators how bills might affect school districts and identify potential unintended consequences. Sharing our support or opposition to a bill helps our legislators make an informed decision on how to vote.
Even when our legislators don't vote our way and have different views than the district on certain issues, because of our relationship, they at least understand our perspective, and we know theirs. We still find common ground that the legislators are willing to help with.
This year, the impact of COVID-19 on Arlington ISD has been one of the most important discussion points with legislators.
"This session we played a strong role in educating our legislative delegation about how important changes to virtual education going forward are going to be," Chapa said. "Our delegation was probably more dialed in and engaged on that issue earlier on because we were able to educate them on how virtual education is playing out."
The district's health insurance bill in 2019 also made an impact. Although the bill failed to pass, the district's initiative and leadership on this important issue set the foundation for important changes. TRS has actively partnered with school districts throughout the state and offered a number of Active Care plan improvements and cost efficiencies in this past year.
"Our partnership with TRS has been encouraging," said Scott Kahl, Arlington ISD assistant superintendent of human resources. "TRS has shown the initiative to listen to its key Active Care stakeholders and make plan modifications to address member needs. We recognize there is more to do, and we are hopeful that our positive relationship with TRS will contribute to additional improvements and cost efficiencies for our employees."
"Our legislative efforts are on behalf of our students, employees and community," said Arlington ISD superintendent Dr. Marcelo Cavazos. "That is the framework that guides our agenda and communication with legislators. We believe that by being proactive and engaged, we can help our leaders in Austin make decisions and policies that will benefit our students and teachers here in Arlington and throughout Texas."
Learn more
Arlington ISD's entire legislative agenda is available at aisd.net/legislative-agenda. Learn more each day this week as articles about four of our legislative priorities are posted here at aisd.net.