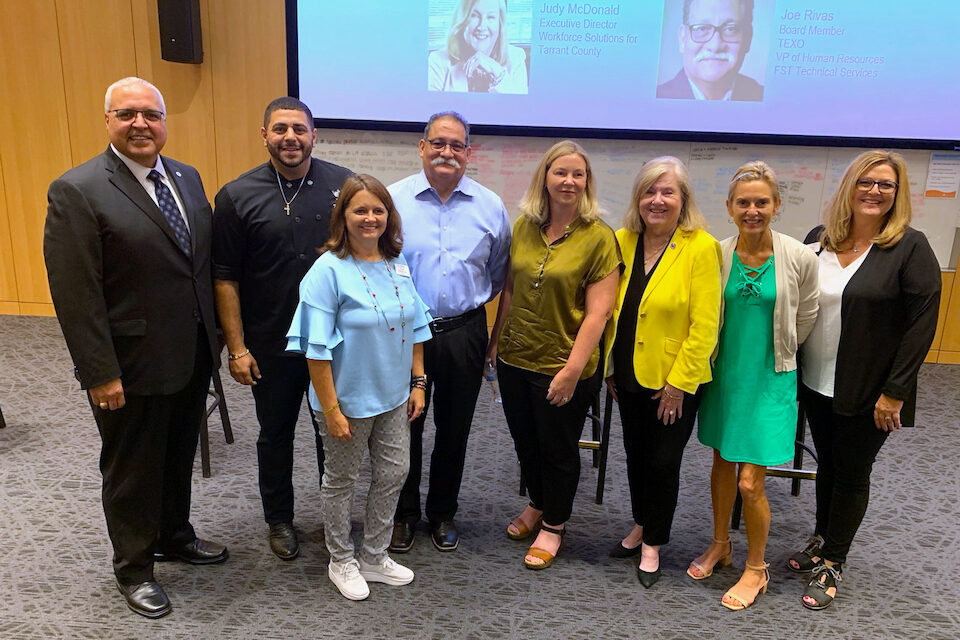 CTE Training
It's all about building connections that last.
That was the theme as Arlington ISD's career and technical education (CTE) teachers gathered at UT Arlington's SEIR Building on Wednesday for a professional development conference. The all-day event helped them prepare for the new school year.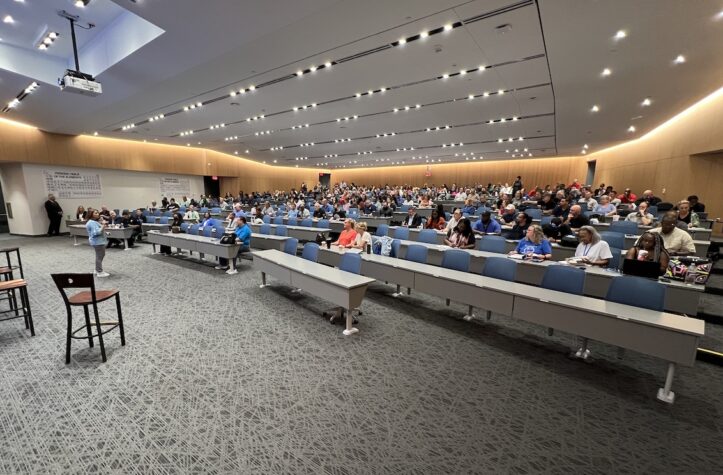 "Today is the start of a journey to build lasting connections," said Susan Patterson, Arlington ISD's CTE director, to the room full of teachers.
She told them they already have the knowledge the students need. The key is to build the kind of connections and community in the classroom that will empower the students to receive that knowledge and use it to thrive.
Workforce Panel
To kick off the day of training, Patterson and Ginger Polster, principal of Arlington ISD's Dan Dipert Career & Technical Center, hosted a panel discussion on the current work environment and how it applies to students and education. The distinguished panelists included:
The panelists touched on a host of issues, but several themes stuck out, including advice for students entering the workforce, encouragement and a reminder to teachers of how important they are, and a wakeup call for higher education and the country as a whole.
Good advice
The panelists gave advice for students even though none were in the room. But the teachers can take that advice and pass it on in the classroom. Much of the advice boiled down to attitude.
"The attitude is what's important," Rivas said. "We'll teach you the other stuff."
Lundquist echoed Rivas and encouraged enthusiasm and engagement.
"It can be the most basic task in the world, but look excited," she said. "And think critically. We're always looking for people who will look at something and see it differently from an educated standpoint."
With a good attitude, employees can also collaborate and build strong relationships.
"It's real important to learn how to build relationships," Rivas said.
McDonald explained that knowing how to get along and be flexible is basic to success – and it's required in every job.
"At some point you're going to have to work together," she said.
Encouragement
When the panelists were asked what the most important thing was they got out of high school, they became nostalgic and even emotional. Each one was impacted and inspired by their teachers. What they had to say must have encouraged the teachers and reminded them of the powerful role they play in their students' lives.
"The most important thing I got out of high school was a sense of what I wanted to do after high school," Cavazos said. "It was the teachers around me that helped me develop that."
Kobty, who graduated from Martin High School, admitted he wasn't exactly a model student, but his coaches kept him accountable, and his teachers laid the foundation for his future.
"The building blocks of how to be successful started with my education," he said.
McDonald's building blocks came from her teachers, as well. Encouragement from a teacher let her know that it was possible for a girl like her to go to college and have a successful career.
"I had a teacher in junior high say something very powerful to me that motivated me."
Wakeup Call
Cavazos turned the conversation to the shortage of teachers throughout the country. The need for teachers isn't going away, but the pipeline for teachers is shrinking.
"It's really a national crisis," Cavazos said.
Combine that with an aging workforce that will see many, including teachers, retire soon.
"Twenty-five percent of our workforce is going to taper off over the next five years," Rivas said. "Will we be ready?
The country won't be without a renewed focus on developing and training new educators.
Universities and the federal government have poured money into research, engineering and science but have too often neglected education. It's time for that kind of investment in teachers and education.
"People will go into education if they're inspired to do it and they have assistance," Cavazos said.
The inspiration starts with elementary, junior high and high school teachers and the impact they have on students. But then higher education – and the country as a whole – must provide resources, opportunities and incentives for young people to become teachers.
Ready for Monday
Schools starts on Monday and the CTE teachers are ready.
"There is room for every kid to be successful," Lundquist said.
That is definitely true in the Arlington ISD, where opportunities to match every student's interest and passion are offered. And with the knowledge the CTE teachers have and the connections they are prepared to make, they are ready to inspire every student to learn and thrive.
If you haven't registered your child for school, it's never too late. Start the process online here.