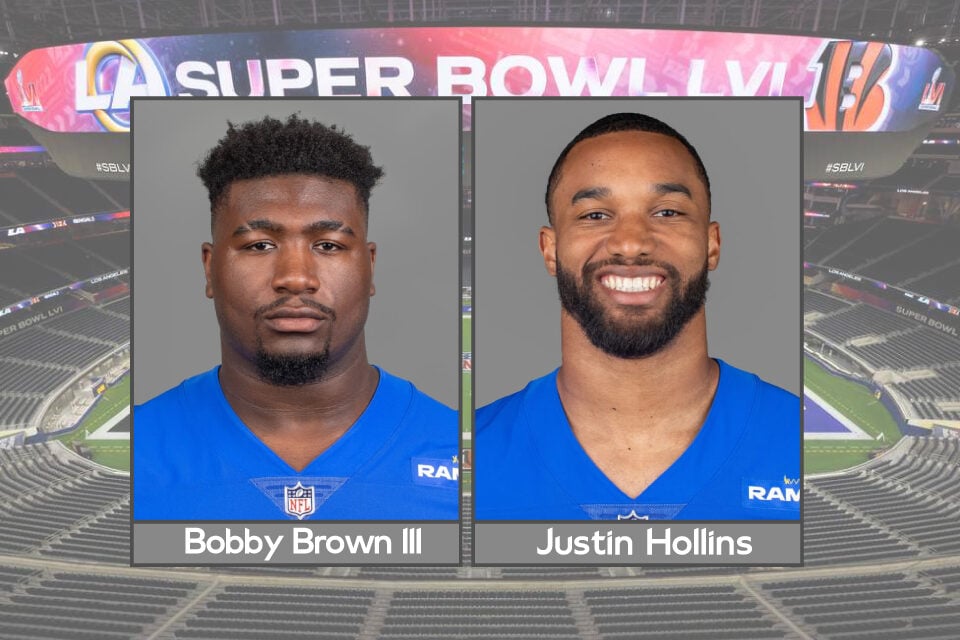 Super Bowl Sunday
There are Texans all over the Los Angeles Rams roster as they prepare for the Super Bowl Sunday.
Quarterback Matthew Stafford played at Highland Park. Linebacker Von Miller hails from DeSoto. Defensive lineman A'Shawn Robinson is from Fort Worth.
But the Arlington ISD has two players hoping to win a championship in defensive lineman Bobby Brown III and linebacker Justin Hollins. Brown was a standout at Lamar High School before going to Texas A&M University and getting drafted last year.
Hollins played for Martin High School head coach Bob Wager in 2013 before going to the University of Oregon. Hollins is in his second season with the Rams.
The Super Bowl is always the most-watched sporting event in the United States. There's no doubt Lamar and Martin football fans will be a vocal part of the viewing audience this Sunday.
"What an awesome statement about the state of football in Arlington, Texas," said Wager.
You make Arlington ISD proud
Brown was a three-year star at Lamar. He was an all-district standout as a junior and was one of the top prospects in Texas before signing with A&M, where he went on to become an All-SEC performer.
"I'm just fired up for it," said Lamar head coach Billy Skinner, who was the Lamar defensive coordinator when Brown played there. "I'm so fired up for the kid. He's worked so hard. His family has worked so hard."
He was drafted in the fourth round by the Rams and has played in 13 games this year. Before he went to training camp with the Rams, Brown came back to Arlington to talk to the current Lamar football players.
"I'm not really surprised he made it to this point," Skinner said. "I've had kids who were really, really good at football. He's just a good young man. He's got a really good head on his shoulders."
Hollins made the most of his one year at Martin in 2013 and was one of the top 100 recruits in the state. He was an all-conference player with Oregon and spent his rookie season in 2019 with Denver before going to the Rams. He made two starts this year and has two sacks.
About the stars
How good was the Martin team Hollins played on? He was one of the defensive ends on a team that also featured Myles Garrett, who was the other defensive end and went on to the be the No. 1 overall pick in the NFL Draft and is currently an All-Pro for Cleveland.
"He was a great teammate," Wager said of Hollins. "I loved having a chance to coach him. This is big for the Martin High School family. This is big for our football program. We're all Rams fans. He's one of our own."
Wager is in his 16th season at Martin. He's had a lot of players come through his program, but Hollins is the first to play in the Super Bowl.
"When you stay at a place for a long time, there's rarely a time when you turn on a college game and don't see either a player you've coached or coached against. It's become a rarity when it happens. It's commonplace anymore on Saturdays and more on Sundays. This is remarkable really."
Don't forget to watch the Super Bowl Sunday night at 5:30 on NBC and pull for our Arlington ISD Rams.