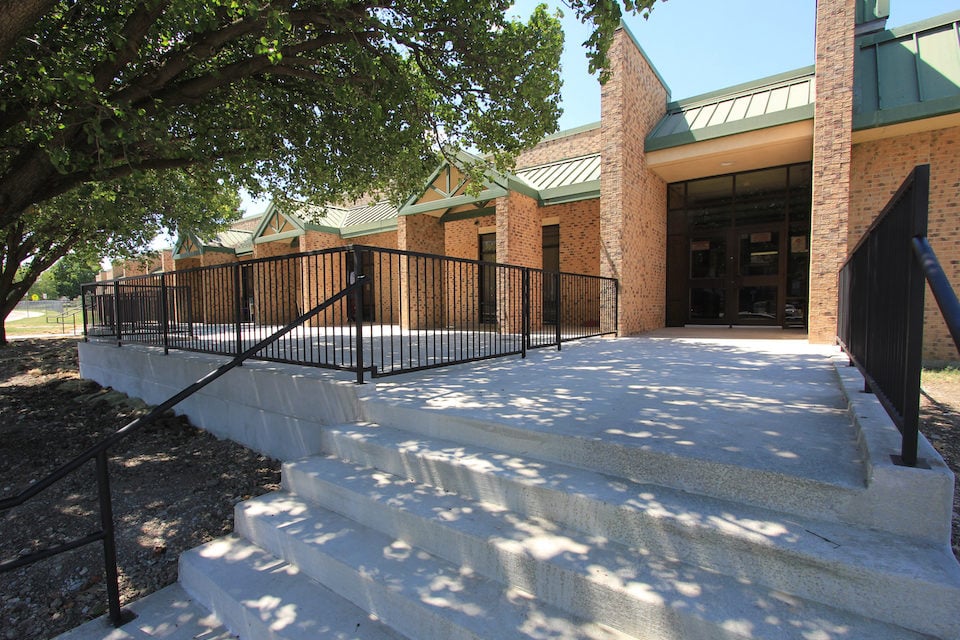 Johns Elementary Pre-K Gets a New Look Thanks to 2019 Bond Voters
Johns Elementary has a new Pre-K patio. The first construction project of the 2019 Bond to be completed, this project at Johns replaced an old patio that was falling apart.
"The patio had been falling and detaching from the building," said Johns Principal Dawn Zdrojewski. "Over the years the patio had been patched multiple times but continued to pose some safety concerns."
The patio is used as a play area for Pre-K students and for parent drop off and pick up. But damage and patches were making it unsafe, and attempts to fix the patio in the past had failed.
"It was severely damaged by settling of the concrete and poor drainage, and the district had made several attempts to contain the damage," said Steven Baze, Arlington ISD general maintenance supervisor. "The bond program funding enabled us to finally correct the situation permanently."
It was during planning for the 2019 Bond that Pre-K teachers and Zdrojewski expressed concern about the patio to the district.
"When Mr. [Kelly] Horn came to the campus to discuss the bond program, I asked him to come see the patio," Zdrojewski said. "He noted the concerns and said he would work on it."
The 2019 Bond passed in the November election, and by end of the school year, construction crews were on sight to demolish the old patio and build the new one.
The patio is part of the site paving work planned for Johns in the 2019 Bond, but the patio piece was pulled forward to ensure it would be ready for the next school year.
"The new patio looks great and is much safer than before," Zdrojewski said. I messaged the Pre-K teachers to let them know and they were happy."