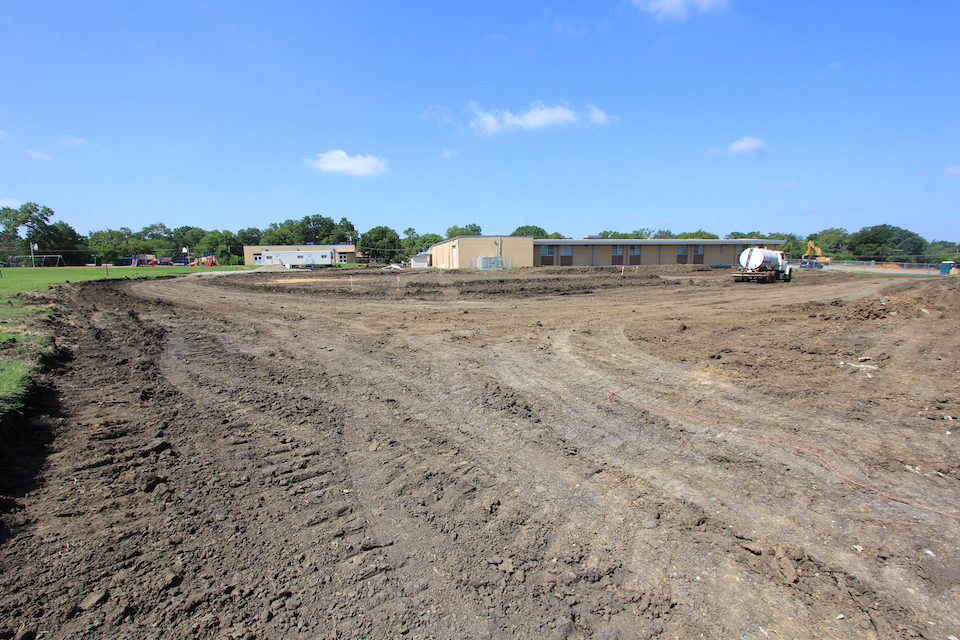 Crow Leadership Academy Getting a New Look
The early stages of construction for a major Bond 2019 project at Crow Leadership Academy is now underway. Rough grading has begun for an addition and new parking lot.
"With every bond project, it helps us continue to move forward and serve our students even better," Crow Principal Jamie MacDougall said.
MacDougall believes there is a connection between the physical space and student achievement.
"The better the physical space, the more we can elevate our instruction and learning."
Crow has been elevating for years now, improving the physical space through 2014 Bond projects and growing academically. Crow is now the first International Baccalaureate (IB) Primary Years Programme elementary school in Arlington ISD and only the second in Tarrant County.
The projects planned for Crow through the 2019 Bond will continue that elevation. The addition will house classrooms for Pre-K and alternate curriculum.
"We are excited to have spaces specifically designed for our youngest learners and our alt-curriculum learners," MacDougall said.
The addition will also include a new, full-size gym. The old gym, which will be demolished, is much too small and can't even accommodate basketball goals. At the cafeteria, a new kitchen will add a much-needed second feeding line.
Along with the additions, renovations throughout the existing building will include new classroom doors, ceiling fixtures, toilet fixtures and more. 
Outside, the current playground is not covered and is not geared toward the youngest students. But a separate Bond 2019 project will give Crow two new covered playgrounds, one for younger students and one for older students.
Bigger Buildings for Student Growth
The new spaces and renovations are slated for completion by August of 2021. At that time, Crow's student population will grow as part of an east Arlington master plan that will rezone the entire area, replace Berry and Thornton Elementary schools with new, bigger buildings and close Knox and Roark Elementary schools. (Learn more.)
"I'm a big believer in the importance of the physical space," said MacDougall.
Updated, colorful and friendly interiors and exteriors encourage students to do their best and communicate to the community that the school takes its mission seriously.
"We really have a comprehensive vision through IB of helping our students become community and world changers as they grow in leadership and service," MacDougall said. "It's exciting to have spaces that support that vision."