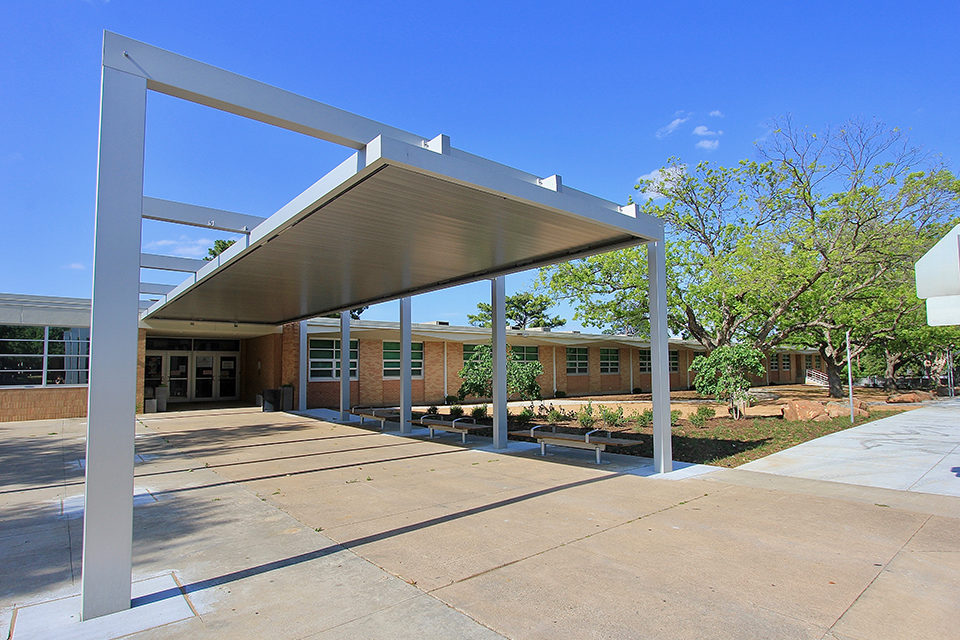 Wimbish World Language Academy Upgrades Will Surprise Students When They Return
Students will hardly recognize the front entrance of Wimbish World Language Academy when they finally return to school after the COVID-19 closure. With a new canopy, landscaping and a wider sidewalk, Wimbish's front entrance has a fresh and modern look.
This construction project, one of the last Bond 2014 projects, wasn't just about improving Wimbish's appearance though.
The landscaping was part of a project to improve drainage, while the new, wider sidewalk was built to help when school gets out in the afternoon. The old sidewalk wasn't big enough to accommodate all the students as they exit the building. And the canopy will provide shelter during rain and on hot, sunny days.
"The new canopy is a great addition to WWLA in that it will provide students with the appropriate coverage needed to shield them from the unpredictable Texas weather," said Wimbish Interim Principal Manuel Trevino.
This was the second 2014 Bond project completed at Wimbish. The first, larger project included adding two new STEM labs within the building and renovations to the strings room, front-entrance security vestibule, reception area and the K-pod. Many windows and carpet throughout the building were replaced, and the campus received major mechanical renovations, including 56 new roof-top units, along with a number of other lifecycle and deficiency upgrades.