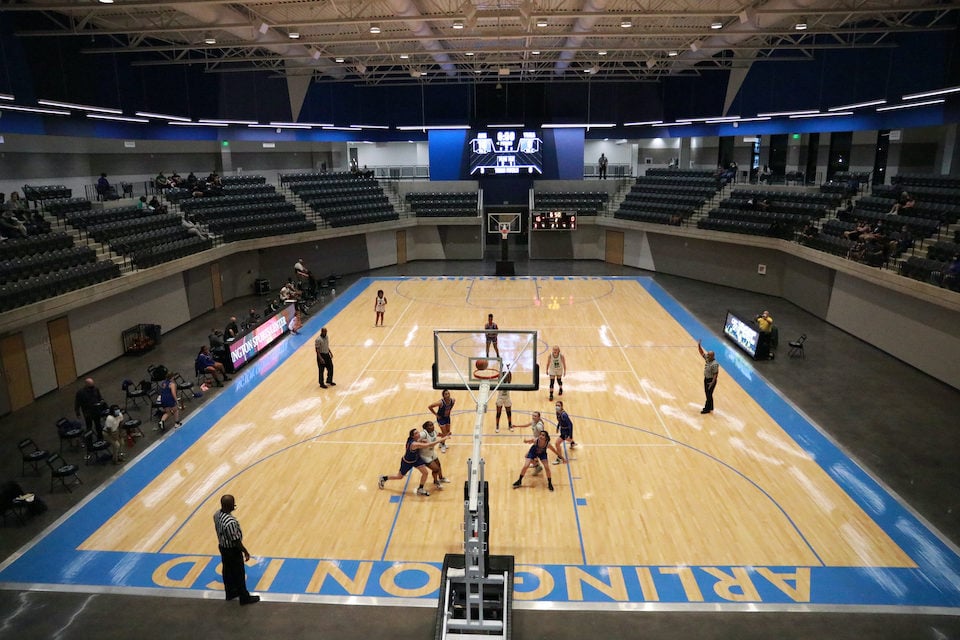 Arena part of Arlington ISD's new Athletics Complex
Arlington ISD's competition arena in the new Athletics Complex got the opening it deserved Tuesday evening as Arlington High School's girls' basketball team christened the court with a convincing win over Fort Worth's Young Women's Leadership Academy.
"It's exciting to be able compete in an arena that honors our athletes and celebrates their hard work," said Shelby Clark, Arlington High School girls' basketball head coach. "I think in time it will prove to be a place that our players value greatly and remember fondly! The quality of the scoreboard, court, goals, locker rooms and seating are sure to make Arlington student athletes feel very special."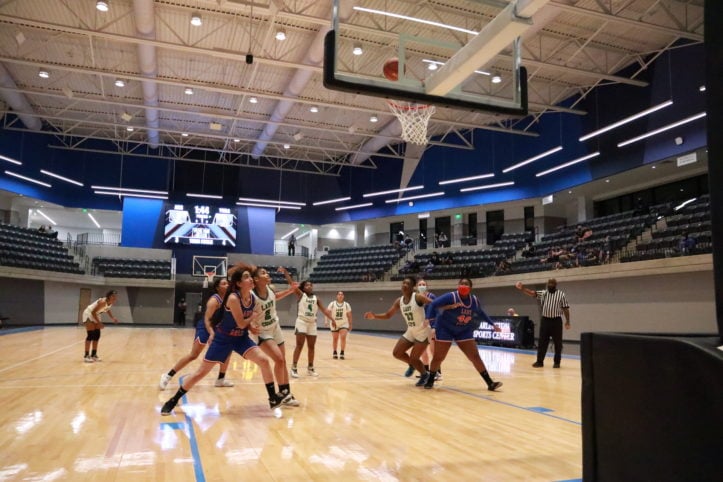 The new 1,200-seat arena will serve all schools in the district and is designed to host competition wrestling, basketball and volleyball, plus a new elementary gymnastics program. Each school, including junior highs, will have the opportunity to compete in the new arena.
In addition to the arena, the just-opened Athletics Center, a Bond 2014 project, also houses the district's new natatorium. The arena will also become home to the Arlington ISD Athletic Hall of Honor to showcase the district's rich history along with current successes.
"The new arena is a state-of-the-art facility that will allow our student athletes to enhance their athletic experience," said Eric White, Arlington ISD director of athletics. "It will create an even higher level and excitement for our teams, and it will also provide an excellent tournament and playoff venue to showcase our students and coaches." 
Next up for the arena is the Martin High School boys' basketball team's season opener against powerhouse Lancaster High School.
"We are excited to be the first boys' team to be able to participate in the new Arlington ISD Athletics Center," said Martin boys head coach John Osborn. "When we scheduled the game versus Lancaster, the number one team in 5A, I really felt this could be a great way to kick off the new facility. We really expect this to be a great venue for all our indoor sports and plan to incorporate the Athletics Center into our yearly scheduling from this point forward."
A full slate of basketball games is scheduled at the arena through December, and the first volleyball game, which will also be the first playoff game at the arena, is Nov. 19.  Wrestling tournaments in the arena will begin in January.
Tickets for the Martin-Lancaster basketball game and all Arlington ISD sports are only available online through Ticket Spicket for the 2020-2021 school year.