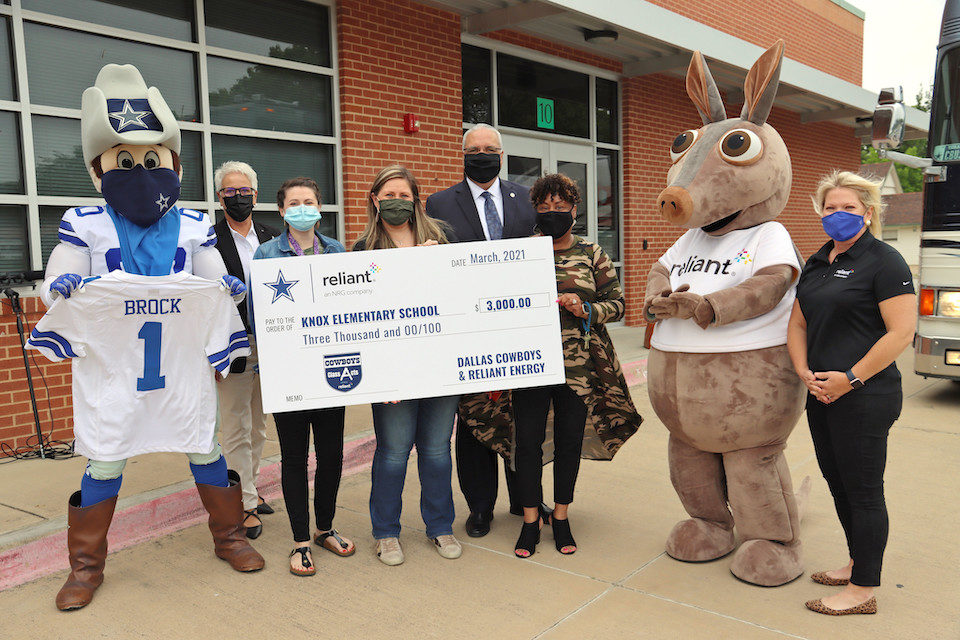 Teacher awarded $3,000 for classroom supplies
The Dallas Cowboys bus and team mascot Rowdy don't just show up to elementary schools every day. Every once in a while, they make an exception for extraordinary teachers like Elizabeth Brock from Knox Elementary.
Brock was in for a sweet surprise Monday morning as she and her class were led outside to meet Rowdy, Arlington ISD superintendent Dr. Marcelo Cavazos, principal Rose Ravin, family, and staff members cheering her on. In March, Brock was selected as the Dallas Cowboys/Reliant Energy Class Acts Teacher of the Month. To show appreciation for her constant commitment to the students and community, Brock was awarded with a grant for $3,000 to spend on classroom resources and supplies. To top things off, she also received a customized No. 1 jersey with her name on the back.
Her students also spent part of the afternoon on a Zoom call with Dallas Cowboys offensive lineman Connor Williams, which was another part of the surprise for Brock.
"I was super surprised, and I'm so honored to receive this award," said Brock, a physical education teacher. "This year has been so challenging for students and teachers and to be recognized as a Cowboys Class Act is truly appreciated. I'm looking forward to finishing this year off strong and coming back even better."
School staff shared nothing but praise for Brock as she accepted her awards. Ravin described her as a team player, servant leader and undeniably dedicated to the students.
"Mrs. Brock is more than just a P.E. teacher," said Ravin. "Her passion for her kids shines through her work on a daily basis, and the encouragement she provides to students and staff is unmatched. She may teach physical education, but her main priority is making sure kids are succeeding academically. She's an all-around go-getter. I can always trust her to lead with enthusiasm and go above and beyond what she's asked to do."
"Teachers like Mrs. Brock make my job easier every single day. She is a jewel on this campus, and we wouldn't be the same without her."
Although faced with adversity throughout much of the school year due to Covid-19, Brock was able to get creative with modifying games and creating fun, engaging lessons for students to enjoy.
Her passion for giving back doesn't stop there. She also raised over $500 for the American Heart Association through organizing the campus' Kids Heart Challenge.
"Mrs. Brock has a heart like no other," said Dr. Cavazos. "She leads with passion, remains interactive with students and demonstrates the standard of excellence that upholds our district. She is a model for teachers in our community, state and country."