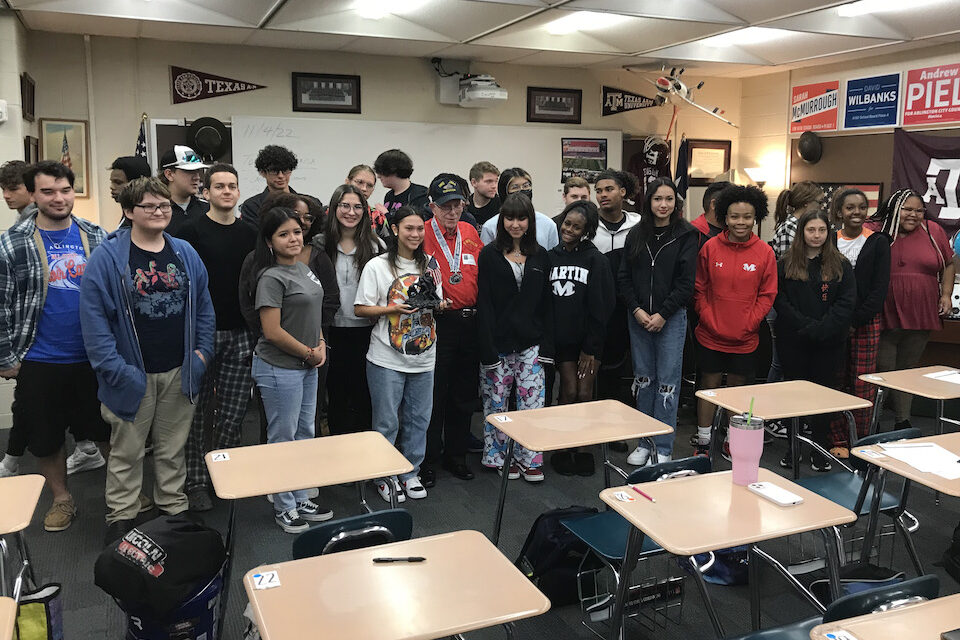 Students at Sam Houston and Martin high schools got a special visit from real-life American heroes last week in advance of Veterans Day. A Medal of Honor recipient from the Vietnam War and one of the last living veterans of the World War II battle at Iwo Jima traveled to Arlington to bring history to life and inspire local students.
The visits were set up by the National Medal of Honor Museum, which is slated to open in Arlington in 2024.  
Iwo Jima Veteran Don Graves
Only a few veterans of Iwo Jima are still alive today, so two history classes at Martin were fortunate to have Don Graves talk with them last Friday.
The 97-year-old Marine Corps veteran stood in front of the classrooms and shared some of his remarkable story and his love for the Stars and Stripes.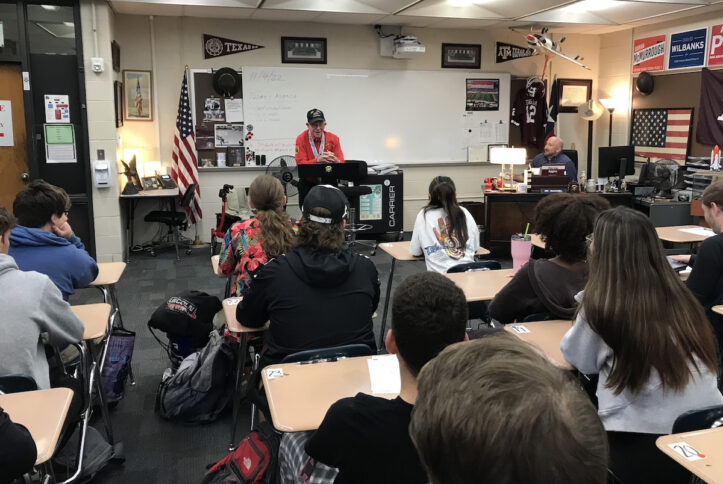 Graves opened with an impersonation of President Franklin Roosevelt's famous speech the day after the Japanese attacked Pearl Harbor.
"Yesterday, Dec. 7, 1941, a date that will live in infamy …" Graves recited in FDR's unmistakable accent.
Graves was a poor 16-year-old in Depression-stricken Detroit at the time.
"I told my two buddies, I said tomorrow morning, I'm not going to school," Graves recalled to the Martin students. "I'm going downtown … and I'm going to join the Marines."
He did quit school and tried to enlist, but the Marines made him wait six more months until he turned 17.
Graves eventually became a flamethrower and landed on Iwo Jima in the third wave of an amphibious assault on the morning of Feb. 19, 1945. He was part of the Second Battalion and landed with 335 Marines. Only 18 survived the battle, one of the most difficult and costly in U.S. military history. All his officers were killed, and he was the only flamethrower to survive.
Graves was part of the slow fight to climb and take Mount Suribachi on the island.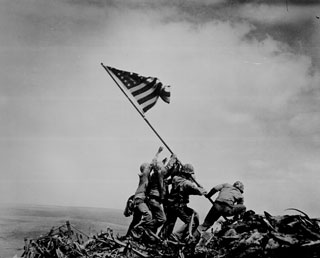 He was nearby when a group of Marines raised the American flag at the top, a scene, caught by a photographer, that has become one of the most iconic from World War II.
"Let me tell you, young people," Graves said. "If anyone says to you that five or six men put that flag up, you tell them, 'No they didn't.' Anyone who fought on that eight square miles put that flag up."
"It's the greatest flag," Graves said. The red represents the blood of the thousands of servicemen and women who sacrificed everything for our freedom, he said.
And now, Graves told the students, it's their turn.
"You are the future now," he said. "You are going to take our place … This is the country of opportunity … They're waiting for you. Go get 'em."
Graves, a lifelong singer who was performing with Bob Crosby at a show for Marines in Hawaii when they found out the Japanese had surrendered, finished his talk by asking the students to stand and join him singing "God Bless America."
Medal of Honor Recipient Major General Patrick Brady
While Graves brought World War II to life at Martin, Major General Patrick Brady inspired students at Sam Houston with stories of faith and courage during his service in the Vietnam War.
Brady flew an ambulance helicopter for 2,500 combat missions through treacherous terrain and countless enemy attacks and was involved in the rescue of 5,000 wounded soldiers during his two tours of duty in Vietnam. During one of his second tour missions, he volunteered to rescue wounded soldiers in enemy territory. Four trips and three helicopters later, every wounded soldier Brady helped evacuate received proper medical attention and survived.
Brady received the Medal of Honor in 1969 from President Richard Nixon. His service in the U.S. Army spanned more than 30 years.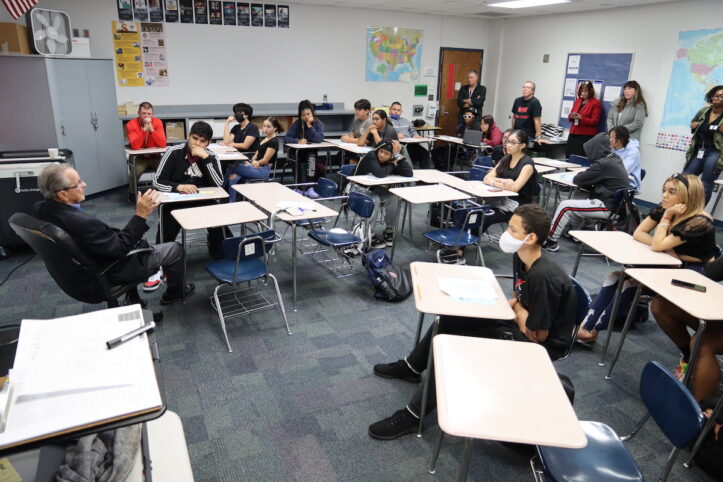 "Courage is just fear that has said its prayers," said Brady. "Courage is when you reach a breaking point, but you don't break. It's a decision. Young people can be heroes, and they don't have to go to combat to do it."
Brady's stories of valor and faith had U.S. history students captivated with every word he spoke. Students leaned in with eagerness and curiosity as he described his journey of service.
"It's a blessing that we're able to host a Medal of Honor recipient in Arlington and more importantly that they get to interact with our students," said Arlington ISD superintendent Dr. Marcelo Cavazos. "The students were very engaged. You could hear a pin drop because they want to learn and be a demonstration of excellence and courage.
"We're looking forward to the Medal of Honor Museum being built here in Arlington and continuing this partnership because this changes lives."