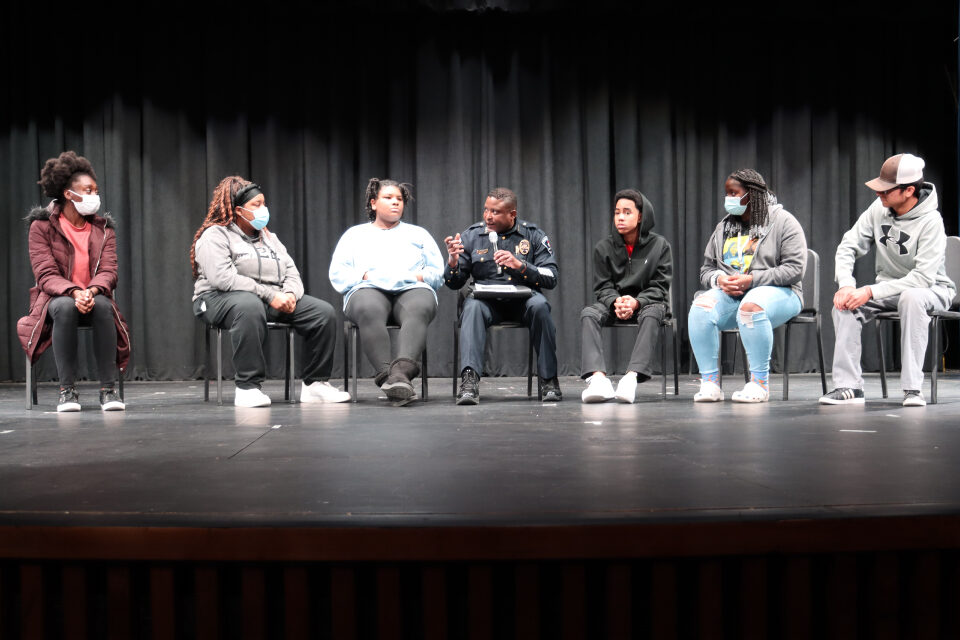 You brought in the Chief?
Normally when you hear that the chief of police paid a visit to a high school, you immediately think or ask what happened? Or what went wrong? Well, Arlington's Chief of Police Al Jones paid a visit to Sam Houston High School not because there was any trouble but for an open and honest Q&A session with teachers and students.
The brave six
Sam Houston teachers Marissa Wright-Williams and Graylon Roberson led the charge in bringing Jones to the school. Six brave students – Oscar Ovando, Sheila Ondiba, Nico Henderson, Ashia Ingram, Jahniyah Dorsey and Renee Antwi asked Jones questions ranging from the shootings of unarmed citizens, SWAT teams, no-knock warrants and plenty more. Jones carefully and empathetically answered them all.
Where it begins
Speaking in settings like Sam Houston can often change the perspective people have of the police.
"First, it starts with us having one conversation at a time," Jones said. "I know there are communities I cannot go into, but we must try and make a difference. One thing we have implemented is 'shop talks.' We visit local barbershops and beauty shops because there are conversations happening there surrounding anything going on in the community dealing with law enforcement. We want to have a dialogue to connect with our community and change the narrative."
Chief's Advisory Youth Committee
Jones wants students to stay engaged. He asked them to consider joining a Chief's Advisory Youth Committee. The committee will allow high school students to sit down with Jones and have an open dialogue about making a difference in the community by discussing issues important to them. In turn, he hopes to build a positive relationship with the students.
You control your future
Jones also stressed the importance of education. When one student asked about a future on the police force, Jones emphasized that it begins with school.
"We have raised the bar here in Arlington," he said. "All of our officers must have a four-year degree, so go to school! We want you here back in Arlington to patrol the streets where you grew up. Surround yourself with positive people and make positive decisions because one bad decision can affect your outcome of being selected by any police department. Avoid peer pressure and do the right thing."
Bridging the gap
Jones was genuine in his interaction with no topic off-limits. He ended the discussion by hugging each of the students. While he hoped they learned from the hour he spent with him, he also got plenty from the afternoon.
"I get an opportunity to engage them," Jones said. "So often we try to get them to come to us, especially the young kids. They're not coming to anything we're having. We have to get out and meet them where they are so we can have relationships. When you start the conversation they don't want to talk until you put them on the spot. At the end of the day, it's really not so much about them not wanting to talk, it's about them understanding that somebody wants to listen to them."
Would you like to know more?
To learn more about Jones and the Arlington Police department follow them on Facebook and Twitter. You can also learn about how Arlington ISD partners with the department through our law, public safety, corrections and security courses offered at the Dan Dipert Career and Technical Center.