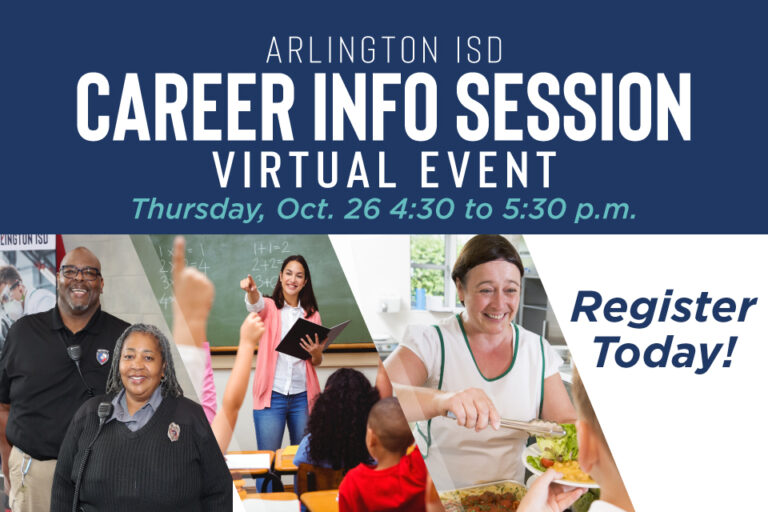 Arlington ISD Career Info Session
The Arlington ISD Career Info Session is just 10 days away. It's a virtual event that will showcase positions available throughout the district. Registrants will learn about the requirements of various positions and get a chance to ask any questions.
"Attending the career info session for Arlington ISD can provide potential candidates with valuable insights into the district's mission, vision and values," said Katelyn Shelton, Arlington ISD's human resources recruitment and talent selection coordinator.
Shelton is spearheading the session and wants applicants to feel comfortable and confident when applying for any position.
"They will learn about the available job opportunities, the requirements for each position and the application process and the benefits in working with Arlington, including competitive salaries, opportunities for professional development and growth, a supportive work environment and a diverse and inclusive community," she said.
Registrants will have the opportunity to learn about positions in departments like food and nutrition services, plant operations, special education, student outreach, security and a lot more.
David Stevens, Arlington ISD's director of security, believes it takes a village to ensure every student has the opportunity to succeed. Every position in every department plays a role in ensuring each student gets the education they need. In Stevens' position, working to provide a safe environment in which students can learn and thrive is what it's all about.
"I love being able to see the successes of our students, whether it is academic, athletic, performance (band, choir, dance, etc.) or otherwise," said Stevens. I love to see the kids get recognized for their hard work, dedication and achievements. Watching them truly develop into active participants for shaping their own futures, settings goals and working to accomplish their dreams is truly an amazing and rewarding experience."
A few of the benefits of working in Arlington ISD include competitive pay, overtime opportunities, year-round pay, flexible schedules, yearly pay increases and working with a qualified team. 
Register for the info session here and see a list of all of the open positions. And visit the jobs page to submit an online application for any position of interest.