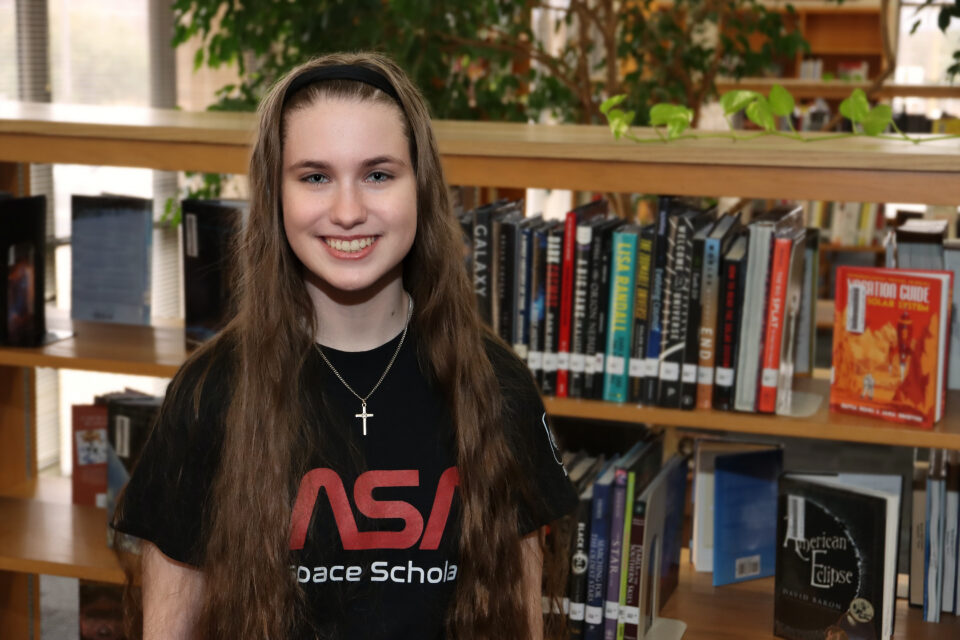 Erin Blasingame is bringing a whole new meaning to the phrase "shoot for the moon."
Inter Astra 2022
The Martin High School senior was one of only three high school students across the nation selected to attend Inter Astra 2022, a three-day retreat for the emerging space economy, earlier this month. The event connected leading space experts with the next generation of scientists, entrepreneurs and creatives.
The symposium included unique programming, small group breakout discussions, recreational activities and more for its attendees in Middleburg, Virginia. To be selected as a high school student, scholars had to complete an application proving they had previously taken steps to pursue a career in the space industry.
That was easy for Blasingame since she has been interested in space since fourth grade and always dreamed of being an astronaut.
"I was really surprised and thrilled when I found out I got selected because I knew there were hundreds of students that attended space camps and programs with me that were just as qualified," said Blasingame. "I knew I had a shot though because of my experiences leading up to this point."
The star student is right. Since elementary school, she attended two NASA space camps at the Space & Rocket Center in Huntsville, Alabama, participated in Martin's STEM Academy since freshman year, and completed NASA's Aerospace Scholars program her junior year.
That's basically every space program under the sun.
Needless to say, she couldn't have been a better fit.
Thank you, Mrs. Davila! 
To think she wouldn't have even known about the program if it weren't for a random Facebook post, but it's true. Her fourth-grade teacher at Corey Elementary, Elena Davila, saw Arlington ISD Board of Trustees member Bowie Hogg's Facebook post looking for a high school student interested in a career in the space industry. Davila tagged Blasingame's mom Gena in the comments, and the rest was history. Thank goodness she did, because now her daughter had the experience of a lifetime.
"It is hard to remember a time when Erin was not interested in space," said Gena Blasingame, who teaches at Boles Junior High. "I knew the symposium could be the perfect opportunity for Erin, and I needed to respond [to Hogg's post] quickly before someone else did.
Activities such as robotic camps, engineering competitions and more allowed her to explore her interests and put her in contact with district staff who encouraged her to follow her passion. Erin is well prepared to enter college and pursue her dream of going into space or help send others into space."
She's well on her way to achieving that goal.
Let's make history
"History is about to be made with the evolution of space technology, and all I can do is learn," Erin Blasingame said. "Being one of the only high school students there makes me pretty nervous, but I'm ready to take full advantage of this opportunity by networking and soaking up as much as I can," she said before the retreat.
Blasingame is especially interested in the possibilities through space research, as well as how intentional space companies will be moving forward to help people on earth. While most people typically think NASA solely benefits scientists, Blasingame wants to bring others down to earth by debunking that myth. She's over the moon about technology's evolutions from the space program.
"A lot of modern technology has evolved from space and benefits people on earth whether it was intentional or accidental," said Erin Blasingame. "Weather satellites that warn us about hurricanes, ski goggles, GPS technology and insulation for our homes were invented because of space research. There are so many things that we take advantage of that help to improve society that were designed for space."
Blasingame credits the STEM Academy at Martin for developing her current passion for computer science, as well as igniting her passion for space exploration. The senior will graduate in the spring and pursue a bachelor's of science degree in aeronautical and astronautical engineering at Purdue University. She's currently an intern at Lockheed-Martin and would love to work for the company or NASA upon college graduation.
It's evident that Arlington ISD students are out of this world when it comes to academics, and Erin Blasingame is proving it. For more information on how to get your student involved in a STEM program or many others to stimulate their passions, visit Arlington ISD's website to learn about specialized programs.