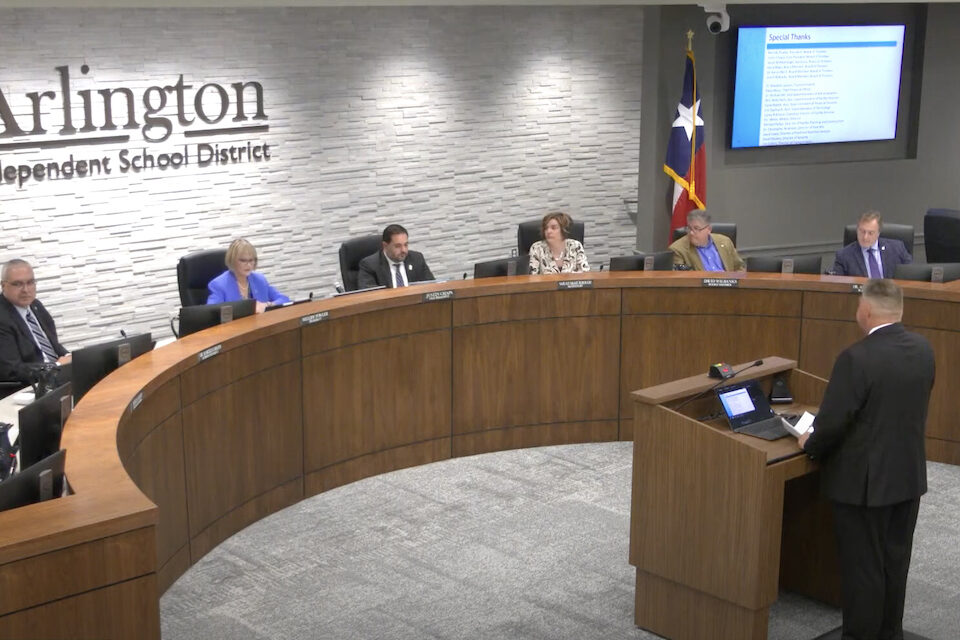 The Citizens Bond Oversight Committee recently gave its annual report to the Arlington ISD Board of Trustees. Charles Finicum, the committee's chair, presented at the June 21 Board of Trustees meeting and offered observations and recommendations related to the district's 2019 Bond program.
"This is an exciting culmination of a year-long's worth of meetings relative to oversight for the bond," said William Horn, Arlington ISD assistant superintendent of facility services, as he introduced Finicum to the Board.
Read the report or watch the presentation below.
"We want to move the needle on student outcomes," Trustee David Wilbanks said in response to the report.
The CBOC's job is to ensure the bond program does just that. The committee was established to provide transparency and enhance public confidence in the use of proceeds from the sale of bonds authorized by Arlington ISD voters on Nov. 5, 2019. The 2019 Bond package includes $966 million to improve facilities, provide access and equity for all students and build on the progress recognized through the 2014 Bond program. This bond package is addressing needs in four areas: facilities; transportation; safety, security and technology; and fine arts.
Learn more about the 2019 Bond.
The CBOC's task is to follow the district's bond program progress and report its findings and recommendations to the Arlington ISD Board of Trustees (read the CBOC's charge). The oversight committee meets on a quarterly basis to receive updates on implementation progress of the bond and then develops the annual report.