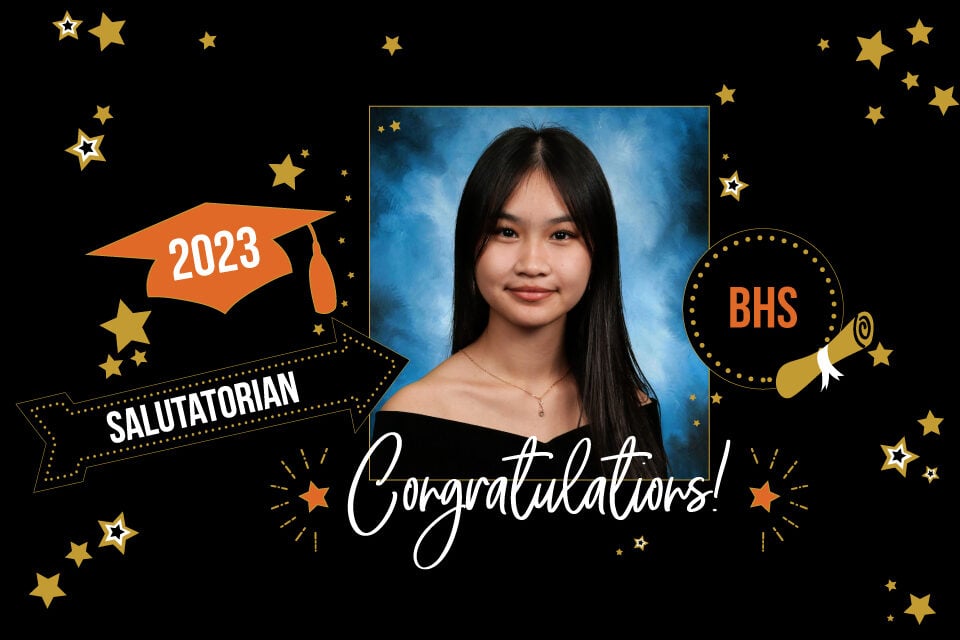 Bowie HS salutatorian Christine Vu
It's graduation season and we are celebrating the Class of 2023 valedictorian and salutatorian for all eight Arlington ISD high schools. Meet Bowie High School's salutatorian Christine Vu.
NAME: Christine Vu
SCHOOL: Bowie High School
COLLEGE: University of Texas at Arlington
INTENDED MAJOR: Biology
What is your dream and how do you plan to make it come true after graduation?
My dream is to be able to provide and take care of my loved ones in the future. My parents, families and friends have been my supports since day one. I want to give back to them. I plan to make it come true by attending college and hopefully graduate school for optometry.
Who inspires you the most?
This sounds cliché but my parents inspire me the most knowing the hardships they go through, but they are still standing tall today. That inspires me to continue working hard.
What is one piece of advice you would give an incoming freshman?
Enjoy all four years of high school, even the good and bad. Before you know it, it will be over. Savor every minute and second of it.
What's been your favorite high school memory?
It has to be going to Dallas and California for BPA (Business Professional of America) competitions. It's a variety of subjects, including business, medical, finance. A lot of subjects you can compete in. It was fun to explore and discover new experiences with my friends. In a way it felt like a mini senior trip.
How do you plan to make an impact on society in the future? 
I plan to become an optometrist. Even though I won't be saving people's lives, even being able to help those people a little bit brings joy to my heart and hopefully everyone around me.
What her teacher said:
I had the pleasure of getting to know Christine when she was a freshman and again as a senior. As a freshman, she was quiet and reserved. Observing how she has opened up and changed into an exceptional person has been fulfilling. From recreating geometry lyrics to fit "I'll make a man out of you" her freshman year to persevering through AP calculus her senior year. I've enjoyed getting the opportunity to see her grow.
Bowie- Ashley High, Christine's Advanced Geometry and AP Calculus AB teacher