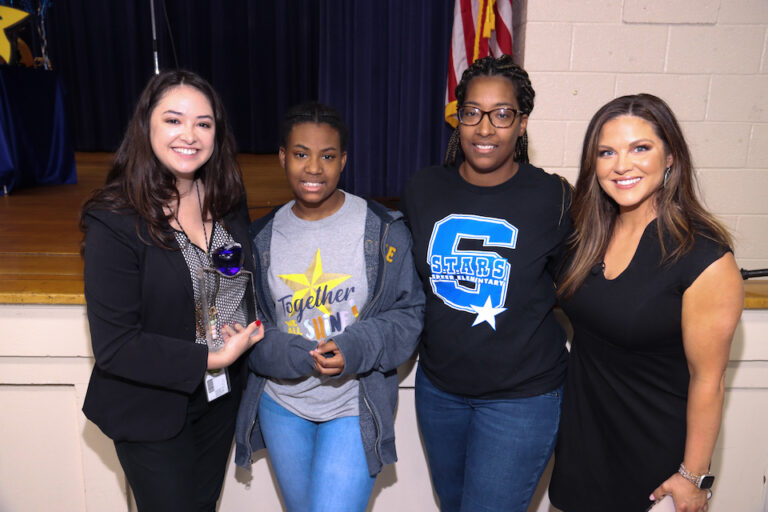 CBS anchor presents award to Buksa
Last week, Speer Elementary celebrated "Buksa Day" – as her students called it – here in Arlington ISD. The school recognized fifth-grade teacher Sarah Buksa for the dedication that she pours into her students and their families.  
The one thing about the day was that Buksa had no idea it was coming. 
That's what happens when you're surprised to find out you're the first recipient of the CBS 11 Crystal Apple Award. 
Thinking that she had a meeting with principal Stephanie Savala, Buksa was surprised to hear, "Buksa! Buksa! Buksa!" coming from students through the cafeteria doors as she walked down the hall.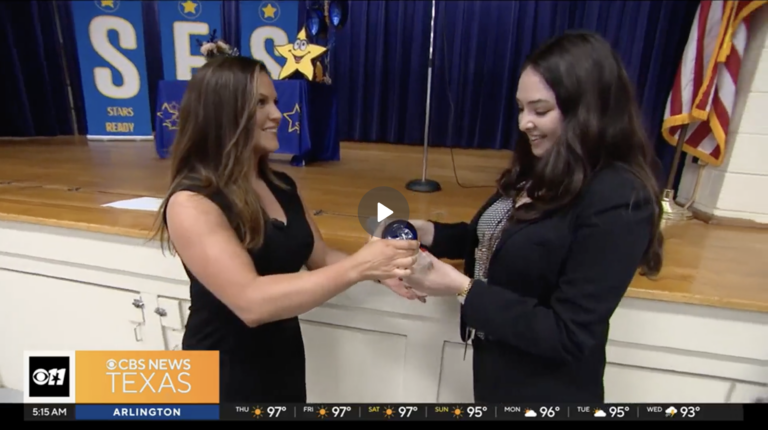 As soon as she saw KTVT morning news anchor Brooke Katz, she knew it was much bigger than a meeting with Savala. As the star that Buksa is, every single student wanted to congratulate their teacher with a hug before heading back to class.  
"I felt honored… they're my little people," said Buksa. "I know I put a lot into the kids, and it feels nice to be appreciated."  
Following in her mother's (Janie Buksa, a kindergarten teacher at Burgin Elementary) and grandmother's footsteps, Buksa is in her eighth year of teaching. She was inspired to become a teacher after her mom sparked the idea of substitute teaching. After her first day, she knew that the classroom was exactly where she was meant to be. 
Her teaching is more than just reading and writing. It's about growing her students as people, too. Just ask Lakenda Williams, mother of Saniyah Williams – one of Buksa's students – who nominated Buksa for this award.  
"Ms. Buksa has changed my daughter's view of education," said Williams. "She challenges her, she advises her and she uplifts her… she's a cheerleader for the whole class." 
Not only has Williams seen Buksa's positive impact on her daughter, but she also feels the impact on herself. Experiencing the love Buksa has for her students motivated Williams to return to school to study education. And better yet, she gets to learn right next to Buksa as a teaching assistant at Speer. 
Buksa is also famous for her implementation of "Fun Friday." Her kiddos earn their end-of-the-week celebration with completed work and good behavior. One of the students' favorite parts about Fun Friday is spending their classroom money on fun prizes – all of which are paid for out of Buksa's own pocket. 
"She genuinely cares about every student, and she acknowledges their differences," said Savala. "She encourages them to meet their goals and be who they want to be." 
Teachers like Buksa, who leave a positive mark on their students, is what teaching is all about here at Arlington ISD.  
"It's a lot of work, but it's not anything that I would trade," said Buksa. 
 If you know a teacher like Buksa, you can nominate them for the next CBS Crystal Apple Award.