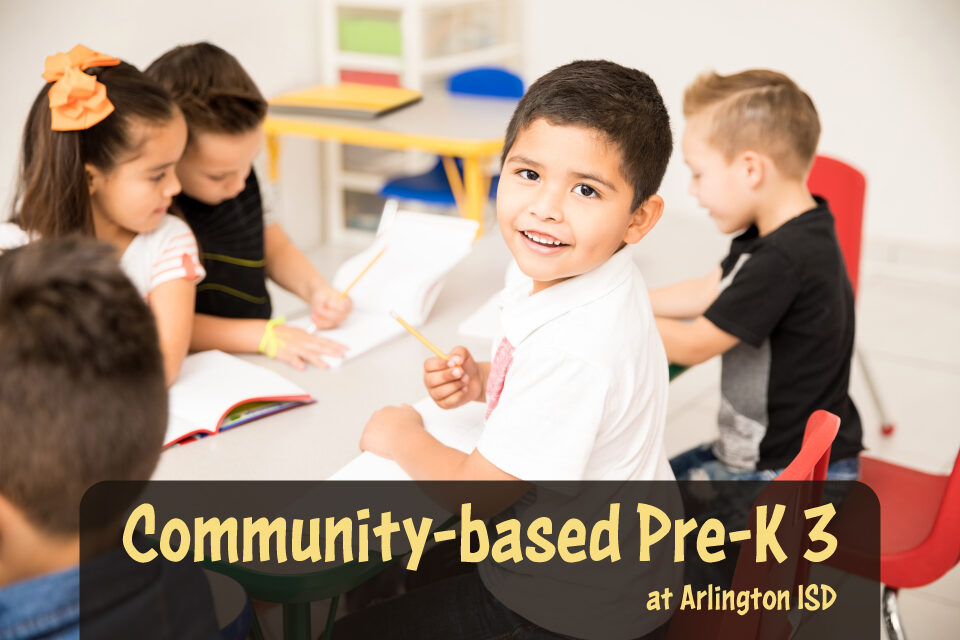 Arlington ISD's community-based pre-K program for 3-year-olds is the perfect solution for working parents. Launch kids on their educational journey while giving them a full day of childcare.
Arlington ISD's community-based pre-K is a half-day pre-K program for 3-year-olds located in four local childcare centers. By enrolling in pre-K at the childcare center, families have the opportunity to also enroll in seamless, convenient day care both before and after the pre-K school day without ever having to leave and go to another care location. Plus, the pre-K program is taught by an Arlington ISD teacher with the same outstanding play-based curriculum, materials and technology used at Arlington ISD campuses. 
"We're excited about how this partnership with local childcare centers offers a resource for working parents, helps childcare centers with enrollment and allows the district to reach even more 3-year-olds," said Dr. Jackeline Orsini, Arlington ISD early childhood director.
Community-based partners (see partner details) for 2022-2023 include:
Child Care Network #259
Kids Community Preschool – Arlington
Kids Community Preschool – Grand Prairie
Childtime
Enroll now for Pre-K 3 and Pre-K 4
Registration is open now for all Arlington ISD pre-K programs. In addition to community-based pre-K, Arlington ISD offers half-day pre-K for 3-year-olds at many neighborhood schools (see pre-K locator) and has ESL and bilingual options. Pre-K 3 is free for students who qualify, and there is an affordable tuition option for those who do not.
Pre-K for 4-year-olds is now free for all students. Plus, all Arlington ISD neighborhood elementary schools will have pre-K 4 in the fall. Excitement for pre-K 4 is at an all-time high in Arlington ISD as STEM will be added to the fun, play-based curriculum next school year (learn more).
Register today or learn more at aisd.net/prek.