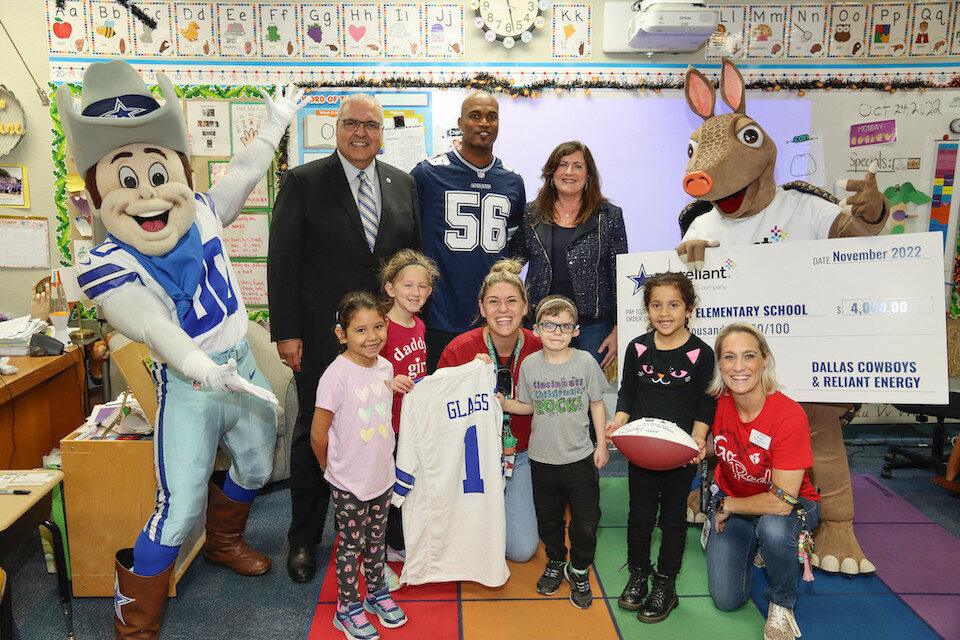 Dallas Cowboys and Reliant Energy honor Carly Glass
What started out as a late lunch period ended up being a big surprise for Miller Elementary School teacher Carly Glass. The Dallas Cowboys and Reliant Energy stormed into her classroom to award her with the Cowboys Class Acts award for November.
Glass was in shock when the entourage walked in, and her students leaped with excitement as the Cowboys' and Reliant's mascots, Rowdy and Hugo, met them with hi-fives.
Glass is one-of-a-kind teacher
While Glass is kind, patient and caring, she's anything but your average teacher. She teaches deaf and hearing-impaired students in kindergarten and first grade. So, while the surprise was happening, she communicated with sign language to keep her students in the loop. She wanted them to be able to celebrate the special moment with her.
"I have always had a passion for helping others," said Glass. "My younger sister has a disability and struggled in school, and I knew I wanted to go out and be the voice for those that didn't have one. I decided to go to school to help students with any kind of disability. I found my heart in the deaf education community, and I never looked back.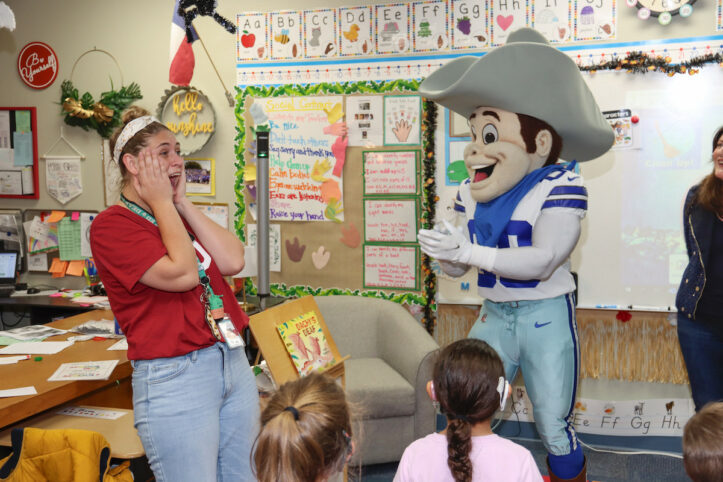 "I am so honored, especially because I'm surrounded by so many amazing teachers who bring so much to this school and to our students."
A few other people were in on the surprise, too. Arlington ISD superintendent Dr. Marcelo Cavazos, former Cowboys linebacker Bradie James and a Reliant rep were on hand for the surprise.
"I come from a family of educators, and I know how important it is for them to be celebrated," said James. "It's not a selfish job, so I wanted to be here to thank Ms. Glass for doing an awesome job."
Glass was blown away when the group handed her a $4,000 check to be used to improve her classroom, a personalized jersey and an autographed football. Glass now joins a group of six other teachers from Arlington ISD who have received the award since the program's inception.
"Ms. Glass represents our teachers exceptionally well," said Cavazos. "This enthusiasm and love you have for your students is outstanding, and you have that every day. It's no surprise the Dallas Cowboys and Reliant are celebrating you."
Although Glass is only a second-year teacher, her positive impact and passion are evident. She continues to be an inspiration to teachers at Miller and those around her.