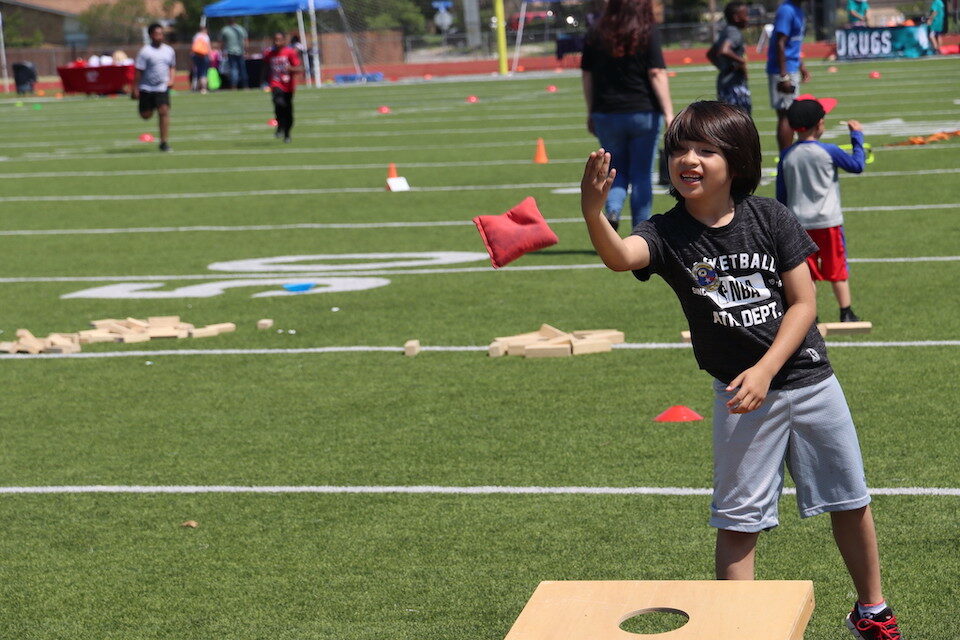 Even though he works from home, Jon Bailey admits that he and his daughter Layla could spend more time together. So, it made perfect sense for them to stop by Arlington ISD's Father Fest! The event was held this past Saturday at the Gene and Jerry Jones Field at Workman Junior High School.
There, the two joined countless other families in various fun interactive activities. The seven-hour free event included game trucks with Just Dance, Minecraft, Roblox, Fortnite and Mario Kart. It also featured live music, a youth dance performance, food and prize giveaways.
Layla, a fifth-grader at Blanton Elementary, most enjoyed a craft-making station where she and her dad made customized buttons, including one that bore her favorite animal, a cat. The 11-year-old also made picture frames and took photos with her dad, who later gave her tips on how to properly toss bean bags while playing cornhole under that day's beaming sun. 
The proud father praised the event for its "diverse activities."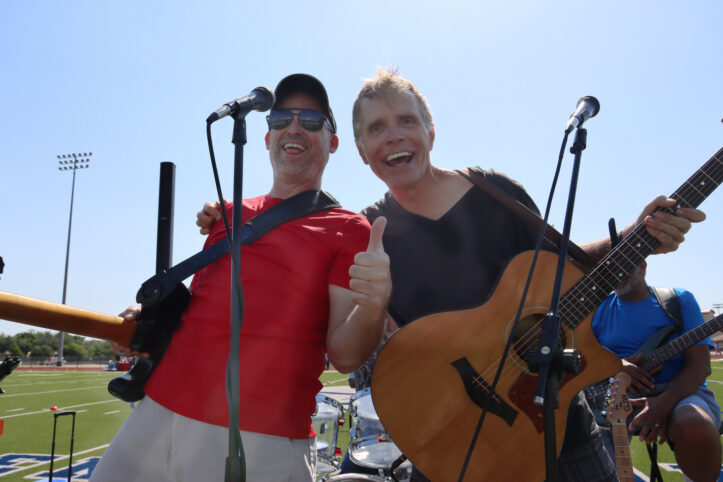 "I'm not really seeing a whole bunch of repetition. Everyone (each vendor) seems to have something unique and interesting to add to it," Bailey said.
What is Father Fest?
Father Fest is an initiative of Arlington ISD Dads Engaged for Excellence – a program designed to encourage dads, uncles, brothers and all adult males to serve as positive role models and become more active in their students' education. Saturday's event was quite festive, as Arlington ISD Superintendent Dr. Marcelo Cavazos gave a warm welcome and encouraged the families in attendance.
Aaron Perales, Arlington ISD's executive director of engagement, equity and access, said the festival allows them to celebrate fathers' engagement in the lives of Arlington ISD students.
"We believe that families and family guardians have played an integral role. Not just in their lives, but with their education," Perales said. "We need them to partner with us. And we want to make sure that they have a seat at the table for their children's education."
A family affair
Helping families feel empowered and equipped with area resources for everyday life and this summer is one of the event's greatest purposes. Present were representatives of Arlington ISD's community partners such as Amerigroup, Arlington-Mansfield Area YMCA, Girls Inc. of Tarrant County and many more.
The fest benefits students in Arlington or even students who do not attend Arlington ISD schools. For instance, Christopher Edwards took his children – Isabelle, Yasmine, Cruz and Sebastian – who attend International Leadership School of Texas. A fifth-grade reading, science and social studies teacher for Thornton Elementary, Edwards thoroughly enjoyed the moments he spent playing Jenga with his kids.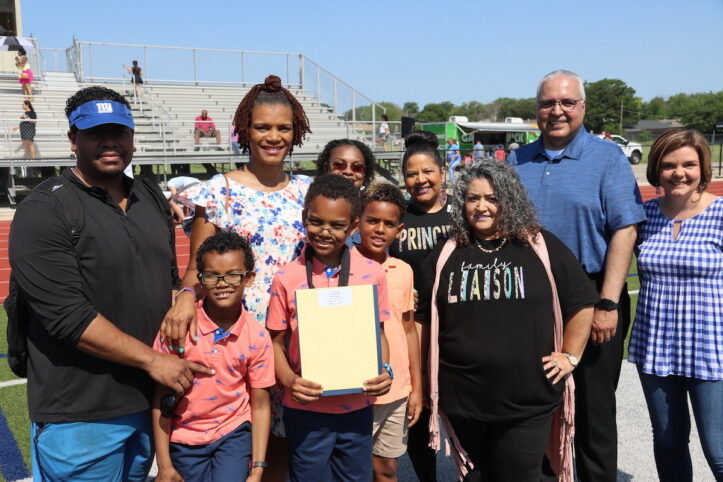 He and his family were sprawled out on the football field, carefully removing one large block after another from the buckling tower. Edwards said he and his kids had never played the game together. Luckily they all grew more excited as each member took a turn.
"It's getting down to the nitty gritty … I don't think there are any more (moves)!" Edwards said, becoming more shocked as the game kept being prolonged. That is, until his youngest son, 15-year-old Sebastian, made a fateful move. The move caused the tower to tip over and everyone to erupt in laughter.
Let's run drills!
Just a few feet away from the Edwards' game, Arlington Elite Training led youngsters through some running drills with cones on the turf. The group's representatives gave motivational words as kids took on the challenge. Roshunda and Mark Mitchell enjoyed watching their children. Their  13-year-old Toni and 7-year-old Ezekiel tried out the drills as they sat along the sidelines.
The Mitchells said the fest provided a "good time for bonding" with their kids who attend Workman and Foster Elementary, respectively. Mark added that the event offered new experiences for his kids, enabling them to discover hidden talents. Roshunda stressed that all dads should have attended the fest, mainly because there was no charge for admission.
"That makes it even better," she said. "There are no excuses when it's free."