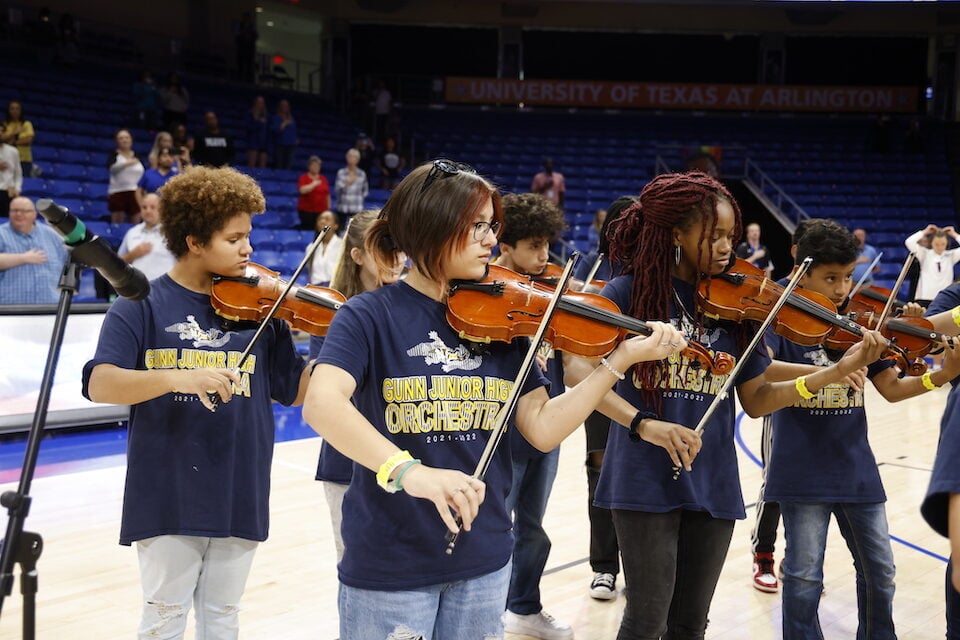 Dancers celebrate Hispanic Heritage Month
Gunn Junior High and Fine Arts and Dual Language Academy shared the arts with Arlington last Thursday evening. While the Gunn orchestra played the national anthem before a UT Arlington volleyball game, Gunn dancers performed to kick off the Arlington ISD Board of Trustees meeting.
Strings
The Gunn orchestra took to the floor of College Park, flanked by volleyball players from UTA and California Baptist University. All 33 seventh and eighth graders played string instruments and filled the building with a beautiful rendition of the national anthem.  
Before, the game, the orchestra members received a tour of the UTA department of music from Dr. Jack Unzicker, professor of double bass.
"The tour of the music building was inspiring for the students to hear collegiate musicians and get a glimpse into college life," said Gunn orchestra director Donald Sibley.
As part of the tour, the students got to watch an opera workshop and a rehearsal by the UTA chamber orchestra.
"We want to provide our students with unique experiences to learn and perform," said Gunn principal Dr. Matt Varnell. "Performing at a university helps them to see the pathways that are available and allows the community to celebrate the excellent work that is happening. It is a terrific opportunity for us to connect with partner organizations to create unique experiences for students."
Dance
At nearly the same time as the national anthem performance, a few miles up Center Street, another group of Gunn students gave a much different performance.
Seventeen sixth, seventh and eighth grade students danced to the song "Bailando Todo Se Olvida" by Aymee Nuviola in honor of National Hispanic Heritage Month at the Arlington ISD's Board of Trustees meeting.
"We were so happy to be invited to perform at the October board meeting," said DeeAnn Evans, Gunn's dance teacher. "Some of the song lyrics translate to 'Everything is forgotten while dancing … Enjoy your life while living it …' Our message through dance was to stay positive, dance and have fun!"
That message was clear thanks to the lively performance and colorful costumes.
"We are also thankful to Arlington High School for allowing the Gunn dancers to wear costumes from the dance department that would be bright and bold for this performance!"