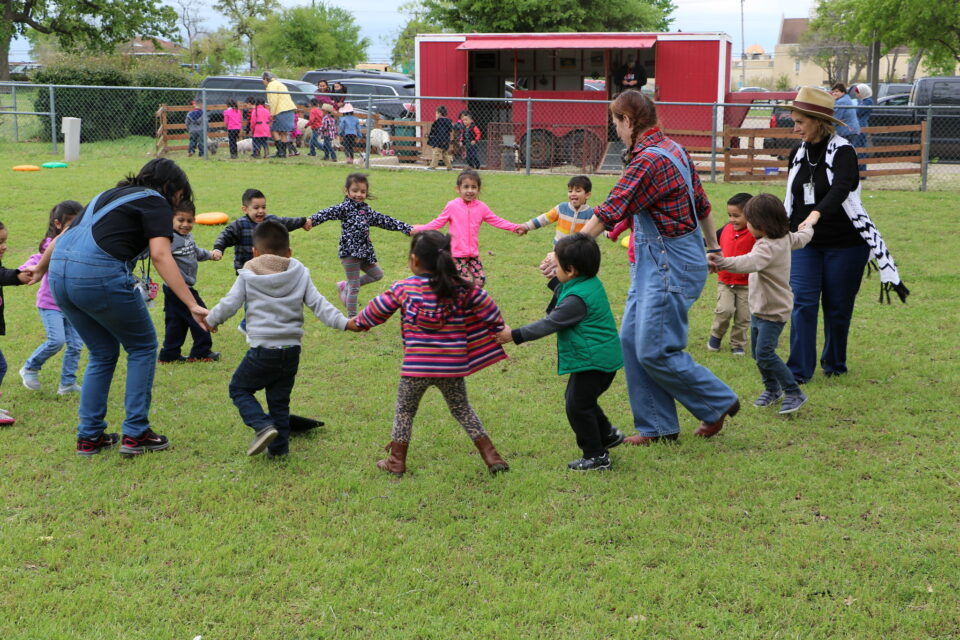 Not sure what to do with your rambunctious three-year-old? Enroll them at Kooken Education Center! Your little learner will get a jump start on their education and meet new and exciting teachers and friends!
What's cooking at Kooken?
Starting in the fall of 2022-2023, Kooken will become home to only pre-K 3.
It's not a huge change. Most of Kooken's classes are already for 3-year-olds. But currently, the school does have two classes for 4-year-olds. Next year, all pre-K 4 classes will be held at district elementary schools.
The change at Kooken to an all pre-K 3 campus will allow for the expansion of the Head Start Plus program to serve more students in early childhood special education.
Programs
One thing that won't change at Kooken is that parents will still have a variety of programs to choose from. There is a class for every 3-year-old.
Free half-day pre-K 3 – This is Arlington ISD's best-in-class pre-K for 3-year-olds. It's a half-day of fun, exploration and learning. It's free for families who qualify.
Tuition Based pre-K 3 – This is for families who don't qualify for the free program. But it's the most affordable pre-K out there and it's still the same great half-day of fun and learning.
Bilingual pre-K – Bilingual pre-K is for native Spanish speakers. Teachers speak both Spanish and English and teach in both languages.
Head Start pre-K PLUS – This is a unique program that combines the services of Arlington ISD and Head Start to provide a child-centered, play-focused education while also offering resources that support parents. This is the only pre-K 3 program that is full-day, and families must qualify.
Fun in the sun
Kooken is already a fun place, but it's getting even more fun this summer! The school will launch a new outdoor classroom for the 2022-2023 school year. This addition will complement their STREAM (Science Technology Reading Engineering and Math) Maker Lab.
The new learning space will offer students a variety of STEM outdoor learning opportunities that correlate to the pre-K guidelines. The outdoor classroom, along with the STREAM Maker Lab, will equip kids with a baseline understanding for STEM lessons when they get to pre-K 4. It will include a butterfly garden, a mill for bread, a seed grinder for planter boxes and so much more.
Pre-K 3 teacher Staci Nelson is excited about the outdoor classroom since going outside with her students is already a big part of her class. One of her favorite units to teach is the "Big Red Barn." The lesson includes live animals like rabbits, goats and sheep, to name a few.
Stay tuned for more details when the outdoor space is ready.
Why pre-K 3?
"Early childhood learning is crucial for building a strong foundation for students' futures, both learning and socially," said Kooken principal Elizabeth Huebner. "Through rich learning experiences, they learn valuable socialization skills and develop a strong and critical academic foundation."
Parents who enroll their children into pre-K 3 give their child a jump start on their peers.
"Kids get their foundation in pre-K 3," Nelson said. "They learn to self-regulate and learn how to be learners. When they move on to pre-K 4, they will be prepared for full-day study."
Pre-K lays that foundation for a lifetime of success.
"Seeing where the little ones begin in August and where they are in May is amazing," Nelson said.
Enroll today!
If you are interested in pre-K 3 at Kooken or any Arlington ISD school for your child, visit aisd.net/prek to learn more and register. If you have any questions, please email prekquestions@aisd.net. And to speak with someone at Kooken, call (682) 867-9418.