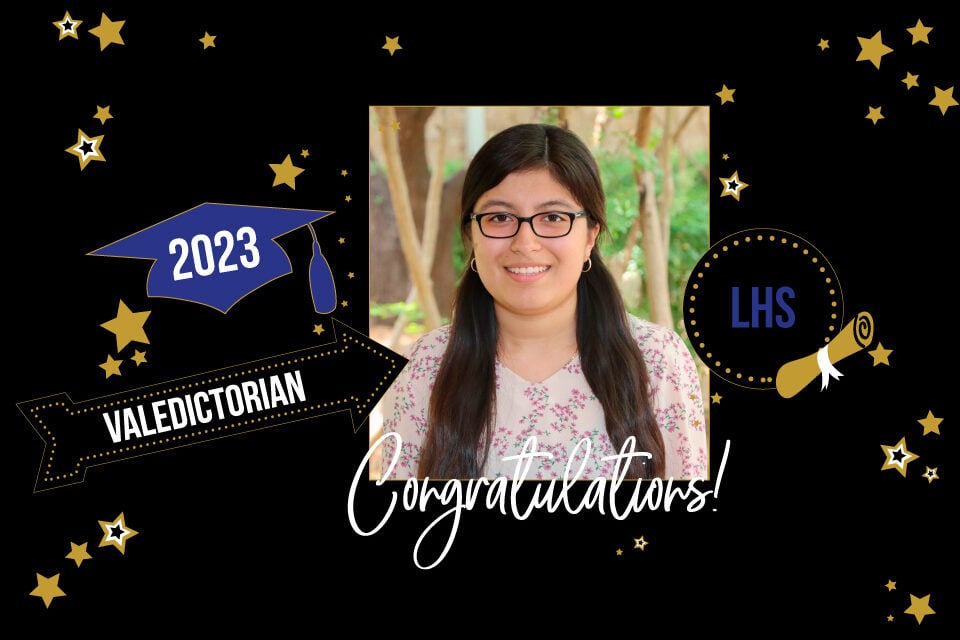 Lamar valedictorian Joanna Arellano
It's graduation season and we are celebrating the Class of 2023 valedictorian and salutatorian for all eight Arlington ISD high schools. Meet Lamar High School valedictorian Joanna Arellano.
NAME: Joanna Arellano
SCHOOL: Lamar High School
COLLEGE: University of Texas at Arlington
INTENDED MAJOR: Nursing
What is your dream and how do you plan to make it come true after graduation?
My dream is to get my master's in nursing, and I plan to make this happen by continuing to try my best and prioritizing my education over everything else.
Who inspires you the most?
My parents inspire me the most. They are hardworking and they have always told me to try my best in school. Even though it's really hard for them to help me financially, they have always given me good advice and pushed me to do my best. They have never forced me to do anything I don't feel comfortable doing. They are great, hardworking people that have determination.
What is one piece of advice you would give an incoming freshman?
Make friends because I don't want them to focus just on the grades. Be more social around people because they help you in the long run and you can go on and move on with them and be lifetime friends.
What's been your favorite high school memory?
It's definitely going to the CTC and joining phlebotomy. This class has been awesome. At first, I was scared to join because I didn't know anyone in the class. But I made a lot of great friends, and we were all like-minded because we wanted to go into the medical field. I really enjoyed this class.
How do you plan to make an impact on society in the future? 
Being a nurse. Especially since the COVID pandemic you realize the importance of being a nurse because there was a shortage of them. At the same time, for my family and the people around me, I want them to know that everything is possible as long as you set your mind to it.
What her teacher said:
Teddy Roosevelt once said that "far and away, the best prize that life has to offer is the chance to work hard at work worth doing." Joanna Arellano will absolutely earn that prize. Not only does she exhibit an earnest tenacity with every challenge she encounters, but her aim is to serve others through nursing, which takes a special kind of compassion and humility. This is work that is most definitely worth doing, and Joanna will do it well. I am incredibly proud of her accomplishments during her time at Lamar, and I look forward to seeing where her work takes her.
– Rebecca Archer, Joanna's Advanced Engish II, AP English Literature teacher and Academic Decathlon coach