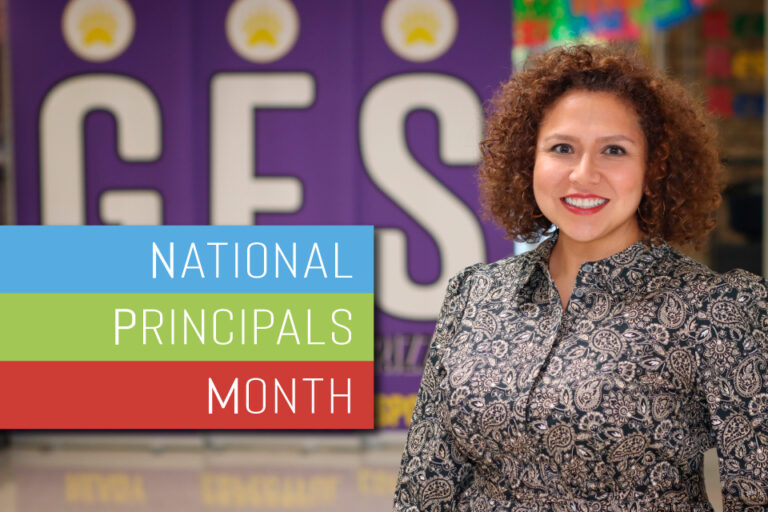 Guzman started career as a pre-K teacher
October marks National Principals Month, and we want to honor the principals who work hard in our vision of making the Arlington ISD a premier school district and leader in education. 
Today we're closing out the month by spotlighting one of our newest principals – Goodman Elementary's Marisa Guzman. She took over as the principal at Goodman last spring and is now in her first full year leading the school. She's been in education for 25 years, getting her start as a pre-K bilingual/migrant teacher in the Midland ISD in 1998.
〉What was it like coming on as a principal in the middle of a year?
Scary [laughs]. It was fast and furious because it was a quick transition. It was shock and awe. I went through a rollercoaster of emotions because I was excited, scared, nervous, anxious. I knew nobody on this campus at Goodman, so I knew I needed to build trusting relationships. That was my first goal because I wanted to be part of their family. A lot of the staff members at Goodman have been here for a long time so they are family. I knew I needed to fit in.
〉Now that you're in your first full year how is it?
Now it's great. Now I am part of the family. They have become my second family. I have built those trusting relationships. It feels good. It feels good when you know people and they know you.
〉When did you know you wanted to become a principal?
It was never really in the plan. It just kind of happened. As I was teaching and getting my master's and I knew I had a love for curriculum and instruction, so I became an instructional coach after I was a teacher for many years. Then during the time I was an instructional coach, the leadership team I worked for encouraged me to step out of my comfort zone and lead more because they saw something in me that I never saw in myself.
I taught. I was a teacher. As I started to grow professionally, I started being more comfortable leading. That's what did it. When I moved back to Arlington, I was an instructional coach, and I was looking for something similar. I felt like I was an expert as an instructional coach in math and science. They encouraged me to apply for an AP (assistant principal) position [at Jones Academy of Fine Arts and Dual Language]. I thought, 'OK, I'll apply,'  but I really didn't think anything of it. When I applied at Jones Academy they had a committee and they liked me. It just started from there.
〉What's your favorite part about being a principal?
The relationships. The positive trusting relationships with staff and students. If the relationships aren't there, the learning won't take place.
〉What's the hardest part about being a principal?
Everything matters. The students matter. The staff matters. The families matter. The community matters. That can be a heavy load to carry, but at the same time it can be fulfilling.
〉What's something that people don't know that a principal must do?
There's a lot on the operations side that I wasn't as familiar with. All of that is new to me. The managing a business side, I don' think people see it as a business. All the deadlines.
〉The best part about being the Goodman principal?
I'm happy to be back at a Title I school. I love working with bilingual families and families of lower socio-economic status. I love to inspire the children and the families who often get overlooked.