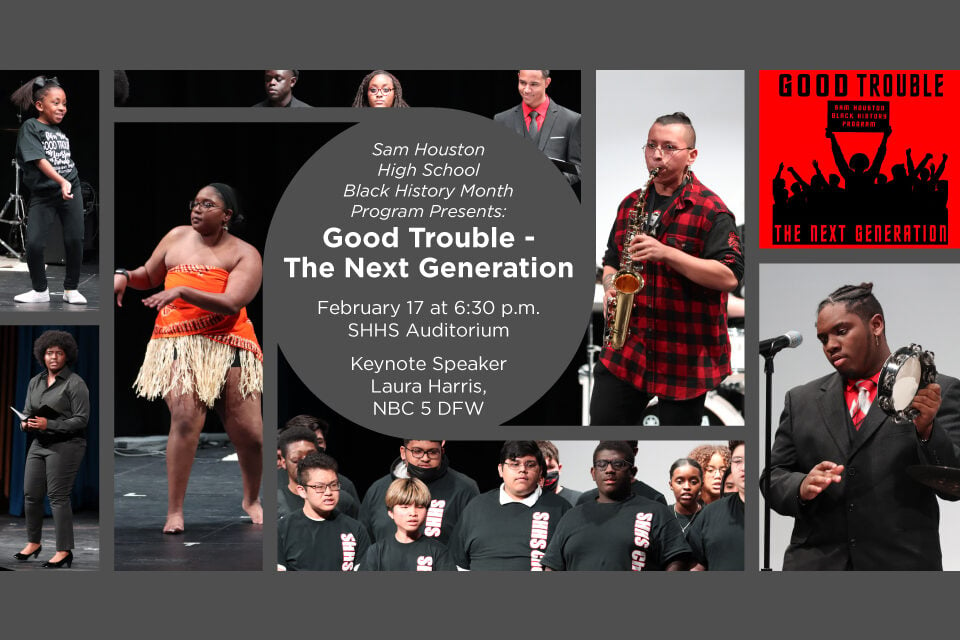 Black History event encourages positive change
Black History Month kicks off today, and celebrations are happening all month long to honor the achievements of Black people across the nation. Since 1976, Black History Month has celebrated the legacy of African Americans who have shaped U.S. history.
Schools across the Arlington ISD are celebrating with a range of events from school-wide presentations to wellness fairs. Every year, Sam Houston High School hosts its Black History Month program as a community-wide celebration, and 2023 is no different.
Sam Houston High School Black History Month Program Presents: Good Trouble – Next Generation on Feb. 17 at 6:30 p.m. in the SHHS main auditorium. The theme honors the late civil rights activist John Lewis and encourages youth to get involved in things that will cause positive change in the world.
"Once again, I am excited to be at the helm of a program at Sam Houston High School that has an esteemed legacy," said Graylon Roberson, program director and teacher. "The program pulls in students from all walks of life and attracts performances from across different genres, grade levels and curriculum. I am proud that we have a program that includes people from our community, and our goal is to educate and bridge the gap as we tie in things from the past with what is going on currently."
Roberson grew up in a family that always took Black History Month very seriously, especially since his mother coordinated the programs at their church each year. From early childhood to high school, Roberson participated in Black History Month programs, and those experiences engrained a genuine reverence for Black History Month in him.
Roberson is instilling the same reverence and excitement in his students, who look forward to seeing local citizens and community members across the Dallas-Fort Worth area come to the show.
One woman who knows her way around Dallas-Fort Worth will attend to give the audience encouraging words.
NBC DFW anchor Laura Harris is the keynote speaker for the evening celebration. Dozens of students will also take the stage to perform. From the Movers Unlimited Dance Company from Tarrant County College to the SHHS Young People of Color, the student performances are sure to knock you off your feet.
Congressman Marc Veasey also has a special message prepared for the audience, so get there early to secure your seat here. The event is guaranteed to pack the house.
Each year, the Sam Houston Black History Month committee awards scholarships to two graduating seniors to attend college. You can donate to the scholarship fund and help the committee reach its $2,500 goal. To contribute, click here. Scholarship winners will be announced in May.