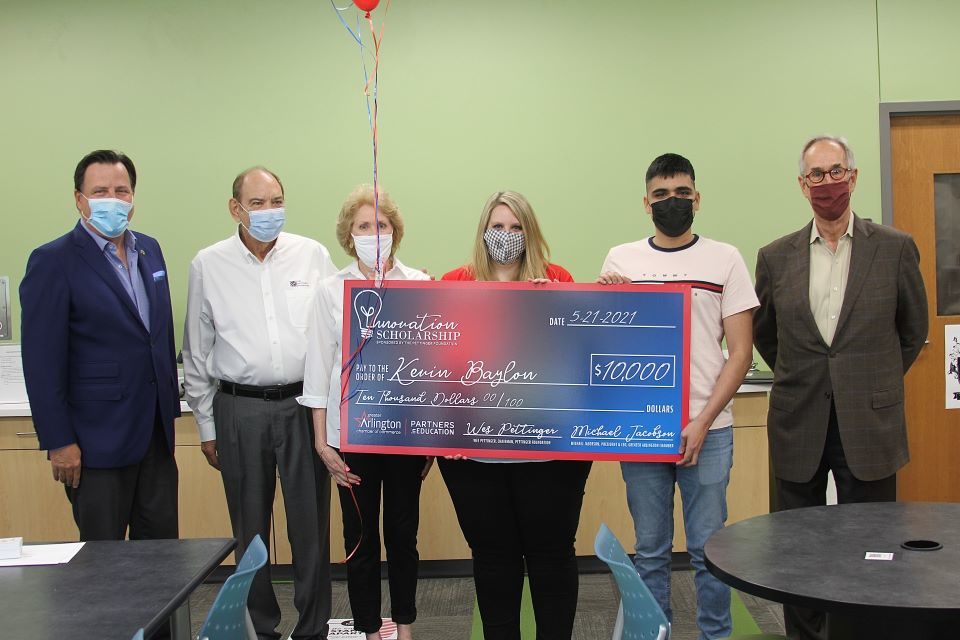 Arlington Collegiate High school senior Kevin Baylon must have known something was up when he walked into his school's library and saw his parents with a bunch of his teachers.
But that was just a small surprise compared to what was coming. Representatives from the Greater Arlington Chamber of Commerce and the Pettinger Foundation were also in the library with a bigger surprise. They let Kevin know he had won two scholarships for a total of $15,000.
Baylon is a worthy recipient. He's not just graduating from high school next week as the school's salutatorian. He's also graduating from Tarrant County College with his associate degree! Baylon will head to the University of Texas at Arlington next year to study mechanical engineering.
"Math and science just come so naturally to him. He's so gifted," said Tonia Hastings, Baylon's counselor at Arlington Collegiate. "He's even and hard-working with such high expectations for himself, so he's very easy to mentor and guide."
Though quiet, Baylon is well-known among his teachers for his kindness and internal drive.
"He's just such a great kid. He always gives his best," said Jennifer Fuller, Baylon's English teacher. "He doesn't realize how exceptional he is."
Hopefully he started to realize it when he was handed an oversized check for $10,000 for winning the Chamber of Commerce's Innovation Scholarship.
Sponsored by the Pettinger Foundation, the Innovation Scholarship is a STEM-based program run by the Arlington Chamber of Commerce in conjunction with Arlington ISD and UTA. It awards scholarships to qualified Arlington ISD high school seniors with financial need seeking a four-year college degree in engineering, science or technology from UTA. 
Wesley and Hedwig Pettinger were there for the happy presentation.
"The mechanical engineering department at UTA will be getting a great student!" they said. "We all need to thank the Chamber for doing such a great job this year!"
Following the check presentation, Alicia Collins-Butler from the Chamber of Commerce had another surprise. She announced Baylon had also won the Chamber's American Dream Scholarship for an additional $5,000.
Learn more about the Chamber of Commerce scholarships here, and visit the Arlington ISD's scholarship page to see a long list of scholarship opportunities for students.