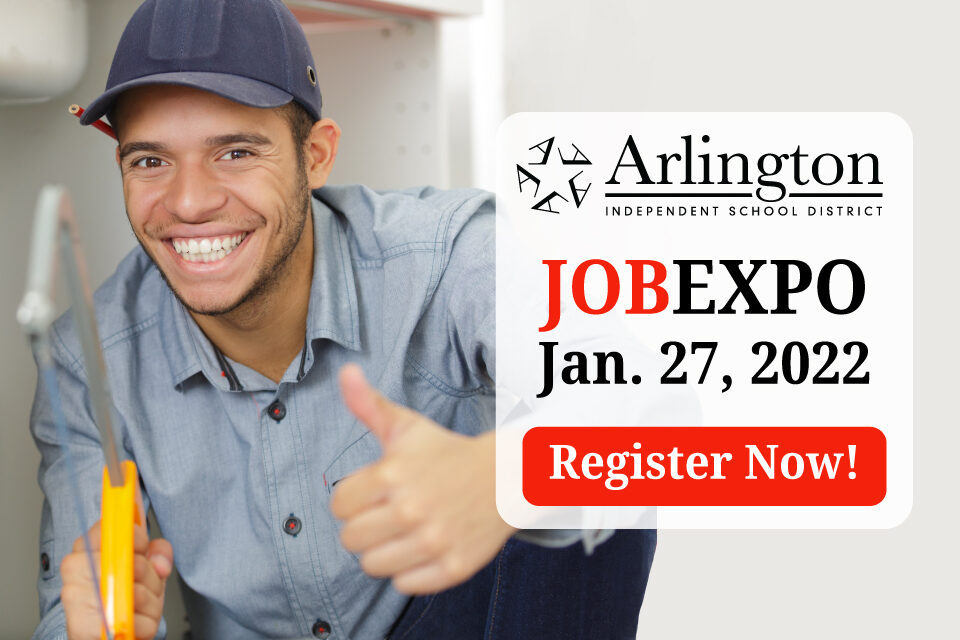 Whether you're looking to make a change in careers, looking to get your foot in the door or looking to work close to home, the Arlington ISD has something for you. The district is hosting its job expo from 5-8 p.m. on Thursday, Jan. 27, at the Dan Dipert Career and Technical Center.  You can register for the job expo here.
The expo will have everything you need to set yourself up in the Arlington ISD. Why work here? We can answer all that for you, too.
1. Opportunities abound
Want to teach in a classroom? We have those options available in everything from pre-K to high school. Would you rather work with your hands? Our plant services team is always looking for great employees. Want to see children every day but not in a classroom? We can put you on the front lines literally with our food and nutrition services department.
2. Flexible hours
If working all day every day isn't what you're looking for, the Arlington ISD has a place for you, too. You can drive buses and work in the mornings and afternoons. Want to teach in the classroom but not ready for doing it every day? Then you can substitute in the Arlington ISD and set your own schedule. That also means you have the same winter break, Thanksgiving break and spring break as your child.
3. Competitive pay
Did you know that Arlington ISD teachers are some of the highest paid in the Metroplex? It's true. The same goes for our substitute teachers. The Arlington ISD is competitive across the board regardless of where you want to work. And you'd be joining a district that last December gave every full-time employee a $500 one-time payment. That's a $4 million investment in our employees.
4. Advancement opportunities
The Arlington ISD has a focus on promoting from within. The important thing is to get your foot in the door and start. From there, you set yourself up for future success in the district.
5. We meet you where you are
For some jobs in the Arlington ISD, the biggest education requirement is a high school diploma or GED. If you have that, you can become a teaching assistant in the Arlington ISD or any number of other jobs. You don't need a college degree to sub in the district, either. We have an opportunity to meet you where you are education-wise.
6. Benefit opportunities
Many jobs in the Arlington ISD include the opportunity to sign up for health benefits. The Arlington ISD offers benefits in medical, dental, vision and more.
7. Extra money
Who doesn't like a little extra cash in their pockets? You can get that with certain Arlington ISD jobs. You can qualify for stipends, overtime pay and extra-duty pay if you want it. The opportunities are there.
Find out more about the Arlington ISD at the Job Expo on Jan. 27, 2022. We'll see you there!