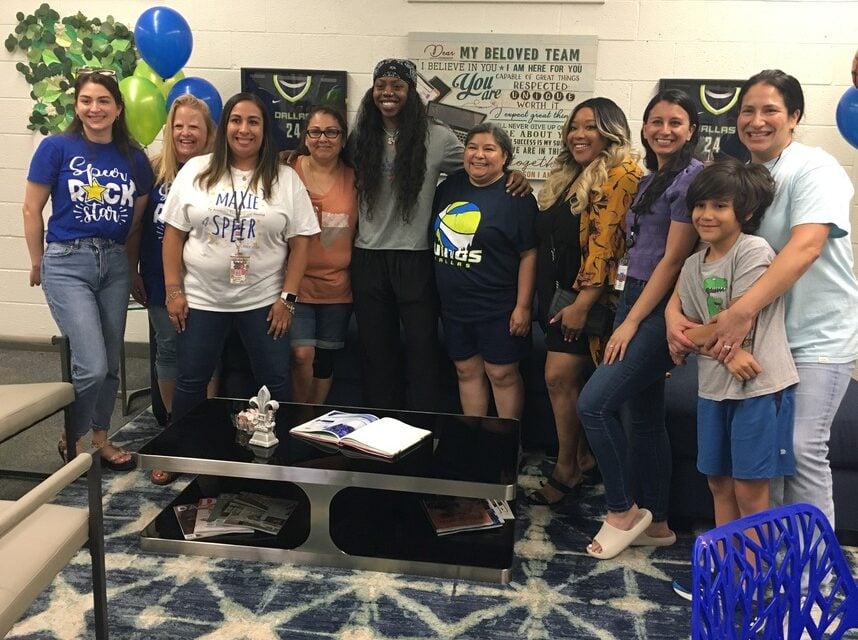 Dwell with Dignity Helps Make Over Lounge
It's usually the little things that count most.
When Dallas Wings star Arike Ogunbowale and the nonprofit Dwell with Dignity announced their big reveal of a staff lounge makeover at Speer Elementary, they touted the spacious blue sofa as its centerpiece, a comfy spot where teachers can eat lunch or kick back and grab a breather.
While everyone plopped down on the couch or oohed and aahed the new coffee maker, microwave or toaster, Maria Soto, Speer's reigning teacher of the year, zeroed in on two small items resting on each of the four tables.
"Salt and pepper shakers!" Soto screamed. "Can you believe this?"
This past academic year finding salt and pepper in the Speer lounge was challenging.
"Ok, so, we use to have this salt shaker, and it depended from day to day whether it would be out of salt or whether we could even find it at all," Soto said. "Now I can just sit at the table and use a salt and pepper. This will be perfect. We only have so much time for lunch. We can't go looking for the salt shaker."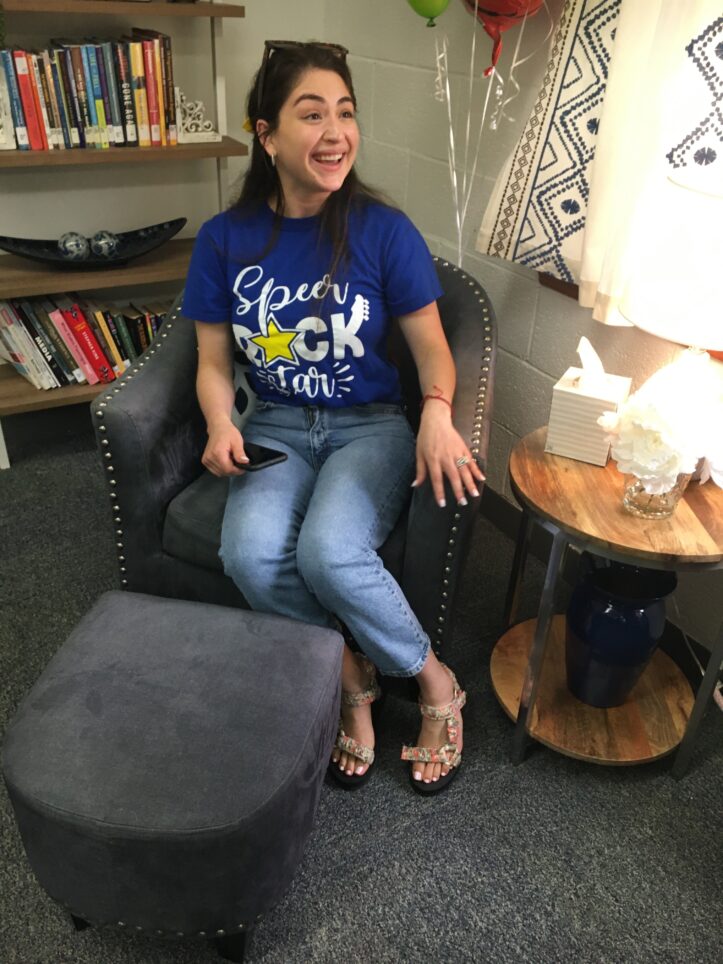 Soto and other Speer staffers marveled at the new space, which included a popcorn machine, apparently another highly sought-after asset to complement educational relaxation.
"We get requests for popcorn machines a lot," said Dana Villalobos, a spokesperson with Dwell with Dignity, an interior design-based non-profit known for transforming family homes and community projects. "Fire department? Popcorn machine. That's usually the first thing people ask if they can have."
Dallas Wings Community Foundation
Soto said Speer is Dwell with Dignity's first partnership in Arlington ISD and hopefully not the last. It was made possible through the Dallas Wings Community Foundation. The Wings play home games at Arlington's College Park Center, not far from Speers' front door.
The Wings wanted to do something special for Speer. They turned to Dwell with Dignity for help, since the nonprofit has loads of experience redesigning homes for impoverished families who graduate from programs like Genesis Women's Shelter into apartments. They work with about 25 partners, including Habitat for Humanity, to design those apartments.
"It's a teacher's lounge, so they usually want to relax, so we equipped the space with a coffee area, and a reading area, and implemented their school colors of blue," said Kristyn Ampofo, a community project designer. "The Wings share the same colors – blue and green, so we incorporated those hues into the design of the lounge. We also added a workstation, a snack bar and personalized artwork."
Two of Ogunbowale's No. 24 jerseys hang on the wall as well.
"We replaced some furniture that has seen a lot of semesters," Ampofo said. "We just tried to make it a lot more inviting. Teachers have a difficult job. If they can relax here briefly, it's replenishing for them."
Speer instructional coach Katerias Jones knows about that.
"You have those days where you print out your work, and it comes out on yellow paper instead of white because someone forgot to change out the paper," said Jones. "This is a place where teachers can have some private time to share those kinds of ups and downs with their colleagues, just to talk, to let their hair down. Sometimes it's great just to be able to chill for a second."
Speer secretary Ixy Paz, who found one of the chairs quite comfy, calls their lounge "our second home. That's why it's so great that it's so nice. So amazing. The teachers will love this when they return to school."
Ogunbowale said she's always had a sweet spot for educators, partly because she was raised by two of them.
"I knew firsthand how hard they work because I saw my parents work," Ogunbowale said. "I know that it's not just a regular job. They work 12 months out of the year, provide everything they can for these kids and often come out of their pockets."
Ashley Sharp, executive director of Dwell with Dignity, said schools are one of her favorite renovations, partly because "The work they are doing as leaders and administrators and teachers affect these students so much.
"We don't even understand that you take care of our teachers each day, and they go through many stages of life with you leading them. You are their second parents, their guardians. We just wanted to help those who care about our babies as much as we do. This is a celebration to teachers."
Ogunbowale said the celebration isn't over. On July 22, the Dallas Wings will host Teacher Appreciation Night during a game at College Park Center.