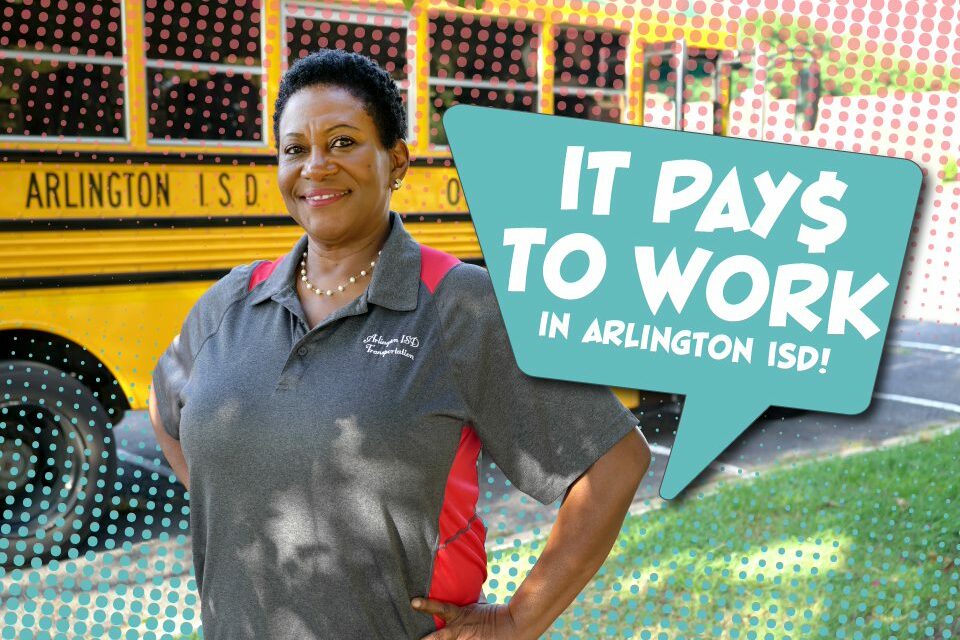 It pays to work in Arlington ISD
A nearly 20% hike in pay in just one year? Where does that happen?
It just happened in the Arlington ISD for new bus drivers and food service leads. And starting substitute teacher pay just got bumped up, too.
"It pays to work in the Arlington ISD" isn't just a slogan here.
It's the real deal.
We all know it's not all about the money.
But we also know the money is extremely important. It just is. And it's getting even more important as inflation and rising costs make everything more expensive.
Arlington ISD gets that.
That's one reason why the district is so committed to paying our employees well – and not just full-time teachers. Everyone.
It really does pay to work in the Arlington ISD, where employees just received a 4% raise for the fourth year in a row. And the district raised pay for subs, new bus drivers and new food service leads even more.
It's a nearly 20% hike for new bus drivers and new food service leads, taking their starting pay from $20.26 to $24.06.
And starting pay for subs is now up to a minimum of $120 per day. And did you know you don't have to have a degree? Two years of college is what it takes.
But if you do have a degree and certification or you are a retired teacher, you can earn up to $175 per day with incentives to sub.
The salary hikes don't stop there. Compensation for teacher's assistants, bus attendants, security personnel and other support staff positions saw increases as well.
It's true, it's not all about the money. That's why the Arlington ISD offers many other perks, too, plus the opportunity to play a role in the most important mission in the world – educating our kids.
But it's also true that if the money isn't right, the other stuff doesn't matter much.
In the Arlington ISD, we do everything we can to make sure the money is right. And if you want to sub, drive a bus or work in food service, there's never been a better time to join our team.
Find out more about working in Arlington ISD and apply today.