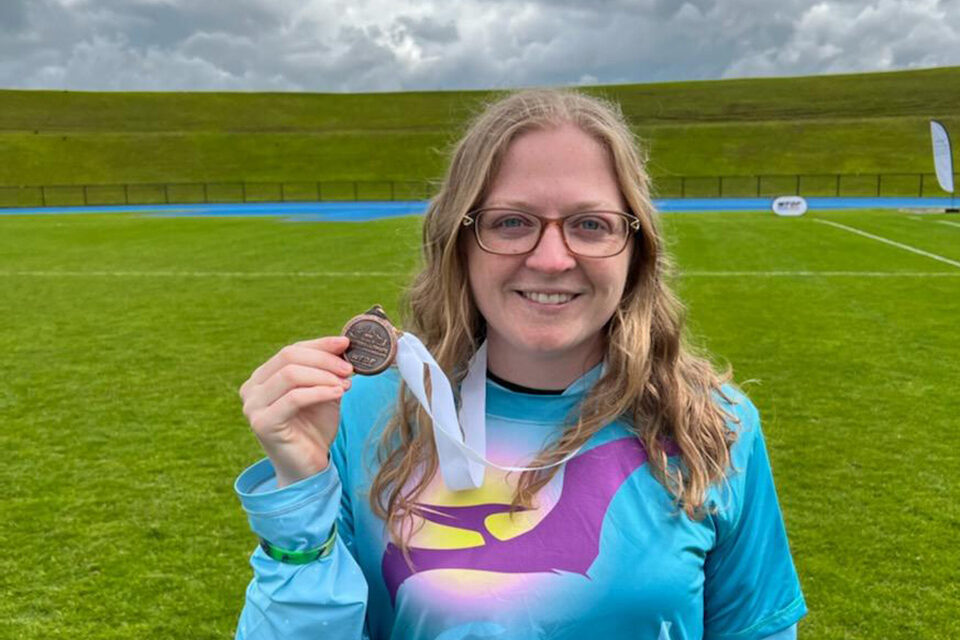 You wake up in Limerick, Ireland, on a breezy, summer day. As bright, white clouds fill the blue sky, you begin to get dressed to play ultimate Frisbee with your friends. What started off as a few fun games becomes a third-place finish at the World Masters Ultimate Club Championship 2022. It may sound like a dream, but that's the reality for Krystina Morris, a U.S. history teacher at Arlington High School.
Morris got a chance to compete with her team, Soar, at the championship against 18 teams from around the globe, including Canada, Singapore, England, Colombia and more. Soar is a not-so-subtle play on words since her team and division are comprised of women aged 30 and older. The team qualified for the world championship after placing fourth at a Colorado tournament in July 2021 and couldn't wait to compete in Ireland for a title.
The Dallas native's love for ultimate Frisbee began brewing on an intramural recreation team at the University of Texas at Arlington where she received her bachelor's and master's degrees. Until then, Morris had never played a sport before.
"I didn't play sports and I never left this region growing up, but ultimate Frisbee opened so many new doors," said Morris. "I even met my husband on a team I used to play on."
She has been able to cross some states off her travel list like Wisconsin, Florida, Virginia, Utah and Illinois while spending quality time with her husband playing a sport they both enjoy.
Ultimate Teacher
When she's not vigorously training or competing, her time is spent trying to make history relatable for 16-year-olds.
"I always want to tell it like a story, so my kids can understand it better," said Morris. "It's about getting them to realize how history is impacting them, then it clicks for them."
Nearly a decade into teaching, her favorite thing is making connections with students.
The connections she's making at Arlington High are undeniable because she was selected by the school's dean of instruction and instructional coach to be a model teacher. Model teachers work closely with peers to promote and model excellent teaching through sharing effective practices. Basically, Morris opens her classroom to other teachers to show them how it's done.
"She's an outstanding teacher and team player in the building, so it makes perfect sense that she would be on a team that made it to such a high level," said Arlington High principal Stacie Humbles. "When I found out she was on the Frisbee team, I thought it was another unique and awesome quality she possesses. She's the coolest."
That's probably why she's a level lead, too, making sure all the U.S. history teachers are on one accord when it comes to teaching the material and preparing their students for success. And a campus technology facilitator. In this role, she encourages teachers to integrate technology into their classrooms so students can take what they're learning and apply it practically.
What's next for Morris?
As she heads into her 12th year of playing ultimate Frisbee, she will continue playing with her team in local and regional tournaments. On more relaxing weekends, Morris plans to hang out with her nieces and nephew at the movies, carnivals and anything else that requires lots of fun. In the classroom, she wants to continue to give her students opportunities to learn about the country, themselves and how they can make an impact in the world.
"Education gives opportunities," said Morris. "I was awful when I first started playing Frisbee but after practicing and putting forth effort, I got better. It's the same thing with education. Our position in life isn't stationary. If you put the work in, you can always achieve results and succeed."
Whether it's in the classroom or playing ultimate Frisbee, Morris is sure to leave it all on the field.