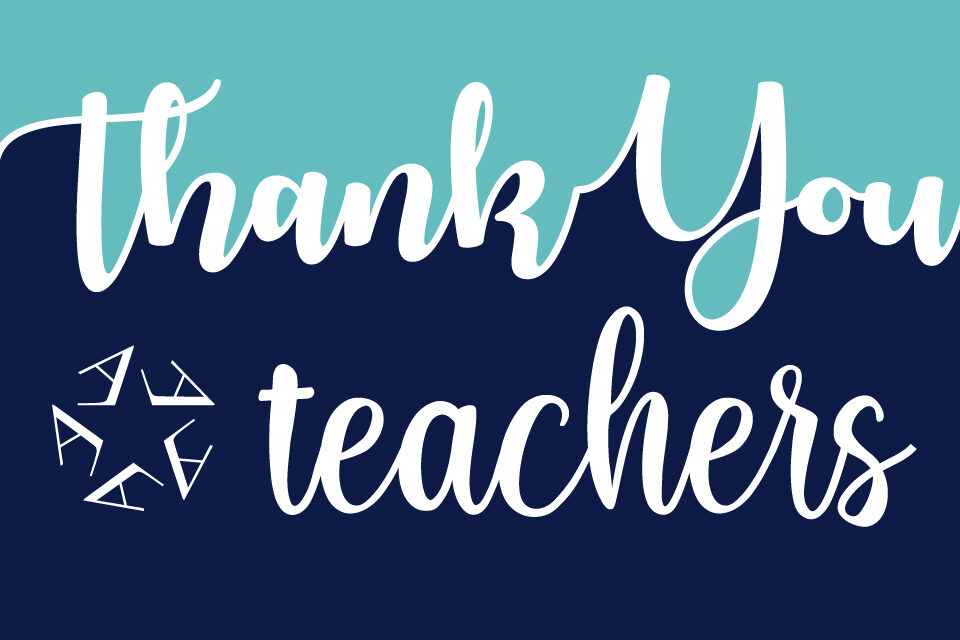 It's Teacher Appreciation Week
Depending on who you ask, Teacher Appreciation Week is either this week or next. Either way, Arlington ISD's teachers deserve appreciation all year long. But this is a great opportunity to say thanks to all of our teachers and to highlight the teachers of the year and the AWARE Foundation's teacher award winners.
"We're so grateful for every single teacher in our district," said Arlington ISD superintendent Dr. Marcelo Cavazos. "They are passionate about education and pour so much love into their students. We know teaching is not easy and takes so much work both in and out of the classroom. But the impact teachers have on students – the lives they change for the better – makes it so rewarding."
Arlington ISD has thousands of thriving students, and behind every one of them is a dedicated teacher.
"On behalf of the board of trustees, I want to say thank you to all of our teachers," said Arlington ISD board president Melody Fowler. "As a teacher myself, I know what it takes. I'm just so proud of you for your unwavering commitment and dedication to the students. It's almost the end of the year, so I'm sure you're pretty tired. But you're just a few weeks away from a much-deserved summer break. Thank you!"
2022-2023 Teachers of the Year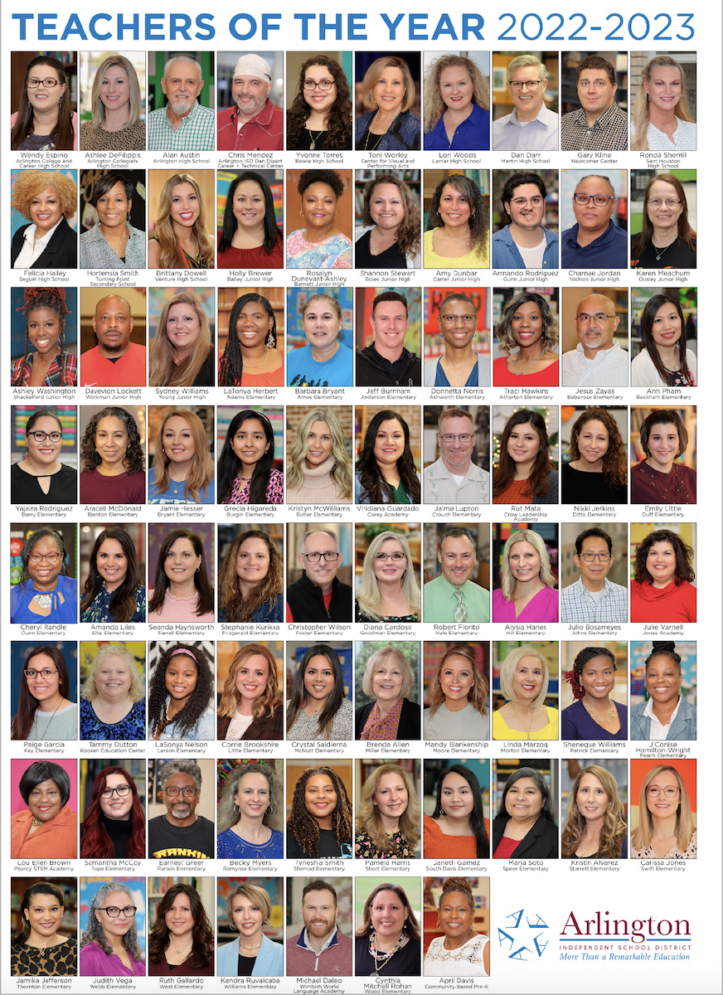 The teachers of the year from each of the district's 77 schools were honored recently with a banquet at the Arlington ISD Professional Development Center. The tacos and enchiladas served at the event, along with the messages of thanks from Cavazos and Fowler, were but small tokens of appreciation for jobs incredibly well done.
See all 77 teachers of the year.
Kiwanis Club of Arlington members were also at the event to honor the Kiwanis Woodrow Counts Teachers of the Year, first announced at the 62nd annual Kiwanis teacher-of-the-year celebration on April 5. The winners were:
High School – Alan Austin, a history teacher at Arlington High School
Junior High – Charnae Jordan, a seventh grade math teacher at Nichols Junior High
Elementary – Corrine Brookshire, a fifth grade teacher at Little Elementary.
AWARE Foundation Awards
The all-volunteer AWARE Foundation has been rewarding exceptional teachers in the Arlington ISD since 1989 and recently announced their finalists for this year:
Danielle Brigham – Farrell Elementary (Pre-K-1st Grade category)
Jamie Hesser – Bryant Elementary (2nd– 4th Grade category)
Corrie Brookshire – Little Elementary (5th-6th Grade category)
Francelia Jame – Workman Junior High (Junior High category)
Rylee Russell-Bruton – Venture High School (High School category).
See the full list of AWARE Awards nominees.
Congratulations to all the award winners, and thank you to every educator in the Arlington ISD!