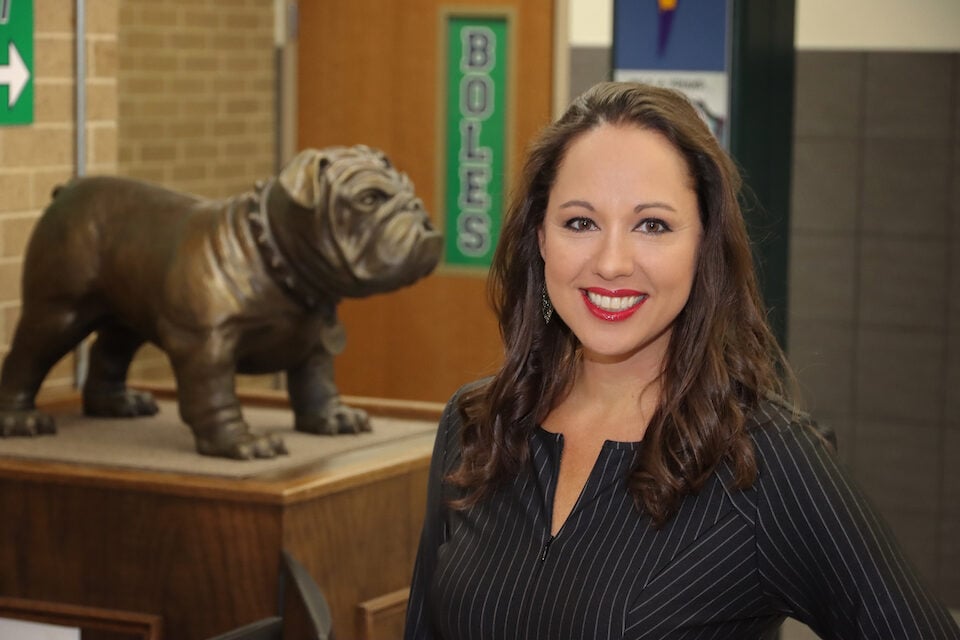 Codi Van Duzee is on fire!
Head on. Face to face. She prefers to look challenges directly in the eye.
After being in the education field for over 20 years, it can be easy to get comfortable with the rhythms of the school year. The list goes on and on, from never-ending professional development and specialized trainings to constant programming for students.
That's not the case for Codi Van Duzee, principal at Boles Junior High, though.
Year after year, it is inevitable for new challenges to arise with students. But Van Duzee is always up for a challenge.
Because of her commitment to adapting to students' unique needs, she was recently selected to represent Arlington in the Cahn Fellows Program for Distinguished Principals.
The fellows program will allow representatives from across the nation to gather virtually and in person to discuss the role that systems, equity, gender, race, communication and other elements play in education. Their first stop is New York in October followed by a trip to Gettysburg in December.
"My favorite part of being a principal is building relationships with the kids, getting to know them individually, and coaching and supporting teachers," Van Duzee said. "Not only will the fellows program help grow my leadership skills so I can be more effective, but it will help grow the people around me."
She was nominated for the program by Arlington ISD executive director Shelly Osten. From March to July, Van Duzee submitted multiple essays and data and was interviewed by the program's director.
She wasn't the only one getting interviewed, though. The committee wanted to hear from the ones most impacted by Van Duzee's leadership, so they went into the community. Parents at her current and previous school, teachers and Osten were asked about Van Duzee.
There is no doubt about her love for kids and the impact she's had on the community, and the committee agreed by selecting her for the program.
Arlington ISD Veteran
The Fort Worth native always knew she wanted to work with kids and started off going to the University of North Texas for counseling. Her heart for children with unique learning styles was the catalyst for the career path switch from counseling to teaching.
This may be her first year at Boles, but she's not new to the district. The 22-year Arlington ISD veteran went from being a substitute at Pearcy Elementary to the principal. Her many roles at Pearcy, including special education teacher, interventionist and assistant principal, developed her love for teaching and passion for helping students thrive in and out of the classroom. As principal, she led the transformation of Pearcy into a STEM academy.
"Codi is an excellent example of continuous improvement, and I'm proud of her commitment to the success of her students and staff," said Dr. Marcelo Cavazos, Arlington ISD superintendent. "The emphasis she puts on ensuring each student's unique needs are met and her heart to empower those around her is what makes her a true leader in education."
With three boys of her own and working as an adjunct professor at Southern Methodist University, Van Duzee has her hands full. They are never full enough to extend them to others, though.
"Ultimately, I want to share things I've learned with the people around me," Van Duzee said. "I'm most excited to learn from others around the country. There's great value in diverse perspectives and experiences.
"There are always going to be challenges, and we shouldn't be afraid to face them, take risks and adjust to provide better outcomes for students."