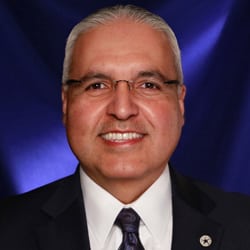 Dr. Marcelo Cavazos
2012 - Present
Dr. Marcelo Cavazos started his teaching career as an English teacher in the Mission Consolidated ISD in 1990. In 1992, he moved to McAllen ISD where he taught English and government. He was named the secondary language arts supervisor for Mercedes ISD in 1993 and became Associate Adviser for San Benito Consolidated ISD in 1995. Cavazos went to work for the Texas Education Agency Department of School Finance and Support in 1998.
He joined the AISD in 1999 as associate superintendent for instruction and served as interim deputy superintendent for seven months before being named deputy superintendent in February 2009. He has previously served as a lecturer for the University of Texas at Arlington's Department of Educational Leadership and Policy Studies. Cavazos served as interim superintendent for six months before being named superintendent Dec. 6, 2012. He holds a bachelor's and a master's degree from the University of Texas-Pan American and a doctorate from the University of Texas at Austin.
In addition to his professional accomplishments, Cavazos is active in the community. He serves on the Texas School Alliance Board, United Way of Tarrant County Board Executive Committee, the Workforce Solutions for Tarrant County Board, the River Legacy Foundation Board, the Salvation Army Youth Education Town North Texas Advisory Council, and the Arlington ISD Education Foundation Board. He's an ex-officio member of the Arlington Chamber of Commerce Board. Cavazos is a member of the Rotary Club of Arlington, an associate member of the Greater Arlington Lions Club, a Lifetime Supporting Member of the Texas Lions Camp, a Melvin Jones Fellow with Lions Club International Foundation, a member of the Knights of Columbus and active at St. Matthew Catholic Church. He received the 2009 Arlington MLK Celebration Sharing the Dream Award for Education, the 2012 YMCA Citizen of the Year Award, the 2012 Educator Award from the Asian-American Chamber of Commerce and the 2013-2014 Elks Distinguished Citizenship Award from the Arlington Elks Lodge No. 2114, the 2016 Seat 21 Honoree by the Texas Rangers Baseball Foundation, the 2016 Texas Superintendent of the Year and was the Texas nominee for the 2017 AASA Superintendent of the Year Award.