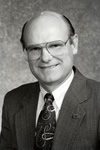 Richard E. Berry
1988 - 1992
As a child, adolescent and college student, he naturally assumed leadership roles and exhibited the patience and hunger for knowledge that an educator needs to enlighten his pupils, said his 80-year-old father, Earl Berry.
While growing up in Park Hills, Mo., he served on his junior high student council and played baseball and basketball. After moving to the Dallas-Ft. Worth area in high school, he continued to play sports and worked as a YMCA camp counselor.
He credits his father, a retired minister who served as the only male member of the parent teacher association at Berry's school, and his mother, Maria, for instilling the value of education in him at an early age.
"I can't even remember when they started talking to me about education and encouraging me to do well in school and go to college," he said.
After graduating from Paschal High School in Fort Worth, Berry followed his parents' advice and enrolled at North Texas State University in Denton on a basketball scholarship.
The first hint of how quickly Berry would advance in his future career as an educator came during his sophomore year in college. As a freshman, he had joined the Texas Student Education Association, an organization of aspiring teachers. Members elected him as association president the following year, even though upperclassmen normally served in the position.
Despite the vote of confidence in his abilities, Berry said he worried about the meager salaries teachers received and decided to study business education in hopes it would provide a better living.
The height of the Vietnam War marked his graduation with a bachelor's degree in business administration in finance and personnel education and subsequent marriage to Sue Winder, a fellow college student and aspiring teacher.
As he contemplated joining military officer candidate school instead of risking the draft, Sue's uncle, Roscoe school's superintendent John McKay, made him a job offer that would change the course of his life.
McKay needed a high school business teacher who could also coach, drive a bus and operate the swimming pool, and Berry fit the bill.
Berry took the job and received a deferment of military service.
During his four years teaching at Roscoe High in Roscoe, Berry earned his teaching certificate and his master's degree in counseling, and Sue earned her education degree and got a job as a first-grade teacher.
Berry later took a counselor position at Arlington High School to be closer to family.
While in Arlington, Berry moved up the ranks quickly, mostly as a result of encouragement from school administrators, his father and his father-in-law, A. R. Winder, who also worked in the district, he said. His son, Shane, was born in 1977.
Berry held the positions of junior high assistant principal, high school associate principal, junior high and high school principal, assistant superintendent for finance, associate superintendent for administration, deputy superintendent and superintendent.
"I could see his potential more than he could because I watched him and saw how he reacted to people and his peers," Earl Berry said. "They looked to him for leadership. He was a leader, and he didn't know it."
"Every time he would move up a notch, I would always ask him about going up another level, and he would say, `I hadn't thought about that, and I said, `Well, think about it.' "
Achen, P., & Houston Chronicle. (2011, August 14). Rick Berry bids farewell to Cy-Fair ISD. Retrieved April 20, 2018, from https://www.chron.com/neighborhood/cyfair-news/article/Rick-Berry-bids-farewell-to-Cy-Fair-ISD-1977910.php