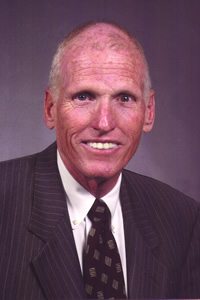 Mac Bernd
1998 - 2008
Bernd's tenure as superintendent began in 1998, and it is generally recognized as one of the most stable and academically progressive periods in recent AISD history.
Under Bernd's leadership, the AISD grew from a population of 55,000 to more than 63,000 students, and from 6,300 to more than 8,000 employees. Bernd joined the AISD during a challenging time of growth. He is credited with smoothly opening seven schools, which often entails community strife due to the modification of attendance boundaries.
Bernd's ability to successfully bridge communication gaps among community, parent and professional organizations was also a strength. He is credited with improving race relations and establishing a more racially balanced professional culture to better reflect the district's economic and racial changes. In addition, Bernd implemented a well-received Zero Tolerance policy.
During Bernd's tenure, the AISD was granted the International Baccalaureate World School Diploma Programme at two AISD high schools. Bernd spearheaded the passage of a $261.68 million bond program, the largest in the district's history up to that point. Bernd also led a successful drive that culminated in 2001 when voters increased the district's tax cap from $1.35 to $1.50.
Bernd established a strong fund balance that saw the AISD through uncertain financial times, including allowing for several employee salary increases when neighboring districts were cutting staff positions. Under Bernd's leadership, teacher salaries increased by 56 percent.
Bernd arrived in Arlington with a combined 11 years of experience as a superintendent at three school districts. He spent five years at Newport Mesa Unified School District in Newport Beach, Calif. Bernd was also a superintendent at the Little Rock School District in Ark., and in the San Marcos Unified School District in San Diego County, Calif.
Bernd began his career as a teacher in Brighton, Colo., and he was later a high school assistant principal and then principal in Greeley, Colo. In 1983, Bernd moved to Phoenix, where he was an administrator for effective schools and director of curriculum and instruction.
Bernd has a bachelor's from the University of Northern Colorado and a master's and doctorate from the University of Colorado.